ag visuell - Fotolia
How to get your branch network up and running
Setting up the branch office network can feel overwhelming, but you need only to ask the right questions to be able to evaluate the available technology and provider services.
Many distributed organizations -- including financial services, retail and restaurant chains -- rely on communications...
Continue Reading This Article
Enjoy this article as well as all of our content, including E-Guides, news, tips and more.
with their branch offices as a critical part of their business processes.
Due to a lack of trained IT personnel at most branch sites, branch-office networking must be quick and easy to install, and it should have centralized management capabilities. New technologies, like software-defined WAN (SD-WAN) and software-defined branch (SD-branch), provide IT organizations the tools to improve application performance and ease operational complexity for the branch network.
Branch office network technology explained
IT organizations are responsible for providing reliable, secure communications between their remote branch offices and their centralized data centers. With the advent of cloud and SaaS-based applications (e.g., Office 365), they must also ensure quality connectivity to the internet and cloud-based applications.
The branch office will also typically need LAN connectivity in the form of Ethernet (wired) and Wi-Fi (wireless). Local applications, including IoT, may be hosted at the branch using a local server and storage resources.
When evaluating branch network requirements, IT organizations face the following questions:
What are the key applications at the branch office? Are new applications likely in the near term?
What is the destination of the WAN traffic (e.g., data center vs. cloud)?
How much bandwidth is typically required? How will bandwidth requirements grow over time?
Do key applications, like voice or video, require low latency?
What are the security requirements for the applications and the data flowing over the WAN?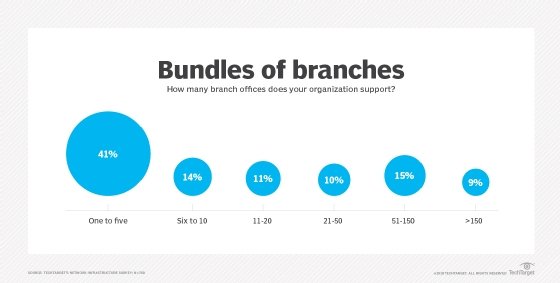 How branch technologies work
The technology used to deliver the required WAN and LAN services at the branch can be complex. A number of network elements, or boxes, may already be in the branch network, including edge routers, WAN optimization, VPNs, firewalls, LAN switches and Wi-Fi controllers.
At the branch, the goal is to simplify provisioning and operations by reducing complexity. Fortunately, SD-WAN technologies can offer significant benefits in terms of rapid (one-touch) provisioning and centralized monitoring and management. SD-branch products are emerging to offer comprehensive branch network functionality in a unified platform with centralized management.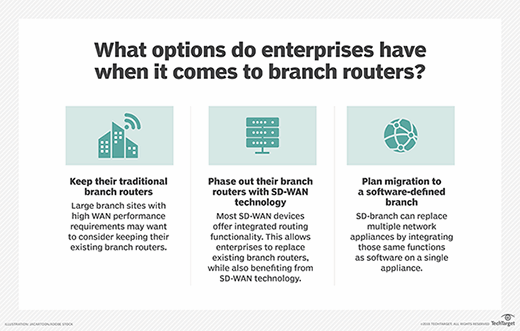 Branch network connectivity involves a number of elements: WAN connectivity; SD-WAN; the branch LAN; security; compute and storage; management, automation and network orchestration; and networking partners.
WAN connectivity. All branch networks require high-speed connectivity to the corporate data center and to the internet. Service providers offer a range of different WAN technologies, including the following:
managed Ethernet
DSL
business cable services
4G LTE wireless
fixed wireless
Each of these WAN options have specific pros and cons regarding costs, performance, reliability and security. To ensure reliability and redundancy for business-critical branch applications, IT organizations should provision two WAN connections from distinct service providers with different technologies -- for example, MPLS from AT&T and cable Ethernet from Comcast. Internet-based services will provide three times the bandwidth as an MPLS managed service at the same price. What 4G LTE provides is an excellent backup option with rapid provisioning.
Networking the branch office is a critical, yet challenging, element for most centralized IT organizations.
SD-WAN. SD-WAN has displaced edge routers as the leading platform for WAN connectivity in the branch office. SD-WAN technologies provide rapid provisioning of new or relocated branch offices, deliver quality of experience for critical applications and secure traffic flows to and from the internet.
SD-WAN enables organizations to use cost-effective internet transport and displace expensive MPLS circuits. It load balances applications across multiple WAN circuits to improve performance and reduce latency. With over a dozen leading SD-WAN providers, the technology is advancing rapidly, but IT organizations face the challenge of selecting the right platform for their organization.
The branch LAN. The local area network at the branch is needed to connect a variety of PCs, phones, servers and storage printers, sensors, point-of-sale devices, video cameras and so on. Larger offices will have both wired Ethernet and Wi-Fi connectivity. Some devices may require Power over Ethernet support.
Managing Wi-Fi connections -- by adjusting signal strength and providing adequate coverage, for example -- can be problematic. Guest Wi-Fi is a critical service at many branch offices, including retail stores.
Security. Network security requirements at the branch range tremendously, from basic internet security to the highly regulated requirements found in healthcare and financial services. Branch network security must fit seamlessly into the overall organizational security mandates, policies and existing products. IT organizations can employ built-in security from SD-WAN products and deploy on-premises or cloud-based security-specific products from Zscaler, Cisco, Palo Alto Networks and many other providers.
Compute and storage elements. Depending on the requirements of local applications, the branch may deploy servers for local compute and storage. These applications are often deployed for responsiveness and compliance. Local IoT sensors may require immediate response, for example, and local storage of IoT data can help reduce WAN costs. Monitoring and management of remote servers will typically require specialized management software.
Management, automation and network orchestration (MANO). Distributed branches of all shapes and sizes create headaches for IT organizations. As most branches do not have trained IT personnel, organizations must rely on the centralized MANO capabilities of their branch networking elements or expend time and money to send IT personnel (sometimes many) to branch locations.
Many newly developed branch network elements, like SD-WAN, promote their one-touch deployments, a capability which allows nontechnical personnel to plug the box into AC power and the WAN connection; it is then configured from a central location.
IT organizations should carefully evaluate network branch elements for their MANO capabilities. They should also consider how the elements will work together to deliver a complete package, like SD-branch.
Branch networking partners. A wide variety of suppliers provide a range of managed network services to assist IT organizations with outsourcing branch networking tasks. These suppliers include traditional telecom vendors (e.g., AT&T, Verizon and CenturyLink), cable suppliers (e.g., Comcast), managed network service providers, system integrators and network value-added resellers. IT organizations should consider the various options and costs associated with outsourcing all or part of the branch network operations.
The bottom line
Networking the branch office is a critical, yet challenging, element for most centralized IT organizations. Business agility requires many organizations to operate more branches or to rapidly provision branch connectivity in new locations. The wealth of wired and wireless internet connectivity with significant capacity is easing the requirements to deliver adequate bandwidth to the branch. SD-WAN is a game-changer with regards to delivering user quality of experience and assisting with centralized operations. Over time, IT organizations should consider SD-branch technologies as a replacement for or an addition to existing branch network architectures.
This was last published in
October 2018