alex_aldo - Fotolia
Enterprises choosing SD-WAN routing over edge routers
Revenue from SD-WAN sales surged by 23% in the second quarter as enterprises opted to replace traditional edge routers with SD-WAN routing.
Companies buying software-defined WAN products as a replacement for edge routers in the branch were behind a recent surge in SD-WAN sales.
Second quarter revenue from SD-WAN routing appliances and control and management software rose 23% year over year as many enterprises recognized that the technology has become mainstream, research firm IHS Markit reported this week.
"As a result, larger enterprises have begun to refresh their legacy, router-centric WANs with SD-WAN," IHS Markit analyst Joshua Bancroft said in a statement. "Vendors are capitalizing on the refresh opportunities with customers that have large bases of aging router equipment."
Organizations swap routers for SD-WAN because the latter uses a cheaper and more flexible architecture for secure access to software running in the cloud or the private data center. For example, latency-sensitive VoIP traffic can get priority over data headed to the public internet. Also, SD-WAN routing consolidates in software additional network services, such as security and WAN optimization, that are traditionally spread across separate appliances.
SD-WAN is a big money-saver when routers are end-of-life.

Steve GarsonCo-Founder, SD-WAN Experts
"SD-WAN is a big money-saver when routers are end-of-life," said Steve Garson, co-founder of consultancy SD-WAN Experts. However, Garson advises companies to check whether their carrier supports the SD-WAN's network interface device, which hands traffic to the service provider's Ethernet network.
New uses for SD-WAN
The growth rate of SD-WAN revenue in the second quarter nearly tripled the 8% increase in the first quarter. Along with router replacements, the higher growth rate reflects the rising number of SD-WAN appliances deployed in the home offices of people working from home.
For example, healthcare organizations deployed roughly 200 appliances in the homes of radiologists in the second quarter, IHS Markit reported.
"In the future, we anticipate further deployments of SD-WAN appliances in the homes of remote employees, with either compact or more traditional appliance form factors being used," Bancroft said.
Making SD-WAN possible in the home office is the availability of LTE links from carriers. Enterprises use the wireless technology to establish a private connection when employees access sensitive data. Also, businesses use LTE as a failover link for video conferencing or voice over IP (VoIP).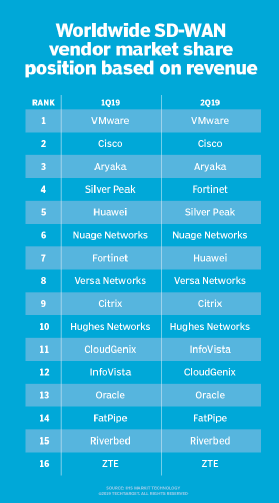 IHS Markit expects to see other uses for SD-WAN to emerge in the future. For example, vendors are in discussions with car manufacturers to deploy the technology in autonomous vehicles, the research firm reported.
Vendor rankings
Based on revenue share in the second quarter, VMware led the market with Cisco and Aryaka in second and third place, respectively, according to IHS Markit. Total global revenue was $478.2 million. By 2023, that number will reach $4.4 billion.
IHS Markit's projections differ from IDC, which defines SD-WAN more broadly. IDC includes not only edge routing software and hardware, but also traditional routers and WAN optimization technology, if the vendor has integrated them with an SD-WAN product. The firm also accounts for SD-WAN controllers, WAN routing and products that provide network visibility and analytics.
As a result of the different definitions, IDC predicts the SD-WAN market will increase from $1.4 billion last year to $5.25 billion in 2023. The research firm ranks Cisco as the market leader, with VMware and Silver Peak a distant second and third, respectively.
In time, many analyst firms predict SD-WAN will evolve from a standalone product to a key feature within a broader SD-branch platform that encompasses routing, security, WAN optimization and a variety of other network services.