CenturionStudio.it - Fotolia
Existing branch routers could be replaced as SD-WAN matures
Enterprises are moving away from traditional branch routers, as SD-WAN capabilities mature and offer consolidated network functionality on a single device.
Routing software and software-defined WAN technology are threatening to displace traditional router appliances...
Continue Reading This Article
Enjoy this article as well as all of our content, including E-Guides, news, tips and more.
in the branch office. The reason is organizations are migrating toward integrated SD-WAN alternatives, with bandwidth prioritization and centralized management capabilities for remote WAN sites.
Traditional branch routers are designed around custom application-specific integrated circuits and specialized network processors to provide optimal WAN performance. A typical branch location usually contains a number of incompatible WAN appliances, such as routers, firewalls, WAN optimization, VPNs and, most recently, SD-WAN.
Cisco currently supplies the majority of multiprotocol branch routers, which connect branch locations to centralized data centers using a managed WAN service -- typically MPLS. Other branch router suppliers include Juniper Networks, Huawei and Adtran.
Hardware improvements enable software-based routing
Moore's law continues to drive improvements in the performance of standard server platforms -- typically with Intel processors, although ARM processors are also an option. Combined with improved packet-processing software like Data Plane Development Kit, software-based routing is becoming a viable option, with good pricing and performance.
Software-based routing provides advantages in terms of its flexibility, as it can be implemented anywhere and combined with other WAN functions for a complete package. Take the virtual network function model, for example. The server platforms now have enough I/O processing power for the multiple VNFs that run on them.
SD-WAN expands routing capabilities
SD-WAN services have matured significantly over the last few years. Most suppliers now offer a broad range of network functionality integrated in their SD-WAN devices, including WAN optimization, routing and basic security.
SD-WAN's support of Border Gateway Protocol is critical for the delivery of hybrid WAN services, which use a mix of MPLS and internet links. Many IT shops are now deploying SD-WAN options without physical branch routers, often displacing Cisco Integrated Services Routers (ISR) branch routers with SD-WAN devices that offer routing capabilities.
Branch routing requirements
The branch network of the future will have most of the following routing requirements, regardless of whether they take the form of an appliance or software:
secure WAN communications
reliability
zero-touch deployment
remote manageability
elastic scale-up and scale-down capacity
integration with SD-WAN, security, LAN and Wi-Fi
Customer requirements will vary significantly based on branch size, the number of remote sites, geographic location, available WAN bandwidth, branch applications and vertical industries. Additionally, connecting a wide range of internet-of-things devices at the branch will also affect network requirements.
The future of branch routers
As branch networking becomes more focused on application delivery, IT organizations have multiple options regarding the future of branch routers. These include the following:
Keep the traditional branch router. For large branches with high WAN performance requirements, keeping and even upgrading their branch routers may be a good option.
Phase out the branch router in favor of SD-WAN technology that includes routing functionality.
Plan a migration to a software-defined branch (SD-branch) service that consolidates a range of network functionality onto a single platform using software.
Many organizations will phase out their existing branch routers in favor of SD-WAN packages over the next few years.
Many organizations will phase out their existing branch routers in favor of SD-WAN packages over the next few years. Some will keep their installed routers for existing MPLS connections as part of a multiyear contract.
Customers now have the option to buy SD-branch services with support for broader network features, including SD-WAN, routing, security and Wi-Fi. Suppliers like Cradlepoint and Versa Networks, for example, have recently introduced SD-branch offerings.
For organizations choosing managed SD-WAN from a service provider, the decision will be defined by the service provider. Service providers currently have multiple customer premises equipment options that include routers, SD-WAN and virtual CPE services.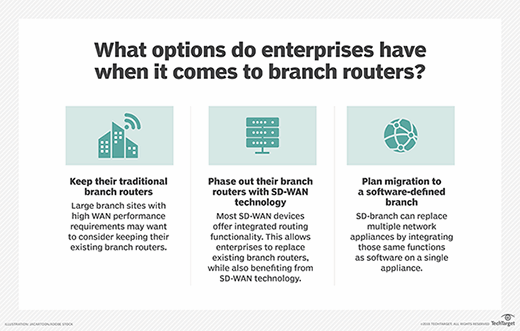 Examples of SD-WAN deployments displacing branch routers
Here are some specific examples of customers deploying SD-WAN -- as physical or virtual appliances -- to displace physical branch routers:
Aryaka. A global logistics company with hundreds of sites worldwide replaced Cisco devices with Aryaka's edge device for routing functionality.
Citrix. A large retail organization displaced their Cisco ISR routers by deploying Citrix NetScaler SD-WAN, which integrates routing, firewall and WAN optimization capabilities, in more than 1,000 locations.
Silver Peak. A real estate firm with 500 locations in 80 countries deployed Silver Peak Unity EdgeConnect to deliver SD-WAN functionality and replace Cisco ISRs at the branch.
Talari. Bremer Bank, a financial services firm in St. Paul, Minn., replaced Cisco routers at its branch locations with Talari SD-WAN.
VMware. Brooks Brothers replaced Cisco appliances at its 500 store locations with SD-WAN technology from VeloCloud, which was acquired by VMware in 2017.
SD-WAN paves the way for SD-branch
The rise of SaaS and cloud-based applications means the critical branch functionality needs to deliver quality user experience. Application performance at the branch must be reliable and fast, with low latency. IT organizations are rearchitecting their branch networks to deliver on application performance expectations.
Complex routing protocols are becoming less important for branch networks, and IT organizations are examining their options with regard to the future of branch routing. The popularity of SD-WAN means the continued displacement of traditional branch router appliances in favor of software-based technologies.
IT organizations need branch network services with zero-touch deployment, centralized management and SD-WAN functionality. Doyle Research believes the long-term architecture for the branch network will be defined by converged SD-branch services.