peshkova - Fotolia
IDC: SD-WAN market spend to top $5B in 2023
The latest IDC SD-WAN market report shows the amount companies spend annually on infrastructure will more than triple from 2018 to 2023, when it will reach $5.25 billion.
The global software-defined WAN infrastructure market will grow an average of nearly 31% annually through 2023 as vendors feed enterprise hunger for technology that connects employees to applications running on multiple cloud service providers.
That's one of the findings of IDC's latest SD-WAN forecast. The research firm said the market would reach $5.25 billion in 2023 from $1.4 billion in 2018, the beginning of the forecast period.
Enterprises have found SD-WAN a necessary technology for connecting branch locations and remote offices with SaaS applications and software running on public clouds, such as AWS and Microsoft Azure. Traditional WAN technology lacks most of the features needed for connecting to cloud and SaaS applications, such as simplified management, cost-effective bandwidth utilization and WAN flexibility, efficiency and security, IDC said.
The demand for SD-WAN will fuel a continuation of market consolidation through acquisition as companies with stronger business models buy weaker vendors for their intellectual property, customer base or presence in specific geographical regions, IDC said.
SD-WAN market consolidation
The SD-WAN market today has more than three dozen vendors, which is more than the market can support, analysts have said. The most significant acquisitions to date include VMware purchasing VeloCloud in 2017 and Cisco Systems acquiring Viptela and Oracle picking up Talari Networks in 2018.
Other trends spotted by IDC include SD-WAN evolving from a standalone product to a key feature within a broader SD-branch platform that encompasses additional network and security services.
"Vendors will compete intensely on this front during the next few years," the IDC report said.
Businesses with lots of branch and remote offices are deploying SD-branch technology to simplify network operations through consolidation of WAN connectivity, network security, LAN and Wi-Fi in a unified platform, according to Lee Doyle, principal analyst for Doyle Research. Network and security vendors offering SD-branch options include Cisco Meraki, Cradlepoint, Fortinet, Hewlett Packard Enterprise's Aruba Networks, Riverbed and Versa Networks.
Market share leaders
IDC defines SD-WAN infrastructure as comprising edge routing software or hardware and traditional routers and WAN optimization technology if they are an in-use and integrated component of an SD-WAN product.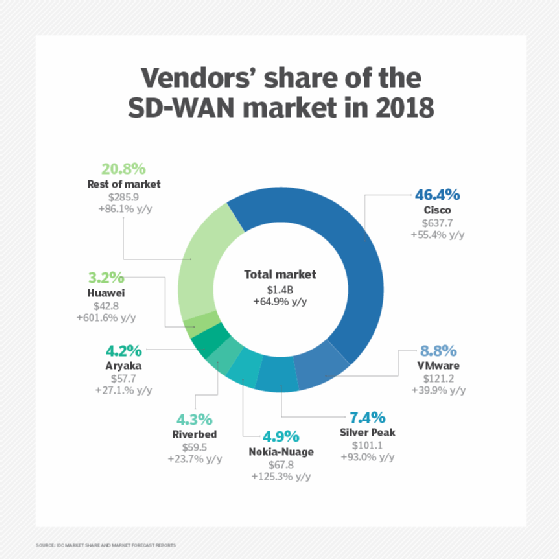 Other infrastructure components include SD-WAN controllers for centralized implementation of application policy and WAN routing, network visibility and analytics.
Based on IDC's definition of SD-WAN infrastructure, Cisco's broad portfolio of hardware and software made it the market leader with a 46.4% share, the researcher said. VMware, which sells only software, was second with an 8.8% share, followed by Silver Peak, 7.4%; Nuage Networks, a Nokia company, 4.9%; and Riverbed, 4.3%.