agsandrew - Fotolia
IT directors share SD-WAN advantages and advice
Enhanced access to internet applications, streamlined network connectivity and faster deployments at new offices are just some common SD-WAN advantages.
The story of Visteon Corp. sounds familiar. The 19-year-old company, a spinoff of the Ford Motor Company, once supplied automotive hardware -- things like seating, lighting and climate control parts. About four years ago, Visteon shifted gears. The Detroit-based company sold its manufacturing divisions so it could focus on automotive software development and cockpit electronics.
As its business model shifted from hubcaps to GitHub, Visteon's network needed to change, too. The company had a closed MPLS network -- designed with interconnect points -- provided by three different vendors. Visteon scrapped that model in favor of SD-WAN, which gave the company's remote developers local egress to the internet and cloud applications.
At the same time, Visteon retired its old on-premises apps and migrated to SaaS. This model is more efficient than connecting remote users to the internet via U.S. data centers, said Visteon IT director Manoj Sehgal at Enterprise Connect last month.
Visteon's focus on next-generation technologies, such as autonomous vehicles, was another reason the company scuttled its old infrastructure. Visteon harvests as much as 8 TB of data each day from vehicles driving around its Michigan test facility, and the old MPLS network was unable to handle that type of workload, Sehgal said.
"For us, it was a move for what needed to be done," he said. "We just needed a modern infrastructure." Visteon tapped Tata Communications for its SD-WAN service.
SD-WAN advantages -- access to apps
Visteon, like most of the networking industry, is capitalizing on the shift from hardware to software.
For Visteon and Sehgal, the real advantages of SD-WAN kick in when end users have easy access to applications -- anyplace, anywhere, anytime. Echoing this sentiment at Enterprise Connect was Mark Baker, CTO of Pilot Freight Services, a global logistics provider.
"By bringing in SD-WAN technology, it opens up the world of the internet in terms of other applications," he said.
In particular, Baker cited collaborative communications software that companies can now add to their networks more easily. With WAN technologies that depended on MPLS, integrating these apps could take weeks or months to plan.
The first generation of SD-WAN products did little to change the equation; global-scale deployments remained painful, Baker said. But as vendors refined their offerings and added new features, rollouts became much easier.
Baker said Pilot's most recent Aryaka SD-WAN deployment, to 90 sites, took only four months. The speed at which the network was activated illustrates how SD-WAN technology has matured, as organizations can implement a network that provides the benefits of private MPLS and, if appropriate, offload the infrastructure and shared cost onto an SD-WAN provider.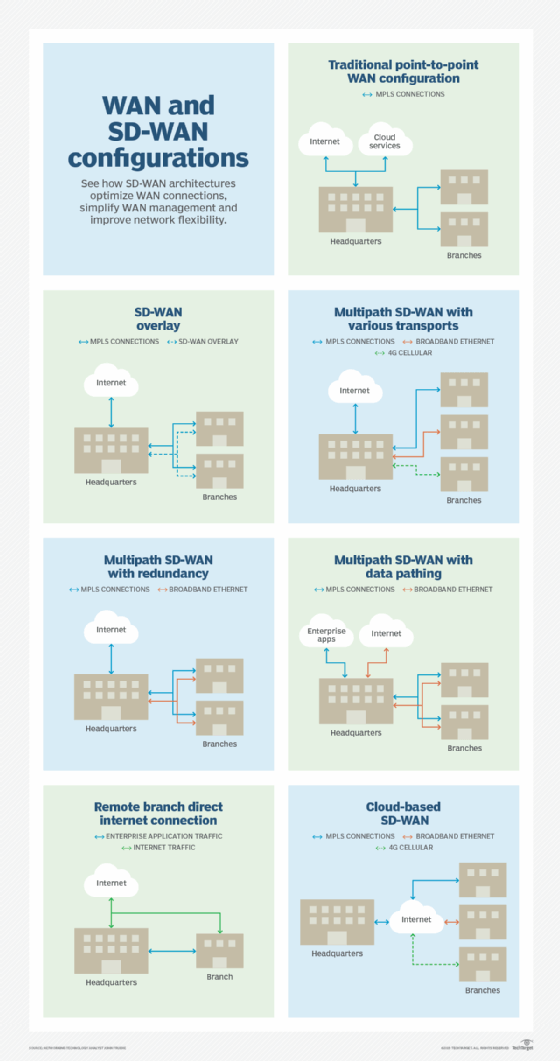 Faster rollout of new offices
BioIVT, a biotech firm based in Long Island, N.Y., faced a challenge many other companies would like to have. The provider of biological specimens was growing rapidly as it acquired other biotech companies.
The acquisitions and growth, however, presented some headaches, as new offices and networks were connected to BioIVT's global network. At one point, BioIVT spent 60 days integrating one of the new sites into its network, according to Andrew Thomson, BioIVT's director of IT systems and services.
"We were growing so quickly," he said. "We needed to become more agile as an IT department and respond to that growing business need."
BioIVT's network had its own issues as well, including a lack of intrusion prevention and a clunky VPN used to connect different sites. The latter, in particular, was difficult for BioIVT's IT team to manage internally, Thomson said.
Eventually, BioIVT moved to SD-WAN with Cato Networks Ltd. By using SD-WAN, BioIVT cut the time needed to connect a new location by 75%. Thomson cited other SD-WAN advantages the company is receiving from the new infrastructure, among them streamlined connections for its international offices.
Remote users in those offices can now use their VPNs to connect to a nearby point of presence and, from there, communicate with BioIVT's New York data center via the network's global backbone. In the past, users would have to navigate a circuitous path, forcing workers in Japan, for example, to connect to a router in the United Kingdom before they could connect with the New York office.
Finally, BioIVT redesigned how it managed the multiple internet links it had installed at each site. Those links, previously set up in an active-passive configuration, wouldn't allow some services to go over both connections. Furthermore, due to routing issues, BioIVT would sometimes lose half its services if one of the two lines went down. Because Cato now handles all IP addressing and switching for the company, those issues have been eliminated, Thomson said.
Managing more bandwidth and network traffic
The network at Pacific Dental Services was getting long in the tooth. The company, based in Irvine, Calif., had a traditional legacy network with MPLS running back to its single data center. It was time for Pacific Dental to catch up, get things current and get ahead, according to Rich Brownlee, the company's director of infrastructure and operations.
To that end, Pacific Dental ditched its on-premises data center and moved to cloud services. It also introduced telemedicine, video conferencing and 3D panoramic X-rays to its dental offices. These modern touches were great, but the company's bandwidth needs quadrupled. And trying to update and expand MPLS to carry this added traffic is quite expensive, Brownlee said.
"We found the old network wasn't sufficient," he added.
SD-WAN, in this case, made sense, and the dental group rolled out a network using services from VeloCloud.
Today, Pacific Dental uses broadband to connect its offices. An SD-WAN appliance and forward error correction support multiple paths out of the dental offices, which means Pacific Dental won't rely too much on one provider or connectivity type. If a network issue occurs, an office can maintain operations, including wireless and voice-over IP connectivity.
IT experts offer SD-WAN advice
For organizations weighing SD-WAN advantages, disadvantages or deployment, the IT directors at Enterprise Connect had the following advice and warnings:
A proof of concept can be very helpful.
Networking teams can be hesitant to change. Encourage staffers to tinker with new technology.
A good SD-WAN provider can help accelerate the learning curve for IT groups.
Smaller network teams may have to rely heavily on their selected SD-WAN vendor.
Beware of vendors that label an old, existing product as SD-WAN when it's really not.
Understand what's important to you versus what someone is trying to sell.
Consider what you're losing by switching to SD-WAN and design your network accordingly.
Before the deployment, establish metrics and benchmarks -- especially dollar amounts -- to measure the success of the project.
Understand your company's strategic plan and how SD-WAN supports business growth.
When dealing with your C-suite, learn how to talk about SD-WAN without getting bogged down with the technology.
If your network is already working fine, be ready to explain why you might need SD-WAN.
This was last published in
April 2019