DIY SD-WAN more complex than some vendors admit
Is DIY SD-WAN a do or a don't bother? One expert says it's rarely as simple as vendors suggest -- prompting a growing number of enterprises to enlist third-party support.
If something sounds too good to be true, it probably is -- including DIY software-defined WAN, according to Ghassan Abdo, research vice president of IDC's telecommunications group.
"Deployment is not as easy as many startups promise; the reality is much more complex," Abdo said. "To go in cold to a new location and deploy within a few hours -- we aren't really seeing that."
Enthusiasm for the do-it-yourself software-defined WAN (SD-WAN) option seems to be waning. Research from Frost & Sullivan found that just 20% of global enterprises opted to tackle DIY SD-WAN in 2018. And Roopa Honnachari, industry director for business communication services and cloud computing at the company predicts that number will continue to fall.
Dental group enlists third-party deployment partner
Pacific Dental Services (PDS), based in Irvine, Calif., recently decided against a purely DIY SD-WAN deployment, and instead enlisted the support of a value-added reseller (VAR) that had previous experience rolling out similar technology.
"We procure the gear through them and they help us deploy and monitor it," said Rich Brownlee, director of infrastructure and operations at PDS. "The benefit of having a partner that had done SD-WAN deployments before was very important to us."
Pacific Dental Services provides business and administrative support to more than 700 dental practices across 22 states -- making its WAN performance critical. Brownlee's team began exploring SD-WAN technology as a way to augment their existing MPLS connectivity to create network resiliency and redundancy, while also meeting growing bandwidth needs.
Deployment is not as easy as many startups promise; the reality is much more complex.

Ghassan AbdoResearch vice president, telecommunications group, IDC
"We're looking into some telemedicine and other initiatives that would mean delivering what I call BSAs -- bandwidth-sucking applications," Brownlee said. Patients are also increasingly streaming videos and surfing the web while sitting in practice waiting rooms, he added, which places further strain on the network.
With SD-WAN technology, his team could deploy internet-based connectivity alongside MPLS in a hybrid WAN architecture -- quadrupling the available bandwidth at a fraction of the cost of a new private link.
They carefully considered products from an array of SD-WAN vendors, Brownlee said, eventually selecting technology from VeloCloud, now part of VMware. They subsequently decided to purchase the product through a VAR, along with ongoing consulting, deployment and monitoring services.
"They've helped us configure the SD-WAN business policies according to how we want our applications to behave," Brownlee said. "We monitor the gear, as well; we are administrators on every box. But they're our partner in managing all those devices while we develop that talent internally."
As of April 2019, Pacific Dental Services has rolled out SD-WAN to 141 branch offices, where it has already been met with rave reviews from users. Brownlee expects all the remaining locations -- around 600 -- will have hybrid WAN by October. The aggressive timeline was another reason to outsource deployment.
"We don't have the manpower in-house to hit all the sites in less than a year," Brownlee said.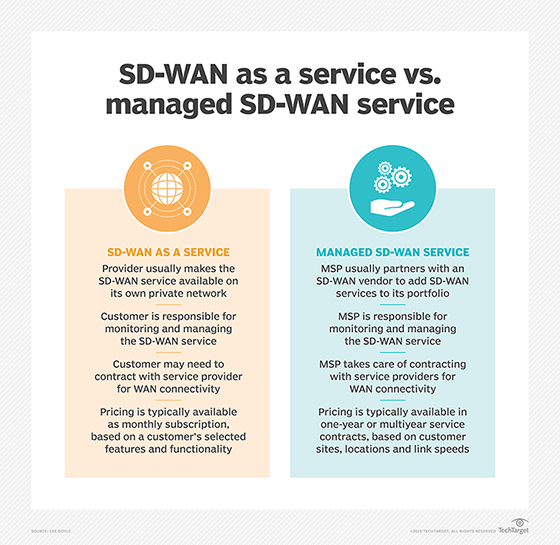 The VAR partner is working with local telecommunication technicians in branch offices as they install new broadband circuits, which is helping to integrate the VeloCloud technology with existing legacy gear.
"Deployment does require a person on site to move the cables around while we test to make sure applications are working as expected," Brownlee said.
Brownlee said they budget two hours per site for deployment. But if all goes seamlessly, he estimates they can get a location up and running in about 20 minutes -- or around 40 minutes if they need to make configuration changes while on site.
In truly DIY SD-WAN scenarios, on the other hand, IDC's Abdo said unforeseen configuration and integration issues can trigger major deployment headaches -- causing up to two-week delays.
"It's important to have a partner that understands those gotchas before you show up on site and try to plug it in and realize, 'Oh, I don't have the right connection,'" Brownlee said.
This was last published in
April 2019
Dig Deeper on WAN technologies and services