Fotolia
Cisco earnings, revenue show strength of product roadmap
Cisco earnings and revenue show customers are putting aside global uncertainties and buying into the company's shift toward a more software-centric form of networking.
Cisco beat analyst expectations for revenue and profit in the fiscal second quarter, as the company benefited from customers upgrading network infrastructure at a time of global uncertainty that would have tightened IT spending in the past.
For the quarter ended Jan. 26, Cisco reported that revenue rose 4.7% to $12.45 billion, while profit adjusted for one-time events was 73 cents a share -- a cent higher than analyst estimates. A year ago, Cisco's earnings showed a loss of $8.8 billion due to the new U.S. tax law passed by Congress in late 2017.
Cisco's solid performance was due, in part, to a 6% increase in revenue from its core business of selling switches, routers and other networking gear, which contributed $7.13 billion in sales. Strong sales of the Catalyst 9000 switches helped to drive up revenue. Cisco introduced the switches in 2017 as part of a product overhaul that turned to centralized software for managing network infrastructure.
In other product categories, Cisco reported a 24% increase in applications, which includes its AppDynamics network monitoring tools and Tetration analytics engine, and an 18% rise in security. The total revenue from each category was $1.47 billion and $658 million, respectively.
Cisco grows despite risks in global economy
Cisco CEO Chuck Robbins was surprised with customer "resilience" in buying technology, despite economic uncertainties due to Britain's withdrawal from the European Union, the trade war between the United States and China, and political turmoil in some emerging markets.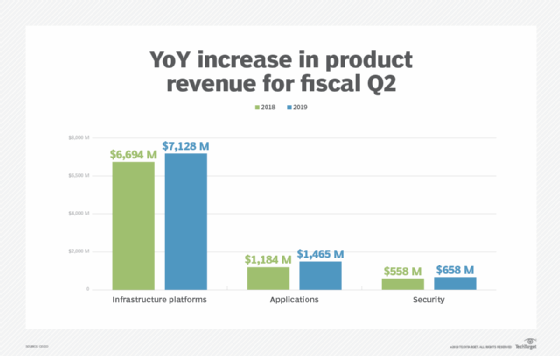 Customers continuing to spend despite the risks within the global economy showed how companies' attitudes have changed toward buying technology, Robbins told Wall Street investors in a conference call.
"They now view [Cisco's] technology as a core part of their strategy," Robbins said. "Many of the strategies they're driving around revenue growth don't work if they don't continue to invest in technology."
Customers' need for technology contributed to Cisco forecasting growth between 4% and 6%, or as much as $12.97 billion, for the current quarter. The projection beat the average analyst estimate of $12.83 billion, according to Bloomberg.
Cisco earnings show product strategy is working
Cisco is making good progress in its transition toward eliciting more value from its software capabilities and also how it delivers these to its customers via subscription offers.

Rohit Mehraanalyst at IDC
Overall, Cisco's earnings indicated market acceptance of technical innovations the company has showcased over several years in security, IoT, and data center, campus and cloud networking, said Rohit Mehra, an analyst at IDC. A significant innovation is Cisco's migration of network management to software from hardware.
"Cisco is making good progress in its transition toward eliciting more value from its software capabilities and also how it delivers these to its customers via subscription offers," Mehra said.
Analysts agreed Cisco's transformation into more of a software-based networking business was working. However, they disagreed over the acceptance of Cisco's new software-controlled data center architecture, called Application Centric Infrastructure (ACI).
"We, frankly, are struggling to see any significant uptake in actual ACI implementations," said Glenn O'Donnell, an analyst at Forrester Research. "The concepts are wonderful, but the reality is still too complex."
O'Donnell also said Cisco's network infrastructure sales were "OK, but should be better."
"I see it all as proof that [Robbins'] transformation is working; however, investors and customers want to see faster progress," he said.
Robbins acknowledged customers were only starting to install Cisco's new products and network architectures for the data center, branch and campus.
"Customers are still on the very front end of deploying all of this technology," Robbins said. However, based on customer acceptance of Cisco's product roadmap, "we should have a pretty successful run ahead of us in our enterprise accounts, assuming that we continue to execute."
Competition with Huawei
Cisco's strongest competitor for enterprise wins in markets outside the United States is Chinese company Huawei, which captured the highest market share of network equipment sold to service providers in 2018, according to the Dell'Oro Group. The research firm forecast an overall market ranging from $400 billion to $450 billion over the next five years.
Analysts expect Huawei to give Cisco stiff competition for 5G-related sales to service providers rearchitecting data centers in preparation for the next-generation wireless technology. In addressing the rivalry, Robbins pointed to his company's 8% and 7% revenue growth in the fiscal second quarter in regions that included Europe and Asia, respectively.
"I feel very confident that not only can we compete, but we are, and we're winning right now," Robbins said.