Fotolia
Cisco's future banks on security, service providers, 5G
A big part of Cisco's future strategy will be enhancing its global presence and service provider customer base. For networking, it still pursues software and subscription models.
2020 was a challenging year for everyone, including Cisco. The dominant networking vendor encountered declining markets and reduced customer spending, as companies struggled with office shutdowns and budget limitations due to the COVID-19 pandemic.
Yet, despite revenue slumps and company restructuring, Cisco is better positioned now than it was two years ago, according to Rohit Mehra, vice president of network infrastructure at IDC. The turnaround is largely because of Cisco's collaboration portfolio, its growing role as a security supplier and its transition from hardware-centric networking to software.
Before the pandemic, Cisco pushed a networking strategy that focused on intelligent networks, policy-based automation, software-centric networking and subscription-based consumption models. The vendor kept that strategy intact amid the pandemic, Mehra said, although it was forced to address remote work support when companies moved to work-from-home policies. Remote work will remain a priority for vendors and customers, as an average of 25% to 30% of workers will continue to work from home once the pandemic subsides, according to IDC.
While the pandemic stymied many vendors' hardware shipments temporarily, it likely helped accelerate the transition to software and subscription models, as enterprises looked for more scalable consumption plans with better UX, Mehra said.
The pandemic also highlighted the need for more comprehensive security -- an area Cisco has been working to develop for the last couple years. Because of its main role as a networking vendor, many customers might not peg Cisco as a security supplier. But Cisco's "annualized multibillion-dollar business in security" makes it a significant player in the security market, Mehra said.
"Cisco has been on a journey to take its security offerings and portfolio up multiple levels for several years now. One of the reasons -- this is even pre-pandemic -- has been that the network provides a really good enforcement point for all things security," Mehra said.
Expectations for Cisco's future strategy
While Cisco seems relatively well positioned at the start of 2021, Mehra said he's keeping an eye on a few key aspects of Cisco's future business strategy.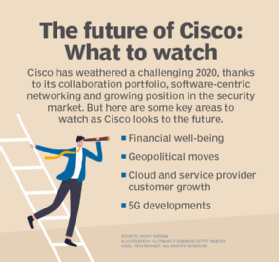 Financial well-being
As the annual Cisco Live conference draws near, so does more information about Cisco's financial trajectory. After facing bleak revenue numbers in the second quarter of 2020, most major vendors had decent numbers in the fourth quarter of 2020 and a promising outlook for 2021, Mehra said, citing IDC's research on the networking and communications market.
Cisco's revenue for the second quarter of its 2021 fiscal year -- ended Jan. 23 -- was $12 billion, with flat growth year over year, and net income of $2.5 billion. Its infrastructure platforms segment generated $6.39 billion, a 3% decrease year over year. Cisco projected its third quarter fiscal year 2021 revenue would grow between 3.5% and 5.5% year over year.
Geopolitical moves
Cisco has proven itself as a dominant vendor in the U.S., where the company is based, but the global arena presents a more difficult challenge with higher stakes. As with any vendor, the geopolitical climate presents a tough test for Cisco -- one that is out of the vendor's control, Mehra said.
China, for example, looms as a difficult market to break into, due to back-and-forth concerns between the U.S. and Chinese governments about policies and equipment risks. Regardless, Mehra said he wants to see how Cisco plans to engage the Chinese market, as well as emerging and frontier markets in other regions.
Cloud and service provider customer growth
Through acquisitions and portfolio positioning, Cisco has moved to expand its customer base among service providers and large cloud providers, some of which have yielded decent results, Mehra said.
"In the last couple years, Cisco has spent a lot of time and energy trying to understand the needs of these tier one global cloud providers," he said. "That has actually resulted in an uptick in their cloud provider buyer numbers for the last two to three quarters."
As Cisco continues to flesh out this provider strategy, Mehra said he's curious to see if Cisco's growth in the cloud segment was a one-off event for 2020 or if it will continue.
5G developments
While Cisco has started to articulate its 5G strategy, the vendor "is not there yet" with a complete roadmap, Mehra said. Cisco isn't a major radio access network player, like Ericsson, Huawei, Nokia or Samsung, but it still has opportunities with private 5G, 5G backhaul and 5G transport.
During the early stages of the pandemic, as carriers and service providers scrambled to upgrade their networks to meet intense broadband access requirements, Cisco saw the demand for broadband networks and transport across carriers and continents, Mehra said. Even after the pandemic, transport needs for 5G are going to be significant because of the proliferation of data at the edge. This is where Cisco could expand its role as a transport network provider.
Further, as enterprises begin their 5G rollouts for backhaul, they'll increasingly integrate 5G into their software-defined WAN environments and consider implementing private 5G networks. Mehra said he expects Cisco to emerge as a contender in private 5G in the next 12 to 18 months.
"More needs to be done, and we need to see Cisco show up and play that leadership role in these market segments. That's definitely an opportunity for them," Mehra said.
This was last published in
March 2021