Cisco acquisitions in 2019 bolster service provider strategy
Cisco acquisitions in 2019 and 2018 include three that show the company preparing for when carriers will increase spending to ready networks for next-generation business services.
Cisco's sales to carriers fell dramatically in the fiscal year ended in July, and the company does not expect the revenue picture to improve this quarter. But a look at Cisco's acquisitions in 2019 and 2018 reveals the company is playing the long game by purchasing technology that service providers might want as they overhaul networks to deliver services in line with business trends.
Over the last 21 months, Cisco embarked on 10 acquisitions, three of them service provider suppliers. Acacia Communications, Singularity Networks and Ensoft provide products that fit Cisco's concept of the digital transformation (DX) needed in service providers' data centers.
Chris Antlitz, an analyst at Technology Business Research Inc., said Cisco's DX strategy stems from its longtime relationship with carriers, which he said accounts for about a quarter of Cisco's overall revenue.
"They're building an architecture that telcos want to align with," Antlitz said. "These acquisitions strengthen the value proposition of the architecture they're building."
Network transformation the Cisco way means replacing legacy systems with software and hardware that use machine learning and AI for network analytics and automating management and troubleshooting. DX also involves placing control of network hardware in centralized software.
Whether service providers buy into Cisco's vision and start spending remains to be seen. In the fiscal year ended in July, product orders from service providers fell steadily from 2% growth year to year in the first quarter to a 21% drop in the fourth.
They're building an architecture that telcos want to align with. These acquisitions strengthen the value proposition of the architecture they're building.

Chris AntlitzAnalyst, Technology Business Research Inc.
Cisco does not expect an improvement in the current quarter. The company forecasted overall revenue to range from flat to 2% growth, compared to a 6% increase in the previous quarter.
Carriers refusing to spend
Cisco's troubles in the market are less about technology than carriers' reduction in spending, IDC analyst Rajesh Ghai said. "Overall spending as an industry has been flat to down over the past five years."
Carriers spent $1.64 trillion on technology in 2018, roughly $11 billion less than in 2014, according to IDC.
"Network operators' profit per bit is declining, which puts pressure on network equipment [purchases] overall," said Tom Nolle, president and founder of strategic technology consultancy Cimi Corp. "What Cisco is trying to do is get a slightly bigger piece of a shrinking pie."
Nolle is less optimistic about Cisco's DX strategy than many analysts.
"It's a good idea only as a placeholder for a strategy to help operators climb the value chain in services," he said. "Cisco has yet to show it can deliver [effective technology]."
What the Cisco acquisitions in 2019, 2018 bring
To proponents, Cisco acquisitions and strategy fit carriers' need for faster and more automated networks and tools for developing software to run on routers.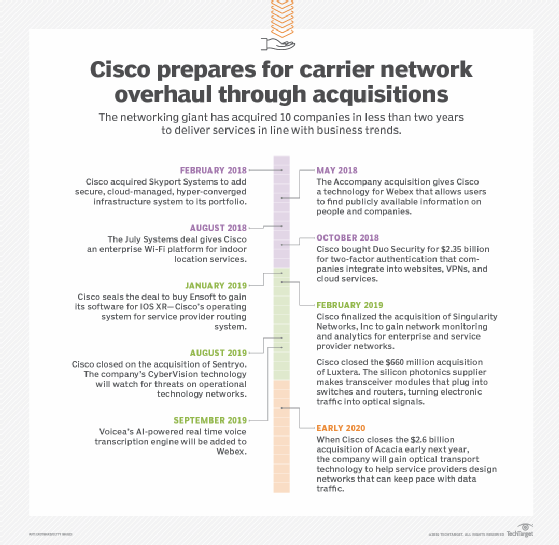 Acacia's optical transport technology will help service providers design networks that can keep pace with the projected increase in data traffic. Cisco has predicted that annual global IP traffic will triple by 2022. Contributors to the traffic surge will include internet growth, video content delivery, and the emergence of 5G, a next-generation wireless technology designed to support more demanding business applications.
Cisco announced the $2.6 billion Acacia deal in July and expects to close the transaction in the first half of next year.
Also, in 2019, Cisco acquired Singularity for its software that collects traffic data, logs and infrastructure performance metrics to provide network intelligence. Cisco planned to integrate the technology into its Crosswork Network Automation software portfolio for service providers.
In 2018, Cisco took over Ensoft, which developed software for IOS XR -- Cisco's operating system for service provider routing systems. Cisco folded Ensoft's staff of more than 60 engineers into its service provider networking group.
Cisco bolsters Webex, security and IoT through acquisitions
Besides its service provider-related investments, Cisco bought two companies to add business intelligence and a transcription service to Webex, the company's web conferencing service. Other acquisitions were to improve Cisco's offerings for security, the data center, and hyper-converged infrastructure systems.
For Webex, Cisco closed on the acquisition of Voicea in September with plans to fold its AI-powered real-time voice transcription engine into the suite of cloud-based software that provides online meetings, video conferencing and contact center applications. Cisco wants to stand out in the market with AI features ranging from facial recognition to computer-generated profiles.
In 2018, Cisco acquired Accompany for $270 million and started to embed in Webex the company's technology for finding publicly available information on people and companies. Accompany's software gets its data from scanning internet databases.
To strengthen its security portfolio, Cisco bought Duo Security for $2.35 billion. Duo offers two-factor authentication that companies integrate into websites, VPNs and cloud services. Cisco planned to sell Duo as a stand-alone product while also integrating its technology into Cisco's cloud-based services.
In October, Cisco will bolster its offerings in industrial IoT security when it closes the acquisition of Sentryo. Cisco wants Sentryo's CyberVision technology, which watches for threats on the operational technology networks that support industrial control systems.
To improve its data center portfolio, Cisco closed this year the $660 million acquisition of Luxtera. The silicon photonics supplier makes transceiver modules that plug into switches and routers, turning electronic traffic into optical signals capable of reaching speeds of 100 Gbps over optical fiber 2 kilometers in length. Cisco planned to use Luxtera in building chips that use light beams for moving data instead of the slower electrons over copper wiring.
Cisco added a highly secure, cloud-managed, hyper-converged infrastructure system to its portfolio by acquiring Skyport Systems in 2018. Skyport brought a tightly knit hardware and software product primarily used to run business-critical data center applications.
Finally, Cisco improved its enterprise Wi-Fi platform for indoor location services by acquiring July Systems. That deal closed in August 2018. July provided cloud-based software that integrates with a company's customer management system to identify people walking into a retail store or mall. The July subscription-based software can then interact with the people through text messages, email or push notifications.