SAP HANA database pivotal to SAP's past -- and future
In the last 20 years, SAP has gone from an ERP software vendor to a modern-day technology powerhouse. Analysts point to SAP HANA as the linchpin to its transformation.
Twenty years ago, enterprises may have turned to SAP for back-office business enterprise software. But these days, SAP wants to be much more than that.
A big part of SAP's strategy has to do with SAP HANA, an in-memory database the company initially released in 2010. It is now the gateway to what SAP calls the intelligent enterprise, where data is used to improve business processes and develop new business models.
The first part of this two-part series looks at how SAP, which has been around for 47 years, has transitioned from a company that focused primarily on back-office business enterprise software to one that endeavors to transform organizations into intelligent enterprises.
Broadening the scope
SAP's story in the last 20 years has been one of continually broadening scope, according to Lloyd Adams, managing director of the East Region at SAP America Inc. He joined the company in 1998.
In the late 1990s and early 2000s, "we were known more as an ERP company -- perhaps back office only," Adams said. "But through the years, both through organic development and a combination of development and acquisition, we've positioned ourselves to bring the back office to the front office to help provide the intelligent enterprise."
Anchored by SAP R/3, its pioneering client-server ERP platform, SAP entered a period of dramatic growth in the late 1990s. It rode the wave of Y2K fears, as businesses scrambled to consolidate IT on back-office ERP systems.
"The upgrade fever that Y2K created was really enormous and a lot of folks were pushing to use Y2K as a way to rationalize IT spending," said Joshua Greenbaum, principal at Enterprise Applications Consulting. "Also the Euro changeover was coming, and there was a lot of interest in looking at SAP because of how it could help manage European currency changes. So those two phenomena were really operative in the late 1990s, and SAP was right at the forefront of it."
At the same time that SAP's ERP business was growing, however, it faced threats from the rise of internet-based business systems and on-premises best-of-breed applications like Siebel Systems, which created a popular CRM product that Oracle acquired in 2005, and Ariba, which sold a procurement product that SAP eventually acquired in 2012, according to Jon Reed, co-founder of the ERP news and analysis firm Diginomica.com.
"SAP was able to weather those storms while expanding their ERP footprint by building out a serviceable CRM module, as well as an HR module with a globalized payroll function that has stood the test of time," Reed said. "Their core manufacturing base remained loyal and ... preferred SAP's 'one throat to choke' approach and extensive consulting partners."
Not all of SAP's efforts succeeded. Its SAP NetWeaver integration platform fell short, and the company failed to see Salesforce -- or anything SaaS -- coming, Reed said.
One of the main keys to SAP's success was to encourage its customers to undergo IT and business process reengineering in the 1990s, even if it was extremely complex, according to analyst Dana Gardner, president of Interarbor Solutions LLC in Gilford, N.H.
"Such IT-instigated business change was -- and is -- not easy, and the stumbles by many companies to catch up to the client-server world and implement ERP were legendary," he said. "But imagine if those companies had not made the shift to being digital businesses in the 1990s? When the web and internet hit, manual processes and nonintegrated business functions had to adapt to a connected world, so IT went from being for the business to being the whole business."
The idea that applications and the supporting IT infrastructure work collectively using distributed yet common data and pervasive networking to provide the best information and processes is a given these days, but SAP made this possible first, Gardner said.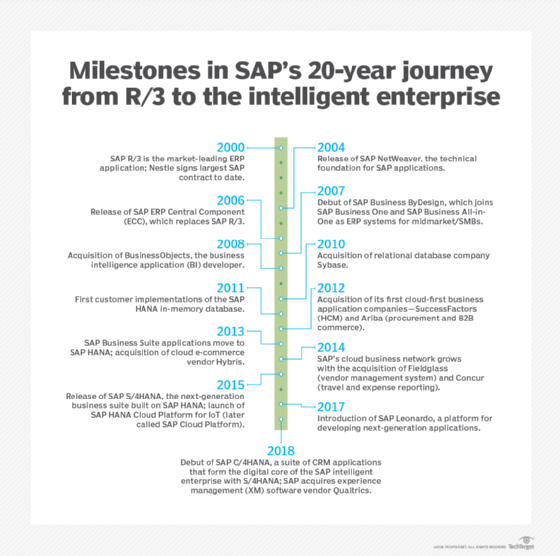 The SAP HANA big bang
But by the end of the 2000s, the radical new in-memory database SAP HANA was about to change SAP's direction again.
The release of the SAP HANA database in 2010 was the critical development that allowed SAP to conceive and begin to sell the concept of the intelligent enterprise, according to Adams. If there was no HANA, there would not have been an intelligent enterprise.
"It truly revolutionized the company, the industry and our ability to transcend conversations from a back-office perspective, but then be able to sit down with our customers and try and understand what were the main opportunities that they were looking to exploit or problems they were looking to solve," he said.
The development of SAP HANA was driven in large part by the rivalry between SAP and Oracle, according to Greenbaum. The SAP ERP applications ran mostly on Oracle databases, and in the 2000s Oracle began to aggressively encroach on SAP's territory in the enterprise software space with moves like the bitter acquisition of ERP vendor PeopleSoft.
"For SAP this was a real wake up call, because of the dependency that they had on the Oracle database," Greenbaum said. "That realization that they needed to get out from under Oracle, along with some research that had already been going on with in-memory databases inside SAP, began the hunt for an alternative, and that's where the HANA project started to bear fruit."
It has been a long, slow process for SAP to move its customers off of Oracle, which is still something of a problem today, Greenbaum said. But he believes HANA is now firmly established as the database of choice for customers.
Missteps with the SAP HANA database?
However, the emphasis on the SAP HANA database might have also been a distraction that took the company away from innovating on the applications that form SAP's core user base, according to analyst Vinnie Mirchandani, founder of Deal Architect.
"Every few years, SAP gets enamored with platforms and tools," Mirchandani said. "NetWeaver and HANA, in particular, distracted the company from an application focus, without generating much revenue or market share in those segments."
SAP was fundamentally correct that in-memory technology and real-time ERP were the ways of the future, but its push into databases with HANA is still a questionable strategy, according to Reed.
"Whether SAP should have entered the database business themselves is still open to second-guessing," he said. "You can argue this move has distracted SAP from focusing on their homegrown and acquired cloud applications. For example, would SAP be much further ahead on SuccessFactors functionality if they hadn't spent so much time putting SuccessFactors onto HANA?"
Buying into the cloud
SAP was slow to react to the rise of enterprise cloud computing and SaaS application like Salesforce, but it course corrected by going on a cloud application buying spree, acquiring SuccessFactors in 2011, Ariba in 2012, Hybris in 2013, Fieldglass and Concur in 2014.
Combining these cloud applications with SAP HANA "completely changed the game" for the company, Adams said.
"We eventually began to put those cloud line of business solutions on the HANA platform," he said. "That's given us the ability to tell a full intelligent enterprise story in ways that we weren't fully poised to do [before HANA]."
SAP's strategy of buying its way into the cloud has been largely successful, although efforts to move core legacy applications to the cloud have been mixed, Greenbaum said.
"SAP can claim to be one of the absolute leaders in the cloud enterprise software space," he said. "It's a legacy that is tempered by the fact that they're still pulling the core legacy R/3 and ECC customers into the cloud, which has not worked out as well as SAP would like, but in terms of overall revenue and influence in the area, they've made their mark."
Although SAP has proved to be adaptable to changing technologies and business trends, the future is in question. Part two of this series, will look at the release of SAP S/4HANA (the rewriting of SAP's signature Business Suite on HANA), the emergence of the SAP intelligent enterprise, and SAP's focus on customer experience.