Analytics revolution has spread the wealth of information
Business intelligence over the last 20 years has been marked by the opening up of data to everyday business users after it was once the sole possession of IT departments.
This is the first in a two-part series looking at the evolution of business intelligence over the past two decades. Part I examines where BI was 20 years ago and where it is today, while Part II looks at how we got from the analytics platforms of 1999 to the ones of 2019, and what BI might look like five years from now.
Data was in the hands of a select few two decades ago, but in the 20 years since, an analytics revolution has extended information riches that were once the possession of elite into the hands of many.
It still hasn't reached the masses, but the analytics revolution has at least spread the abundance of data to many more people.
Where once data was kept under lock and key by information technology teams and access had to be granted through requests and disseminated via reports, any business professional -- not just data scientists and data engineers -- with a modicum of training now can get their hands on the gold that is information.
The analytics revolution has led to an era of self-service, and birthed citizen data scientists.
"It's so diverse now, that's the interesting thing," said Donald Farmer, principal at TreeHive Strategy in Seattle and formerly an executive at both Qlik and Microsoft. "The biggest change is that we have better technology at home than in the office -- it's more powerful than IT departments. We have phones, tablets, laptops, apps that make it easy to consume machine learning and business intelligence, and that's a huge change."
The biggest change is that we have better technology at home than in the office -- it's more powerful than IT departments. We have phones, tablets, laptops, apps that make it easy to consume machine learning and business intelligence, and that's a huge change.

Donald FarmerPrincipal, TreeHive Strategy
Where the analytics revolution hasn't yet gone, however, is to the point of providing automatically generated information -- without being queried -- through people's everyday apps, but that's coming.
The landscape of 1999
Two decades ago it was the age of Y2K.
The year 2000 was mere weeks away, and the entire planet feared the total breakdown of a power ecosystem completely reliant on technology that perhaps wasn't intelligent enough to know that it was about to become the 21st century and not 1900.
It wasn't until midnight on Jan. 1, 2000 struck on the Pacific Rim, then began rolling through Asia hour by hour, that fears of a worldwide blackout -- and perhaps much worse -- subsided. By the time the new millennium began in Europe, elation prevailed. Eventually, the new year began on the East Coast of the United States. Three hours later it reached the West Coast. And when the islands of the Pacific finally got their turn to celebrate, the Samoan time zone the last to ring in 2000, the world was no different than it had been 24 hours earlier.
Meanwhile, the tools used to conduct most business today -- the internet, mobile phones and laptops -- were still in their infancy. The internet required a dial-up connection, Google had only been founded the year before and many email addresses ended in @aol.com. Mobile phones were just that -- phones, and nothing more. Laptops were a rarity. And tablets didn't exist.
Business intelligence, like the tools that would one day be used to conduct data research and analysis, existed in a far different form than it does today.
The analytics revolution had not yet begun.
Data, two decades ago, was handled by IT departments. They were in charge of all data management -- the collection, storage and organization of it. If someone wanted any data analysis done, they requested it from the IT department and then waited for the IT department to deliver a report.
"Data wasn't in real time -- it was way after the fact -- and there were haves and have-nots," said Marge Breya, currently the senior executive vice president and chief marketing officer at MicroStrategy whose software industry career spans more than 25 years. "You didn't have access to data if you weren't an IT pro or an executive."
Similarly, Rick Sherman, founder of Athena IT Solutions and a veteran of more than 30 years in the software industry who also teaches at Northeastern University's School of Engineering, noted how data was the domain of a select few before the analytics revolution.
"If you look at the technology of the time, IT departments created the reports and warehouses and did any reporting off of that," he said. "If you wanted a report, if you wanted data, you went to IT. You wrote a request and hoped you got it back in a reasonable amount of time. There were some business users that had ad-hoc query tools, but everything went through IT -- even data ownership. It was a different world."
The leading vendors of the day, meanwhile, were companies that remain relevant today, but are generally no longer viewed as the ones moving BI forward.
BusinessObjects, Cognos and Hyperion were viewed as the vendors with the most modern technology before the analytics revolution. MicroStrategy, though smaller than the other three, was also a significant vendor, as was Crystal Reports.
Only MicroStrategy, of those companies, remains independent. All, however, are still in operation -- Crystal Reports merged with BusinessObjects, which was then bought by SAP, Hyperion was acquired by Oracle and Cognos was purchased by IBM.
The modern world of BI
Jump ahead 20 years and we live in the world of mobile technology.
Laptops can be taken anywhere, and business can just as easily be conducted from a kitchen chair, a couch at Starbucks or the seat of an airplane as a desk in an office. Those phones that two decades ago were just phones are now mini supercomputers (not to mention cameras, voice and video recorders, GPS devices, TVs, radios, stereos and more).
And over the past two decades, BI vendors have taken advantage of the advances in technology to evolve their analytics platforms.
Just as office workers have been freed up to work from just about anywhere at any time, BI has been taken out of a centralized location controlled by a select few. It's now in the laptops and mobile devices of countless business users, who can consume it anywhere at any time.
Business users have been empowered by the analytics revolution, leading to the rise of self-service BI.
Data, meanwhile, is also abundant, so much so that many organizations are overwhelmed by how much they now possess and are only beginning to figure out how to harness it all.
The analytics revolution has given the power of information to a new audience.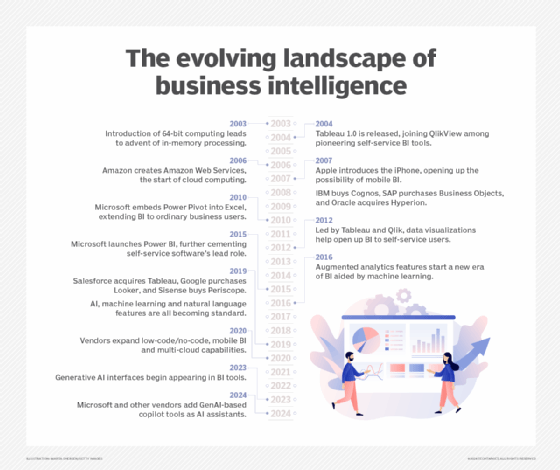 "One of the things today is the availability of data across the board," Sherman said. "It used to be in ERPs like SAP and you couldn't get access, but now whether it's in Salesforce or other cloud data warehouses, the business owns or runs the applications and they go back to the legacy ERP for data visualizations. The availability has massively increased."
Similarly, Farmer cited empowerment of the user as one of the most significant developments of the last 20 years.
"To me, that is the big change, that IT departments no longer control the technology," he said. "Users are way ahead."
BI, however, still isn't everywhere, and available to everyone.
According to a recent report from MicroStrategy, there's still a long way to go.
"At a high level we've made progress -- the whole notion of self-service came up," said Breya. "There's now 35 percent penetration of BI into enterprise, but there are still a lot of haves and have-nots. Most people know how to ask for data, but they still have to ask. Only three percent have data at their fingertips."
BI now is viewed on often dazzling dashboards -- some created by IT professionals with specialized skills but many that are pre-built by vendors -- that make data much easier to understand and interpret than the reports of 20 years ago. Meanwhile, augmented intelligence, natural language processing and machine learning are starting to move analytics into a new phase.
And the cloud is changing everything.
"Now a business analyst is just a business person who needs some data to do analysis," said Sherman. "They have the enterprise applications, have their own prebuilt report dashboards and can do self-service analytics."
While BusinessObjects, Cognos and Hyperion were the hot vendors two decades ago, Tableau, Qlik and Microsoft with Power BI are the ones that have been on the innovative edge in recent years.
But as BI enters a new age, new vendors are emerging. Now, cloud-based platforms from companies such as Salesforce, ThoughtSpot, Domo, Looker and Yellowfin are enlarging the boundaries of what is possible.
They're attempting to create new ways of consuming analytics, one that may finally give data to the masses.