Future of Oracle centers on the cloud, AI and automation
Oracle deepened its embrace of cloud computing, AI software and IT automation tools in 2018. What can users expect from it in 2019? More of the same, most likely.
It's never easy to predict what Oracle will do in the next few months -- let alone in the next few years -- but emerging trends point to three primary paths for the future of Oracle: its namesake cloud, AI and automation.
Oracle focused heavily on all three areas in 2018 and, by all indications, will continue to do so in the coming year. That's not to say Oracle won't suddenly switch courses if other technologies catch its eye, but the company's momentum is definitely carrying it in these directions, something that likely will only accelerate through 2019 and beyond.
Let's look at what Oracle is doing in each area and what that entails for the vendor and its users.
Cloud-first focus on Oracle's strategy
Larry Ellison, Oracle's chairman and CTO, has changed his stance on cloud computing since 2008, when he famously downplayed the need to do anything substantive to respond to its emergence. But Oracle Cloud still lags behind the leading cloud platforms -- particularly when it comes to IaaS and PaaS market share. It doesn't help that Oracle last year reduced visibility into its cloud revenues by grouping them in with support revenue and software license updates.
Yet, Oracle seems more determined than ever to gain a greater piece of the cloud pie. To this end, the company updated Oracle Cloud Infrastructure (OCI), its IaaS technology, with expanded security capabilities as part of a revamped Gen 2 Cloud platform. The new version of OCI, launched at Oracle OpenWorld 2018, provides advanced cyberdefenses through added features that include a key management service, a cloud access security broker and a native web application firewall.
Those features are designed to help better protect and isolate application workloads and give enterprise users more control over their data. First and foremost, the future of Oracle rides on it being able to convince customers that Oracle Cloud offers better performance and is more secure and compliance-ready than rival services. That means additional investments in and improvements on the cloud platform are likely to be rolled out on a regular basis in the months ahead.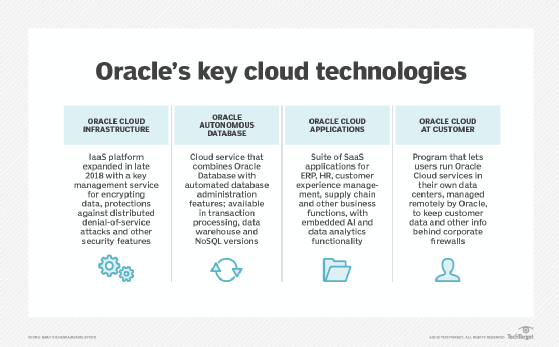 Oracle is also expanding its cloud operations to better meet the application requirements of multinational organizations. The company plans to significantly increase the number of global data regions available to Oracle Cloud users by the end of 2019, with new regions due to be added in the U.S., Canada and Europe, plus Australia, Brazil, India, Japan and South Korea.
At some point in 2019, Oracle will also offer a dedicated Exadata system infrastructure for its Autonomous Database cloud service as an alternative to the existing multi-tenant architecture that users have to share. Additionally, it plans to make Autonomous Database available to users of its Cloud at Customer program, expanding on an effort to push its cloud technologies into enterprise data centers.
An increased emphasis on AI
Oracle sees AI as a core feature that will eventually be embedded in nearly all of its cloud services and applications.
Along with cloud computing, the future of Oracle also includes a big bet on machine learning and other AI technologies. For example, the latest generation of OCI uses AI and machine learning algorithms to provide "autonomous robots" that are designed to identify and eliminate malicious attacks carried out by bot-equipped hackers.
Oracle sees AI as a core feature that will eventually be embedded in nearly all of its cloud services and applications. Already, Oracle has added AI-based capabilities to a number of its SaaS offerings, including its HR, ERP and enterprise performance management applications. Going forward, enterprise users can expect Oracle to continue to expand the AI functionality in its applications.
If recent product releases are any indication, Oracle will also continue to incorporate AI in other ways. For example, at OpenWorld 2018, the company released an Oracle Digital Assistant software platform, which can be used to build AI-powered virtual assistants that connect to back-end applications and automate customer service and routine workplace tasks. It also detailed plans for Oracle Fusion Analytics Warehouse, an analytics platform that will use machine learning to identify insights in corporate data for users.
Recent acquisitions also indicate that Oracle will continue on its AI-focused trajectory. In June 2018, Oracle acquired DataScience.com, a company that offers a data science workbench platform to centralize advanced analytics projects in a collaborative and governed workspace. Oracle plans to use the DataScience.com technology in conjunction with its AI-based SaaS and PaaS initiatives to create a new Data Science Cloud Service.
Another company that Oracle bought in 2018 is DataFox, the developer of a cloud-based AI data engine that uses machine learning algorithms to analyze data about businesses and provide customers with information to aid their sales and CRM efforts. Oracle plans to integrate the DataFox engine with its SaaS applications, while also continuing to sell the engine as a stand-alone product.
Automation aims to ease admin work
Another strategy that's central to the future of Oracle is the company's push toward more automated -- or, as it says, "autonomous" -- operations. By all indications, Oracle will continue to push to automate the management of system infrastructures in the cloud, incorporating machine learning and other AI functionality to do so.
But infrastructure automation is only part of the story. While AI makes applications smarter, Oracle says automation will make them easier to use, eliminating many of the mundane tasks that go with managing and optimizing them.
Nowhere is this trend more apparent than in the Autonomous Database service, which automates many of the operations that database administrators typically have to do manually in an on-premises database system. Oracle describes the service as self-driving; it even includes self-optimization capabilities based on machine learning technology.
Oracle will release Oracle Database 19c in the near future. Once the new edition has been fully incorporated into the Autonomous Database platform, users can expect additional automated services -- particularly when it comes to indexing databases and managing query execution plans.
Of course, Oracle isn't only focusing on the cloud, AI and automation; it's also investing in technologies like blockchain, IoT, 5G networking and quantum computing. Even so, 2018 clearly established Oracle's current focus and its trajectory going forward, and 2019 will likely continue to build on these trends.