The roots of Oracle's cloud evolution: A 20-year review
Oracle, like other prominent on-premises software vendors, has traced a long path into the cloud. These 10 events over the past 20 years helped lay the foundation.
Oracle's strategy going into 2020 is to support users wherever they are, while not-so-subtly urging them to move onto Oracle cloud services – particularly databases.
In fact, some say it's Oracle's legacy as a database vendor that may be the key to the company's long-term success as a major cloud player.
To reconcile the Oracle cloud persona of today with the identity of database giant that the company still holds, it helps to look back at key milestones in Oracle's history over the past 20 years, beginning with Oracle database releases at the turn of the century.
Oracle releases Database 8i, 9i
Two major versions of Oracle's database arrived in 1998 and 2001. Oracle Database 8i was the written with a heavy emphasis on web applications -- the "i" stood for Internet.
Then Oracle 9i the feature Real Application Clusters (RAC) for high-availability scenarios. RAC is a widely popular and lucrative database option for Oracle, one it has held very close to date. RAC is only supported and certified for use on Oracle's cloud service at this time.
With the 9i update, Oracle made a concerted effort to improve the database's administrative tooling, said Curt Monash, founder of Monash Research in Acton, Mass.
"This was largely in reaction to growing competition from Microsoft, which used its consumer software UI expertise to have true ease-of-administration advantages versus Oracle," Monash said. "Oracle narrowed the gap impressively quickly."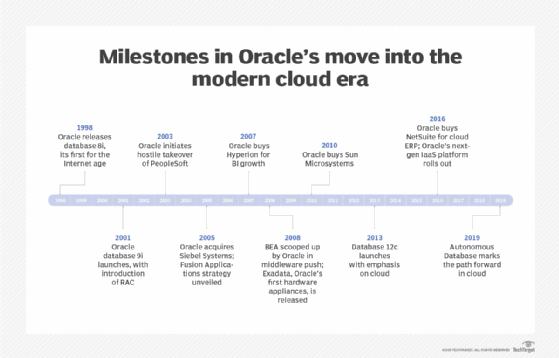 Oracle acquires PeopleSoft and Siebel
Silicon Valley is littered with the bones of once-prominent application software vendors that either shut down or got swallowed up by larger competitors. To that end, Oracle's acquisitions of PeopleSoft and Siebel still resonate today.
The company launched what many considered to be a hostile takeover of PeopleSoft, the second-largest software vendor in 2003 after SAP. It ultimately succeeded with a $10.3 billion bid the following year. Soon after the deal closed, Oracle laid off more than half of PeopleSoft's employees in a widely decried act.
Oracle also gained J.D. Edwards, known for its manufacturing ERP software, through the PeopleSoft purchase.
The PeopleSoft deal, along with Oracle's $5.8 billion acquisition of Siebel in 2005, reinvented the company as a big player in enterprise applications and set up the path toward Fusion.
Oracle realized that to catch up to SAP in applications, it needed acquisitions, said Holger Mueller, an analyst with Constellation Research in Cupertino, Calif., who worked in business and product development roles at Oracle during much of the 2000s.
"To cement ownership within complex CRM, they needed Siebel," Mueller said. Those Siebel customers largely remain in the fold today, he added. While rival HCM software vendor Workday has managed to poach some of Oracle's PeopleSoft customers, Salesforce hasn't had the same luck converting Siebel users over to its CRM, according to Mueller.
Oracle's application deals were as much or more about acquiring customers as they were about technology, said Frank Scavo, president of IT consulting firm Strativa in Irvine, Calif.
"Oracle had a knack for buying vendors when they were at or just past their peak," he said. "PeopleSoft was an example of that."
The PeopleSoft and Siebel deals also gave Oracle the foundation, along with its homegrown E-Business Suite, for a generation of applications in the cloud era.
Oracle's Fusion Applications saga
Oracle invoked the word "Fusion" in 2005, under the promise it would deliver an integrated applications suite that comprised a superset of functionality from its E-Business Suite, PeopleSoft and Siebel software, with both cloud and on-premises deployment options.
The company also pledged that Fusion apps would deliver a consumer-grade user experience and business intelligence embedded throughout processes.
Fusion Applications were supposed to become generally available in 2008, but Oracle didn't make these applications generally available to all customers until 2011.
It's been suggested that Oracle wanted to take its time and had the luxury of doing so, since its installed base was still weathering a recession and had little appetite for a major application migration, no matter how useful the software was.
Fusion Applications' sheer scope was another factor. "It takes a long time to build software from scratch, especially if you have to replace things that were strong category leaders," Mueller said.
Oracle's main shortcoming with Fusion Applications was its inability to sell very much of them early on, Mueller added.
Oracle acquires Hyperion and BEA
After its applications shopping spree, Oracle eyed other areas of software. , it bought enterprise performance management vendor Hyperion in 2007 for $3.3 billion to bolster its financials and BI business.
"Hyperion was a smart acquisition to get customers," Mueller said. "It helped Oracle sell financials. But it didn't help them in the move to cloud."
In contrast, BEA and its well-respected application server did. The $8.5 billion deal also gave Oracle access to a large customer base and many developers, Mueller added.
BEA's products also gave a boost to Oracle's existing Fusion Middleware portfolio, said John Rymer, an analyst at Forrester. "At the time, Oracle's big competitor in middleware was IBM," he said. "[Oracle] didn't have credibility."
Oracle's hardware play
Oracle made a major strategic shift in 2008 with the introduction of Exadata, its foray into hardware.
Exadata packs servers, networking and storage, along with Oracle database and other software, into preconfigured racks. Oracle also created storage processing software for the machines, which its marketing arm initially dubbed "engineered systems."
With the move, Oracle sought to take a bigger hold in the data warehousing market against the likes of Teradata and Netezza, which was subsequently acquired by IBM.
Exadata was a huge move for Oracle, Monash said.
"They really did architect hardware around software requirements," he said. "And they attempted to change their business relationship with customers accordingly. … For context, recall that one of Oracle's top features in its hypergrowth years in the 1980s was hardware portability."
In fact, it would have been disastrous if Oracle didn't come up with Exadata, according to Monash.
"Oracle was being pummeled by independent analytics DBMS vendors, appliance-based or others," he said. "The competition was more cost-effective, naturally, but Exadata was good enough to stem much of the bleeding."
Exadata and its relatives are foundational to Oracle's IaaS, and the company also offers the systems on-premises through its Cloud at Customer program.
"We offer customers choice," said Steve Daheb, senior vice president of Oracle Cloud. "If customers want to deploy [Oracle software] on IBM or HP [gear], you could do that. But we also continue to see this constant theme in tech, where things get complicated and then they get aggregated."
Oracle buys Sun Microsystems
Few Oracle acquisitions were as controversial as its $7.4 billion move to buy Sun Microsystems. Critics of the deal bemoaned the potential fate of open-source technologies such as the MySQL database and the Java programming language under Oracle's ownership, and the deal faced serious scrutiny from European regulators.
Oracle ultimately made a series of commitments about MySQL, which it promised to uphold for five years, and the deal won approval in early 2010.
Sun's hardware became a platform for Exadata and other Oracle appliances. MySQL has chugged along with regular updates, contrary to some expectations that it would be killed off.
But many other Sun-related technologies fell into the darkness, such as Solaris and Sun's early version of an AWS-style IaaS. Oracle also moved Java EE to the Eclipse Foundation, although it maintains tight hold over Java SE.
The Sun deal remains relevant today, given how it ties into Ellison's long-term vision of making Oracle the IBM for the 21st century, Mueller said.
That aspiration realized would see Oracle become a "chip-to-click" technology provider, spanning silicon to end-user applications, he added. "The verdict is kind of still out over whether that is going to work."
Oracle Database 12c
The company made a slight but telling change to its database naming convention with the 2013 release of 12c, swapping consonants for one that denoted "cloud," rather than "g" for grid computing.
Oracle's iteration of 12c had multitenancy as a marquee feature. SaaS vendors at the time predominantly used multitenancy at the application level, with many customers sharing the same instance of an app. This approach makes it easier to apply updates across many customers' apps, but is inherently weaker for security, Ellison contended.
Oracle 12c's multi-tenant option provided an architecture where one container database held many "pluggable" databases.
Oracle later rolled out an in- option to compete with SAP's HANA in- database. SAP hoped its customers, many of which used Oracle's database as an underlying store, would migrate onto HANA.
2016: Oracle acquires NetSuite
Oracle's $9.3 billion purchase of cloud ERP vendor NetSuite came with controversy, given Ellison's large personal financial stake in the vendor. But on a strategic level, the move made plenty of sense.
NetSuite at the time had more than 10,000 customers, predominantly in the small and medium-sized business range. Oracle, in contrast, had 1,000 or so customers for its cloud ERP aimed at large enterprises, and not much presence in SMB.
Thus, the move plugged a major gap for Oracle. It also came as Oracle and NetSuite began to compete with each other at the margins for customers of a certain size.
Oracle's move also gave it a coherent two-tier ERP strategy, wherein a customer that opens new offices would use NetSuite in those locations while tying it back to a central Oracle ERP system. This is a practice rival SAP has used with Business ByDesign, its cloud ERP product for SMBs, as well as Business One.
The NetSuite acquisition was practically destined from the start, said Scavo of Strativa.
"I always thought Larry was smart not to do the NetSuite experiment internally. NetSuite was able to develop its product as a cloud ERP system long before anyone dreamed of doing that," Scavo said.
NetSuite customers could benefit as the software moves onto Oracle's IaaS if they receive the promised benefits of better performance and elasticity, which NetSuite has grappled with at times, Scavo added. "I'm looking forward to seeing some evidence of that."
Oracle launches its second-generation IaaS cloud
The IaaS market has largely coalesced around three players in hyperscale IaaS: AWS, Microsoft and Google. Other large companies such as Cisco and HPE tried something similar, but ceded defeat and now position themselves as neutral middle players keen to help customers navigate and manage multi-cloud deployments.
Oracle, meanwhile, came to market with an initial public IaaS offering based in part on OpenStack, but it failed to gain much traction. It subsequently made major investments in a second-generation IaaS, called Oracle Cloud Infrastructure, which offers many advancements at the compute, network and storage layers over the original.
With [on-premises software] we had to make it work with everybody. Part of it is working together to bring that to the cloud.

Steve DahebSenior vice president, Oracle Cloud
Oracle has again shifted gears, evidenced by its partnership with Microsoft to boost interoperability between Oracle Cloud Infrastructure and Azure. One expected use case is for IT pros to run their enterprise application logic and presentation tiers on Azure, while tying back to Oracle's Autonomous Database on the Oracle cloud.
"We started this a while back and it's something customers asked for," Oracle's Daheb said. There was significant development work involved and given the companies' shared interests, the deal was natural, according to Daheb.
"If you think about this world we came from, with [on-premises software], we had to make it work with everybody," Daheb said. "Part of it is working together to bring that to the cloud."
Oracle Autonomous Database marks the path forward
Ellison will unveil updates to Oracle database 19c, which runs both on-premises and in the cloud, in a talk at OpenWorld. While details remain under wraps, it is safe to assume the news will involve autonomous management and maintenance capabilities Oracle discussed in 2017.
Oracle database customers typically wait a couple of years before upgrading to a version, preferring to let early adopters work through any remaining bugs and stability issues. Version 19c arrived in January, but is more mature than the name suggests. Oracle moved to a yearly naming convention and update path in 2018, and thus 19c is considered the final iteration of the 12c release cycle, which dates to 2013.
Oracle users should be mindful that autonomous database features have been a staple of database systems for decades, according to Monash.
But Oracle has indeed accomplished something special with its cloud-based Autonomous Database, according to Daheb. He referred to an Oracle marketing intern who was able to set up databases in just a couple of minutes on the Oracle Cloud version. "For us, cloud is the great democratizer," Daheb said.