ra2 studio - Fotolia
How Oracle DBA responsibilities change with Autonomous Database
Oracle's Autonomous Database automates basic tasks of database administrators. That may put some DBA jobs at risk, but many will shift to higher-level duties.
Since Oracle first detailed its Autonomous Database technology in October 2017, database administrators, or DBAs, have questioned how the automated cloud environment might affect their jobs -- or whether they'll soon be looking for new ones.
As with any new technology, the issue is not so clear-cut. Much will depend on the extent to which an organization adopts Oracle Autonomous Database, how management treats the opportunities that come with it and how DBAs respond to the changing climate. What is certain, however, is Oracle DBA responsibilities are changing, and the key to handling that change is a flexible and adaptable mindset.
Autonomous Database, which officially debuted with the launch of a data warehouse service in March 2018, leaves little for DBAs to do when it comes to daily operations. They won't have to patch, update, tune or carry out other basic database management tasks. According to Oracle, the technology takes care of all administrative procedures, leaving DBAs to focus on higher-level priorities, such as modeling data, protecting sensitive information and optimizing application performance.
Oracle also claims, by automating mundane Oracle DBA responsibilities, customers can save substantially on the cost of keeping databases running. Autonomous Database combines Oracle Database 18c with machine learning algorithms and automated scripts. Because it exposes no administrative controls, DBAs are no longer needed for day-to-day operations. Additionally, databases are less vulnerable to the types of human error that can lead to downtime, poor performance, corrupt or compromised data, or other costly events.
DIY database administration
Autonomous Database also makes it possible for developers, data scientists and data stewards to implement or update databases without DBA intervention, simplifying their work processes and, hopefully, increasing productivity. As part of the initial Oracle Autonomous Data Warehouse Cloud service, a user can deploy a data warehouse within minutes, cutting DBAs out of the picture altogether.
DBAs could potentially be up against IT managers who turn to Autonomous Database specifically to minimize personnel. New businesses may decide to implement their database systems in the cloud environment without bringing on any DBAs. And companies that offer data management services could see their customers disappear, forcing them to pare down on DBA resources, as databases become more automated.
However, organizations must consider this worst-case scenario: The Autonomous Database service fails or data becomes corrupted, but they have no DBAs to aid them in the recovery process. As tempting as it may be to cut out the middleman, businesses could be left in the lurch without a DBA and might need to bring in high-priced consultants if things go awry.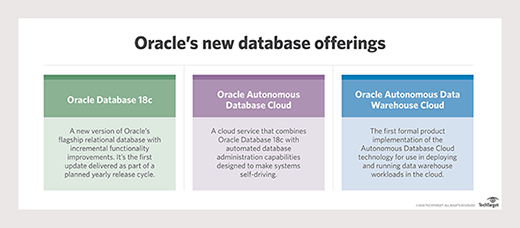 Don't panic yet, Oracle DBAs
Most DBAs would gladly give up the drudgery of patching, updating and backing up databases.
Clearly, many questions need to be resolved before assuming any Oracle DBAs will be given the boot. Also, transitions like this take time -- especially given the Autonomous Database product offering does not yet include all of the planned features, including a transaction processing service. On top of all that, many companies are still unwilling to trust cloud services, let alone use them to host their most sensitive data.
Organizations with heavy investments in their existing IT infrastructures are also less likely to move quickly to the Autonomous Database technology. Many of them support large, complex systems where the DBA remains a central player. In fact, most DBAs already have more work than they can handle and would gladly give up the drudgery of patching, updating and backing up databases.
Most technology is edging toward increased automation and autonomy -- a movement not likely to change anytime soon. IT workers have had to adapt accordingly and will continue to adapt -- and not just because of automation. Other movements have also affected how people work -- consider DevOps or the citizen developer -- but they haven't diminished the need for qualified professionals.
An opportunity to change DBA ways
Oracle Autonomous Database represents a continuation of an ongoing process, with the DBA steadily moving from an operational focus to a business focus that puts data at center stage. With this trend come new opportunities to redefine Oracle DBA responsibilities for safeguarding and managing data, as well as optimizing application performance. For some, these changes won't come easily, but they're inevitable nonetheless; DBAs should take whatever steps necessary to prepare for their arrival.
For many DBAs, this simply means continuing with what they've been doing all along: learning new skills, being open to different business models and remaining flexible in the face of a changing industry. New technologies like Oracle Autonomous Database have a way of presenting opportunities not readily apparent when first introduced.
That's not to say it will always be an easy transition or that management won't fall victim to shortsighted goals. But for most organizations, the DBA's value will not diminish -- although Oracle DBA responsibilities will likely evolve from a database-centric perspective to one that focuses on data as a whole. Perhaps the key for DBAs is to start thinking of themselves more as data engineers than as database administrators -- a transition that many have already been making.