Fotolia
Oracle layoffs underpin its IaaS ambitions
Oracle plans further investments in Oracle Cloud Infrastructure, but to do so it has cut jobs and made plans to hire fresh talent to support its cloud business.
As Oracle girds for battle in the cloud market with Google, Microsoft and AWS, it has pared back current staff and made plans to hire fresh talent with modern skills.
A number of posters on social media and forums in the past week reference Oracle layoffs, people who claimed they were let go or have knowledge of others who were. The scope of Oracle employees affected by the cuts is unclear, but purported estimates on these channels and other media ranged from a few hundred to as much as 10% of Oracle's workforce, or nearly 14,000 positions.
An Oracle representative declined to confirm the specifics around the reported layoffs, but said the company continually seeks to balance resources and "restructure our development group" around its cloud products.
The company's most recent financial filing on March 19 gives some clues into the scope of Oracle's job trims. Management approved a restructuring plan for Oracle's fiscal 2019 of up to $432 million, and the company has spent $297 million on restructuring through the first nine months of its fiscal year, which ends May 31. Those numbers suggest the amount of Oracle layoffs could be significant, but likely well short of the 10% estimate.
Oracle isn't the only major cloud software vendor to pare its workforce this year. SAP said in January it would eliminate 4,400 positions through a combination of layoffs and early retirement offers, which it too characterized as a broader strategy to rework its mix of skills.
Oracle marshals the OCI troops
Many of the Oracle layoffs reported on social media channels appear connected with OCI Classic, which is what Oracle calls its initial IaaS based on OpenStack. Oracle has largely phased out OCI Classic since it launched its second-generation IaaS, called Oracle Cloud Infrastructure, in 2016.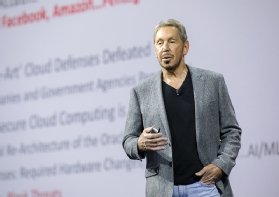 OCI introduced advancements at the compute, network and storage layers. Oracle co-founder and executive chairman Larry Ellison has emphasized OCI in recent OpenWorld keynotes, where he framed its measures for security, as well as cost-effectiveness as key differentiators against competitors. Nevertheless, Oracle remains far behind competitors in terms of market share.
Expect Oracle to hire more sales engineers and architects to support OCI. Oracle's careers website lists more than 600 open positions, and many of the most recent ones posted are for various engineering, support and strategy roles within OCI.
"Those are the roles that can most help customers choose the right mix of cloud platforms and understand when Oracle's cloud infrastructure offerings, combined with Oracle SaaS and database, make the most sense," said Dave Bartoletti, an analyst at Forrester Research.
Oracle's eye is not just on new hires; it's an overall adjustment to its mix of talent, as older product lines require fewer research and development resources, said Holger Mueller, an analyst at Constellation Research in Cupertino, Calif.
Applications Unlimited, Oracle's long-term support and maintenance program for primarily on-premises applications, such as E-Business Suite and JD Edwards, continues to be popular. It has a substantial installed base of customers that hasn't upgraded to newer, cloud-centric Oracle applications, he said. While Applications Unlimited generates substantial maintenance fees for Oracle, it doesn't require as rapid a pace for innovation in the products.
[Oracle] needs to get the integrated tech stack value proposition much better articulated.

Holger MuellerAnalyst, Constellation Research
Meanwhile, Oracle has had some luck with IaaS sales into its installed base, as customers move existing on-premises workloads into OCI. The company also recently introduced a set of click-to-launch services for customers to quickly set up software application pilots on OCI.
Oracle has consistently framed OCI as cheaper to run than other clouds, but this is true more for high-end workloads that emanate from Oracle environments rather than commodity compute cycles.
Oracle also offers Cloud at Customer, a managed hardware and software stack that runs inside customer data centers. Its architecture is the same as OCI's, which means customers can move workloads on and off premises as desired, according to Oracle.
But that strategy has yet to gel, in Mueller's view.
"[Oracle] needs to get the integrated tech stack value proposition much better articulated," Mueller said.
Dig Deeper on Cloud infrastructure design and management