Fotolia
Latest Oracle layoffs gut flash storage division
Oracle laid off much of the division that built and maintained its FS1 All Flash Storage Array this week. Analysts expect the company's storage focus will be on Exadata and cloud options.
Oracle layoffs gutted the flash storage division in Santa Clara, California and Broomfield, Colorado, as the company continues to shift its focus away from on-premises infrastructure toward cloud technologies.
Published reports and social media sites pegged the storage-related Oracle layoffs at 300 to 400 employees. But a source with knowledge of the situation said the staff reduction was less than 300, and some key storage personnel remain with the company.
Oracle declined to comment other than to provide the same statement it has issued following other layoff rounds this year.
"As our cloud business grows, we will continually balance our resources and restructure our development group to help ensure we have the right people delivering the best cloud products to our customers around the world."
The source with knowledge of the Oracle layoffs confirmed that Michael Workman, senior vice president of the company's flash storage systems, told employees about the workforce reductions during a conference call last Thursday.
Oracle's flash storage history
Oracle's flash storage division grew out of the company's 2011 acquisition of Pillar Data Systems. Oracle founder and CEO Larry Ellison backed Pillar through his Tako Ventures venture capital firm, then brought the block-based SAN I/O technology into the fold when the flash storage market heated up.
The Pillar team built and launched the Oracle FS1 All Flash Storage Array as enterprises started to shift from spinning disk to faster NAND flash memory-based solid-state drives (SSDs). But Oracle's FS1 failed to gain appreciable market share amid a field of storage stalwarts that includes Dell EMC, Hewlett Packard Enterprise, Hitachi Data Systems and NetApp, as well as flash startup Pure Storage.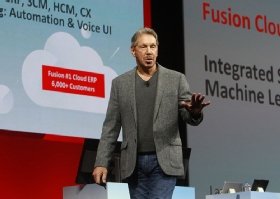 So, the flash-storage related Oracle layoffs came as no surprise to those who follow the storage industry. Analysts said Oracle's FS1 rarely if ever cropped up in competitive discussions. Marc Staimer, president of Dragon Slayer Consulting, noted that he regularly speaks with storage sales representatives and saw no indication for more than a year that Oracle was selling its FS1 array to external customers.
"It wasn't a bad product. There was just nothing highly innovative about it," Staimer said. He speculated that Oracle used the flash technology internally as well as in its cloud infrastructure.
Oracle storage products
Beyond the FS1 array, Oracle's storage offerings include the Exadata Database Machine, the ZFS Storage Appliance and the StorageTek tape family. Much of the technology is rooted in Oracle's 2010 purchase of Sun Microsystems. Sun also resold SAN storage from other vendors, but at the time of the acquisition, Ellison said Oracle would focus on selling internally developed storage.
"They keep the stuff they can make money on and jettison the stuff they can't. I'm surprised it took so long with the Pillar Data asset," said Dave Vellante, co-founder and chief analyst at The Wikibon Project.
But Vellante is quick to note that he doesn't view Oracle as a storage supplier in the classic horizontal sense. He said Oracle focuses on integrating the storage to make its databases and applications run better. In that vein, Exadata is the company's biggest asset, giving customers a high-performance database and "one throat to choke" in the event of a hardware issue, he said.
"You can criticize the lock-in and the licensing and their evil tactics, but people keep coming back for more because they get value out of it," Vellante said, noting that Exadata revenue hit record numbers during the last year.
Although Exadata is a success in the database space, Oracle does not broadly generate enough storage demand to be able to compete against the "big players" in the overall storage market, according to Holger Mueller, a VP and principal analyst at Constellation Research. He advised Oracle customers to keep an eye on Oracle's plans for storage partnerships moving forward.
New NVMe-based systems could challenge Exadata
Eric Burgener, a research vice president at IDC, predicts the Exadata business could become less viable for Oracle within two to three years, as customers discover that commodity servers equipped with ultralow-latency NVMe-based SSDs could give them similar performance at a far lower price. He said storage class memory could also change the landscape.
But Burgener doesn't envision the Exadata business drying up any time soon. He expects Oracle to keep customers happy and entice those using its applications to move to the Oracle Cloud, purchasing SaaS options that include storage.
"It's no secret that Larry has really been trying to move the business to 100% cloud," Burgener said. "If Oracle could achieve that, then they're going to have a much higher profit margin on their overall business model. But there's a very long tail, because they're going to continue to provide support for on-premise infrastructure for quite a while."