ra2 studio - Fotolia
Oracle, Microsoft forge cloud pact
Once bitter arch rivals, Oracle and Microsoft have formed an alliance around cloud interoperability, which is good for customers and both vendors.
Oracle and Microsoft have hatched a plan to make their respective cloud platforms more interoperable, which gives joint customers additional deployment options and highlights how competition in the cloud creates unlikely alliances.
Enterprises with a stake in both companies' products will benefit from scenarios such as the ability to tie Azure AI services back to Oracle's Autonomous Database, or to run Oracle ERP applications on Azure against an Oracle Exadata backend, the companies said.
These setups may seem counterintuitive with respect to system latency, but the partnership seeks to account for that with a direct interconnect between Oracle Cloud Infrastructure's Ashburn, Va., datacenter and Azure's U.S. East region. Oracle and Microsoft plan to add more regions in the future.
Other cloud interoperability measures include unified single sign-on between the two clouds. In addition, Oracle application shops can use Azure Active Directory for identity management, although that capability is in early preview today. The companies also expect to provide a collaborative support model, though there are presently few details on how this might work.
Overall, the deal appears to benefit both the vendors and their joint customers, analysts said.
"Enterprises get what they want -- they can run Oracle's database the most efficient way, and do all the other stuff they want with Azure," said Holger Mueller, an analyst at Constellation Research.
As for the identity management integration, customers already had a manual process. Oracle and Microsoft will now take on the job and support the integration, said Ed Anderson, an analyst at Gartner. Several joint Oracle-Microsoft customers, including Halliburton and The Gap, praised the partnership in prepared statements.
For Oracle and Microsoft, the partnership complements each other's technologies and customer bases. AWS presents a bigger threat to Oracle on the database tier than Microsoft SQL Server, Anderson said. In turn, Oracle's ERP systems cater mostly to the mid- and high-end market, whereas Microsoft Dynamics is popular among smaller companies.
Enterprises get what they want -- they can run Oracle's database the most efficient way, and do all the other stuff they want with Azure.

Holger MuellerAnalyst, Constellation Research
"This is just a way of extending [Oracle's] footprint," Anderson said. "Microsoft isn't a real competitive threat to them [in certain areas] so they see a lot of synergy."
The pact also seems to represent corporate will more than technical investment. It's not immediately clear how Oracle and Microsoft interconnected their data centers, but the former already had FastConnect and the latter offered ExpressRoute, both of which provide high-bandwidth connections between a customer's on-premises environments and the cloud.
"I don't get the sense there's a lot of engineering requirements here," Anderson said. "In general, they're using their pre-established endpoints." An Oracle documentation page goes into more detail on how the integration has been done.
That corporate will does have its limits, at least initially. The partnership could have gone further. For example, Oracle might have placed Exadata kit directly inside Azure data centers, Anderson added. "But there is value in what [Microsoft and Oracle are] doing," he said.
Strange bedfellows, or maybe not
Oracle and Microsoft are a good fit for this type of partnership because of their entrenched presence in large enterprise accounts, which is not something AWS or Google can claim, Constellation's Mueller said.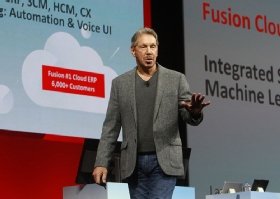 Oracle has had success with SaaS applications, but its PaaS and particularly IaaS business have struggled to gain market share. Recent Oracle layoffs reportedly targeted its first-generation IaaS and OCI, which brought advancements in networking and storage, as well as options such as bare-metal instances.
This partnership could see Oracle lose out on revenue from SaaS workloads on OCI to Azure. But eventually, Oracle might develop similar autonomous capabilities for its applications as it has for the database, and limit them to OCI, Mueller said.
Meanwhile, Microsoft Azure follows AWS in terms of public cloud entrenchment, but has reported steady gains. A partnership with Oracle, which is another entrenched enterprise IT vendor with little significant overlap, only fortifies Microsoft's case.
There's no word on a potential Oracle-Google Cloud interoperability pact, but one with AWS seems less likely given public sparring between Oracle and AWS executives. Oracle chairman and CTO Larry Ellison has said that Oracle's database runs much faster on the company's cloud than AWS, while AWS CEO Jassy has touted Amazon's consumer division's migration off Oracle's database, and positioned AWS services such as Redshift as a viable alternative for Oracle database customers.
Nonetheless, many key Oracle software products have been available on and certified for AWS for years, albeit not as fully managed services.