Luiz - Fotolia
Microsoft-Oracle cloud alliance boosts partner opportunities
The Microsoft-Oracle cloud interoperability pact has unlocked new customer segments in the channel, according to managed cloud service provider Ensono.
It is said that enemies make strange bedfellows, but industry observers are embracing the partnership that longtime rivals Microsoft and Oracle announced in June to provide interoperability between their Azure and Oracle cloud platforms.
The Microsoft-Oracle partnership gives enterprise customers the ability to migrate and run workloads across both cloud platforms, enabling the use of Azure services with Oracle services.
"This [alliance] is another indication of the growing demand among customers that want to capitalize on the various cloud alternatives being offered by multiple service providers -- i.e., a multi-cloud strategy," said Jeff Kaplan, managing director of consultancy THINKstrategies.
At the same time, however, "third-party service companies will need to determine what this kind of partnership truly means in terms of improving interoperability and become skilled in enabling new ways of integrating the cloud capabilities that Microsoft and Oracle have to offer, respectively," Kaplan added.
Creating new business opportunities
The Microsoft-Oracle alliance is already "massively" affecting business at managed cloud services provider Ensono, based in Downers Grove, Ill. The partnership has opened up new customer segments that had previously been inaccessible, said Gordon McKenna, CTO of public cloud and Microsoft MVP at Ensono.
Traditionally, Ensono has had "a big problem" with customers wanting to move to Oracle Cloud. While those customers feel that using Oracle's database "is [a] wise thing to do," many of them run workloads on Microsoft's .NET framework and prefer to run them in Azure, he said.
For example, one customer, an e-commerce company, has an Oracle database running on Linux and .NET websites running on the front end. The company wants to take advantage of features in Azure, "but traditionally, it has always been an issue putting an Oracle database in an Azure cloud," McKenna said.
Connecting the two environments was difficult, and it also posed issues around latency and integration security.
"Now, with the partnership ... there are no issues with [having to do] a double sign-in," McKenna said. "The collaboration will help customers on their digital journey."
He added that he thinks the partnership will make it simpler for customers to deploy multi-clouds, while still keeping "the relevant parts of the cloud with the vendor of their choice."
New customer opportunities
McKenna said he believes the partnership will enable Ensono to target new opportunities and market segments. The partner has many customers running Oracle ERP, but many want to use Microsoft Azure. Moving those Oracle ERP customers to Azure would create more opportunities for them to use machine learning and analytics, which he said are "bleeding-edge in the Microsoft platform.''
For some time, "a lot of people thought, if you moved to Oracle, you were locked into that cloud and couldn't use the functionality in others. But [the Microsoft-Oracle partnership] will allow for more cross-cloud collaboration," he said.
McKenna attributed new opportunities to Oracle having "leading-edge database technology," combined with the Microsoft's leading-edge data and analytics offerings.
"That is really a better story than before and will open up new opportunities,'' he said.
The Microsoft-Oracle partnership provides a "big cross connect" between North American data centers, said Paul Vian, senior vice president with Apps Associates, a consulting and managed services provider based in Acton, Mass., that specializes in Oracle. Customers can now run analytics on Azure and ERP on Oracle's cloud and connect those clouds together.
From what Vian has seen, the primary beneficiaries of the interconnection will be customers of Oracle's database-as-a-service offering and the Exadata platform. The latter can run in a private cloud or on Oracle's cloud.
"It's hard to move database as a service or Exadata natively into a third-party cloud. But, now, with this direct connect, it is enabling the ability to do that and then run production in one cloud and disaster recovery in another cloud," Vian said.
Ensono, meanwhile, supports both Azure and AWS, but specializes mainly in Azure cloud services.
"We don't really have an Oracle Cloud business. But definitely now that there's interaction between Oracle Cloud and Azure, we ... see more business coming to us with customers that have Oracle Cloud, whereas, previously, we'd turn down" that business, McKenna said. "We will embrace that now."
Manufacturing and retail are two of Ensono's primary verticals, and McKenna said he thinks both will benefit from the partnership.
"It's much easier for us to extend our ITSM [IT service management] platform on Azure to Oracle Cloud now that it's a connected cloud than for us to piece the two together for joint application management," he said.
Apps Associates' customers, thus far, haven't been flocking to make use of the Microsoft-Oracle interconnection, Vian said. "We haven't seen any big movement," he noted. "It creates some level of curiosity more than anything."
Customers have been asking Apps Associates what the partnership means and how they could potentially take advantage of it, he said. They also have asked whether the announcement with Microsoft means Oracle is no longer supporting AWS.
As for the AWS angle, Vian pointed out that, in 2017, Oracle designated Azure and AWS as authorized third-party clouds, meaning customers can run a long list of Oracle apps on AWS Elastic Compute Cloud and Amazon Relational Database Service, as well as Azure.
Behind the scenes
The Microsoft-Oracle alliance will not require much change or complicate partners' vendor relationships, McKenna said.
It's much easier for us to extend our ITSM platform on Azure to Oracle Cloud now that it's a connected cloud than for us to piece the two together for joint application management.

Gordon McKennaCTO of public cloud and Microsoft MVP, Ensono
Ensono, a globally managed Microsoft partner, is working with Oracle technology with relative ease, "because the connection between Azure and Oracle Cloud is pretty seamless," he said. "If I think about the way we monitor websites today, we might have to work out how to set up connectivity to Oracle Cloud to manage a database on the back end. But, today, there's very little change [required] to our existing platform to embrace some of the functionality."
From a business perspective, Microsoft is bringing a lot of features and functionality to partners. The vendor is showing Ensono opportunities it can take advantage of by having the integrations in place, he said.
"For example, a web application deployed in Azure can talk to an Oracle database running in OCI [Oracle Cloud Infrastructure]," he said.
Benefits for Microsoft and Oracle
Oracle has lagged behind the industrywide move to cloud computing, so the partnership with Microsoft could help Oracle stay competitive in the enterprise space.
Oracle has been aiming to go head-to-head with public cloud rivals, such as Microsoft Azure and AWS, launching its second-generation IaaS offering, Oracle Cloud Infrastructure, in 2016. Vian said Oracle "came in aggressively to go after Microsoft and AWS," but has yet to gain traction.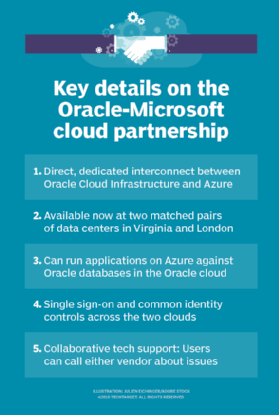 Vian said he sees Oracle's partnering with Microsoft as a bid to attract more business in the enterprise market. He said Oracle's thinking might be that it is better to take a share of an enterprise account with Microsoft, rather than lose it all.
Customer satisfaction is another benefit for Oracle customers, McKenna observed. He said Ensono is currently helping a large retail client move an on-premises Oracle database to the public cloud. The retailer decided to migrate the majority of its infrastructure to Azure, but feels the best place for its databases is in Oracle Cloud.
"Obviously, with the option to seamlessly connect to the two, [the customer] can put the right workload in the right place," McKenna said.
Before the alliance, the retailer would have had to move its websites to Oracle, which does not have as many features it can use as Azure offers, he said.
"So, having the opportunity to split their apps up means Microsoft gains new revenue from virtual machines that typically might go sit in Oracle [Cloud]" because of its database technology, McKenna continued. "So, for Microsoft, it's really [creating] new opportunities from apps that maybe wouldn't have been there before."
The Microsoft-Oracle connectivity is a win-win for both vendors, which both stand to gain from the alliance, McKenna said.
"Quite often, Oracle on premises has a very specific architecture in terms of the storage and networking it sits on, and it's not always easy re-creating that infrastructure in the cloud. So, a lot of people have Oracle databases attached to shared storage on premises," he noted. Now, "customers get the best architectural database in Oracle Cloud and the best architectural web platform in Azure ... seamlessly connected."
Additional reporting by John Moore