alphaspirit - Fotolia
Oracle IaaS strategy pivots to specialization
Oracle probably won't get out of the public IaaS market entirely, but it seems clear that specialization is its goal, not head-to-head challenges to AWS, Microsoft and Google.
Oracle probably won't completely exit the public cloud infrastructure business, despite lagging far behind AWS, Microsoft and Google in the IaaS market. Instead, a culmination of market factors, along with new statements from top executives, suggests a narrow and specialized Oracle IaaS strategy.
Oracle has frozen its first-generation IaaS, OCI Classic, to focus on its next-generation platform, Oracle CTO and Executive Chairman Larry Ellison said during the company's fourth-quarter and year-end earnings conference call this week. The newer service, formally known as Oracle Cloud Infrastructure, was introduced in 2016.
"[E]very single computer in our Gen 2 cloud is really two computers: the one that the customer uses ... and another one that we use to manage the cloud and encrypt the data and encapsulate the messaging and virtualize the messaging," Ellison said. "A lot of the world's security agencies are now coming to us and saying, 'Hey, this looks really good. We're going to go with this, not Amazon or somebody else because of these architectural distinctions,'" he claimed.
Beyond security, Oracle Cloud Infrastructure is a superior place for high-performance computing and machine learning workloads, Ellison added. But he didn't say how many customers have actually opened their wallets lately for Oracle IaaS, whether the first or second generation. It's also an open question about how many resources Oracle will commit to its IaaS strategy going forward.
The company's earnings release and subsequent comments from executives spotlighted sales gains for cloud ERP and human capital management applications, with barely a mention of IaaS. Revenue for those applications grew more than 30% in the fiscal year, according to Oracle.
Oracle execs also talked up the company's Autonomous Database. They didn't specify any revenue totals, but claimed more than 5,000 customers signed up for trials in the fourth quarter.
Overall, revenue rose 1% in the quarter to $11.1 billion, while cloud services and license support was flat year over year at $6.8 billion. Cloud license and on-premises license revenue rose 12% to $2.5 billion. Oracle has combined the latter two numbers since last year, as it ramped up its bring-your-own-license program for cloud.
More Oracle layoffs coming?
The earnings followed reports in March about an unspecified number of Oracle layoffs that specifically targeted its first-generation IaaS, known as OCI Classic. More recently, Israeli media outlet Globes reported that Oracle will shed more than half of its staff for Ravello, a service to deploy VMware and KVM workloads on multiple clouds.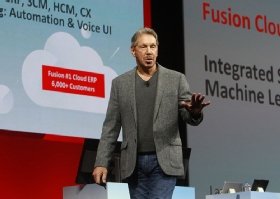 The company reported a $168 million line item for restructuring costs in the fourth quarter and $443 million for the full year.
Previous reports placed Oracle's layoffs at anywhere from a few hundred to 10% of its overall workforce, which would amount to 14,000 people. This week's financial results suggest the true number is someplace in between.
An Oracle spokesperson declined to comment on the scope of any layoffs and which lines of business have been affected.
Meanwhile, a New Hampshire newspaper, New Hampshire Union Leader, recently reported on speculation about layoffs and cutbacks at Oracle's operations in that state, which include its Dyn division.
Oracle IaaS hopes rest on Gen 2 Cloud
Earlier in June, Oracle and Microsoft partnered ostensibly to establish interoperability between their clouds, such as Oracle applications that run on Azure against Exadata back ends in Oracle's IaaS. A dedicated interconnect between the companies' clouds is supposed to address latency concerns.
[Oracle was] coming in from scratch, while others already had massive [IaaS] deployments, customers and mind share.

Gary ChenAnalyst at IDC
The deal's emphasis on Oracle's services delivered into another cloud platform appears to be a tacit admission by Oracle that its broader public cloud ambitions have faded, and that it wants to pivot away from direct competition against general-purpose IaaS hyperscalers.*
"We are not backing out of the IaaS business," an Oracle spokesperson said. More than 80% of enterprises use a combination of Microsoft and Oracle to run their businesses, and the partnership is in support of that, the spokesperson added.
For enterprises, the Microsoft-Oracle partnership delivers services for a broad base of workloads and customers, and doesn't force customers to go all-in on one platform, said Deepak Mohan, an analyst at IDC.*
Oracle's next-generation IaaS has its technical merits, but may be a case of too little, too late as a general-purpose IaaS for all types of workloads, Mohan said. There are areas where Oracle's cloud IaaS can continue to focus, such as high-priority data management workloads and high-performance computing, he added.*
The Microsoft deal could have gone much further, such as if Oracle actually sited Exadata machines within Azure data centers, although such moves could come down the road if the initial pact proves successful. There is precedent for this type of arrangement, embodied by Microsoft's deal with Dell Technologies to deliver VMware workloads natively on Azure.
"Azure has developed a standardized way to deliver and manage infrastructure inside managed by somebody else," Mohan said. "Not just through an interconnect, but delivering them locally."
Ultimately, Oracle's slimmed-down, specialized approach to IaaS may make the most sense given today's cloud landscape, dominated by AWS, Microsoft and Google. It also falls short of Cisco and Hewlett Packard Enterprise's decisions to scrap their public clouds entirely.
"[Oracle was] coming in from scratch, while others already had massive deployments, customers and mind share," said Gary Chen, another IDC analyst. "They burned a lot of effort, time and money trying to go head-to-head against that, which didn't work."
* Editor's note: Information added after publication, to clarify context around Oracle's IaaS vs. specific services it provides, and around the market for general-purpose IaaS.
Dig Deeper on Cloud deployment and architecture