Getty Images/iStockphoto
Oracle hones in on AWS cost, multi-cloud database support
Oracle is allowing its database users to access those services on rival clouds, while aggressively pursuing AWS customers in search of lower-cost cloud infrastructure.
Oracle this week reported gains among cloud users and expects to continue that momentum by offering its databases on competitor clouds and touting less expensive IaaS compared with AWS.
Oracle's total quarterly revenues were up 18% year over year in the first quarter of fiscal 2023, due largely to a 14% increase in cloud services and license support subscriptions. Cloud license and on-premises license revenues were up 11% (U.S. dollars) for fiscal 2023 Q1.
Total cloud services and license revenue for the quarter hit $8.4 billion -- driven by Oracle Fusion Cloud, Oracle Autonomous Database and Oracle Cloud Infrastructure (OCI) Gen 2, Oracle CEO Safra Catz said during the company's investor call on Monday.
Oracle completed the nearly $30 billion acquisition of Cerner, an electronic health record provider, in June. Cerner contributed $1.4 billion to Oracle's total Q1 revenues. Oracle will continue to see earnings growth from that acquisition in the coming quarters, as it fully integrates Cerner's technology and develops an all-new suite of healthcare cloud services, Catz said.
SaaS revenues excluding Cerner were $2.2 billion, up 20%. Infrastructure cloud services revenue, excluding legacy hosting services, grew 70%, including OCI revenue, which grew 103%, and Cloud at Customer was up 92%, Catz said during the call.
The gains were a surprise to analysts, who expected lower earnings due to market conditions. Oracle has also trailed behind cloud hyperscalers in its delivery of cloud products and services, but Catz spun that lag time into a positive.
"Our second-generation cloud launched after our competitors' first-generation clouds, so we have been able to architect it more performantly, securely and sustainably," she said.
Oracle's growing applications and infrastructure cloud businesses now account for more than 30% of the company's total revenue, Catz said.
Oracle databases through Azure, AWS
Last quarter, Microsoft and Oracle delivered a high-speed interconnection between Azure and Oracle's cloud to give Azure customers direct access to Oracle databases, with performance similar to if that database were running directly in Azure.
Multi-cloud interoperability is a major contributor to the growth of Oracle Database and Oracle's MySQL HeatWave database, Oracle chairman and CTO Larry Ellison said during the investor call.
In Q1, Oracle expanded its relationship with Microsoft by providing all versions of Oracle Database directly to Azure users. Microsoft users can directly access every Oracle Database version, including Oracle Exadata Cloud Service and Oracle Autonomous Database, directly from Azure.
Now, Amazon cloud customers can also directly access Oracle's MySQL HeatWave database running in AWS. This enables AWS users to run transaction processing, real-time analytics and machine learning on the single unified MySQL service.
For years, industry watchers have questioned Oracle's ability to maintain database market share long term, given the number of options available through cloud service providers.
"If our databases are available in multiple clouds, then the answer is clearly yes. If our database is not available in multiple clouds, then it's an interesting question, whether we can maintain it in just our own cloud," Ellison said. "We have decided to make our best and greatest technology available in multiple clouds."
Multi-cloud is certainly a core part of Oracle's go-forward strategy for its applications, but it's early days for that strategy, Gartner analyst Raj Bala said.
"Most of the Oracle IaaS inquiries that we take are focused on lift and shift to OCI rather than fancy, cloud-native workloads," Bala said.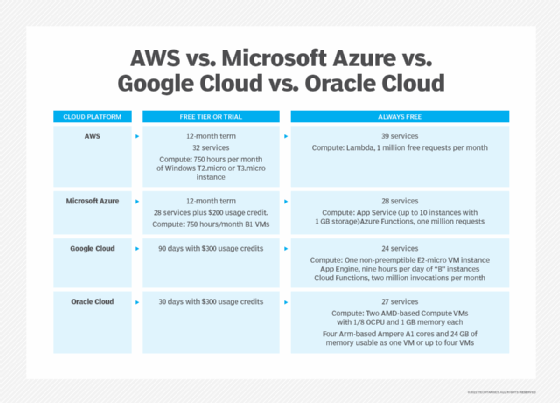 Oracle emphasizes OCI cost vs. AWS
Lift and shift is what Oracle hopes to see more of from AWS users that want to cut cloud costs. In the past year, Oracle has invested in more field engineers to help customers migrate workloads to OCI -- and that's been a major sales accelerator, according to Catz.
Despite the AWS-Oracle database news, Ellison emphasized cost savings for companies that run OCI instead of AWS, and said the company will in the next quarter reveal major brands that have left or are in the process of leaving AWS for OCI to reduce their cloud spending.
"Oracle is much less expensive than the competition, partially because we are faster, and time is money when you are paying by the hour," he said.
Because AWS' and Oracle's computing architectures differ, Ellison's cost and performance claim is difficult to fact-check, but a high-level price analysis of OCI services appears favorable.
The challenge for Oracle will be to continue to promote OCI as a neutral place to run your workloads.

Chris KanaracusResearch director, IDC
Oracle offers a competitive free tier for its cloud services, but the company has also made OCI attractive to cloud buyers by not charging for the first 10 TB of data egress, said Chris Kanaracus, a research director at IDC. In addition, inbound data transfers are entirely free.
"At this stage, Oracle is incentivized to make OCI as economical as possible," he said, adding that customers should always conduct their own total cost of ownership evaluations.
"The challenge for Oracle will be to continue to promote OCI as a neutral place to run your workloads," Kanaracus said.
Oracle also continues to invest in building out OCI regions and zones, which will be an important part of its growth strategy.
"Where we see opportunity outside the big three [cloud providers] for IaaS is in emerging markets," Kanaracus said. "For them to grow at all, they have to be in many regions."
This week, Oracle added an OCI region in Spain, bringing its total number of regions to 40 across 22 countries. By comparison, AWS has 87 availability zones spread across 27 geographic regions worldwide, with plans for 21 more.
Dig Deeper on Cloud provider platforms and tools