Fotolia
Oracle Cloud Infrastructure adds next-gen AMD EPYC instances
Oracle hopes new AMD EPYC instance types that deliver more performance at the same price as the previous generation can bring more attention to its IaaS.
A new set of Oracle Cloud instances allow customers to more accurately size their compute, network and storage to match workloads and avoid wasting money.
The new E4 instance types are based on AMD's third-generation Extreme Performance Yield Computing (EPYC) processors. They succeed the E3 instances Oracle introduced last year, and the original E2 instances launched in 2018. While Oracle has increased the power and capacity of the instances for E4, it is keeping the same price point as E3, in a move that reflects the company's desire to make Oracle Cloud Infrastructure (OCI) an attractive target for customers outside its installed base.
The E4 instances offer both bare-metal and VM-based deployments. The latter includes 64-core processors with a maximum clock speed of 3.5 Ghz and includes both bare-metal and flexible virtual machines (VMs). Bare-metal E4 instances have 128 OCPUs, 2 TB of RAM and 100 Gbps of network bandwidth, Oracle said in a blog post.
Uses for the AMD EPYC-based instances include video processing, high-performance computing (HPC), enterprise applications and video conferencing, according to Oracle.
E4, as with E3, allows customers to choose precisely how many OCPUs they want for a workload, rather than choose fixed options off a menu, meaning they can save money compared to the coarser-grained approach, Oracle said.
In another indication of Oracle's search for new IaaS customers, pricing for E4 instances is the same as E3 -- $0.025 per OCPU, per hour and $0.0015 per GB, per hour.
"Keeping the prices the same is unusual," said Holger Mueller, an analyst at Constellation Research. "Usually prices for new instances go up but are still cheaper, as CPUs are faster and take less time to run the workloads."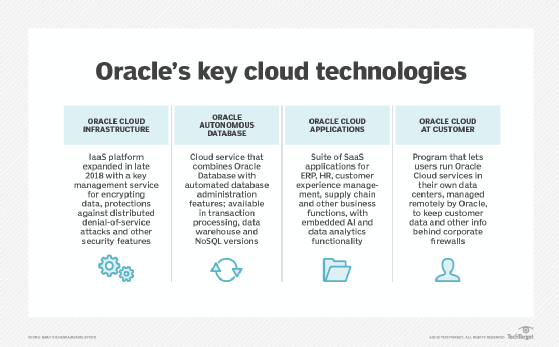 Xactly adopts OCI
Sales performance management vendor Xactly is moving away from self-hosting its SaaS products inside Equinix data centers and onto OCI, CTO Ron Rasmussen said.
There are inherent architectural reasons for this, namely that Xactly's core software products are built on top of the Oracle database. "We were sort of assuming that nobody should run Oracle faster than Oracle," he said.
Xactly also uses Oracle RAC, which provides database scale-out and high availability. Its software is written in Java, computationally intensive and sensitive to latency, making performance a must for any move onto public cloud. To that end, as part of the OCI migration, Xactly also adopted Oracle's Exadata platform.
What happened with OCI is we crossed the boundary where Oracle could perform at the right price point. That changed the game for us.

Ron RasmussenCTO, Xactly
"What happened with OCI is we crossed the boundary where Oracle could perform at the right price point," Rasmussen said. "That changed the game for us." The company uses E3 instances now and plans to adopt E4 instances soon, he added.
Xactly is on the second generation of OCI. Oracle's first IaaS offering was based in part on OpenStack. It failed to get much traction in the market and is being phased out.
Xactly did run an engineering experiment on OCI Classic, as it is now called, but was not satisfied. "The performance wasn't there for us," Rasmussen said.
Oracle still lags well behind AWS, Microsoft and Google in the IaaS market, but on its fiscal Q3 earnings call this month, executive chairman and CTO Larry Ellison said OCI Gen2 revenue grew more than 100%. Infrastructure cloud services revenue overall now stands at a $2 billion annual run rate, Oracle CEO Safra Catz said. However, Oracle's competitors won't stand still. Microsoft has also introduced Azure instances based on AMD's third-generation EPYCs.
While OCI will be Xactly's primary infrastructure provider, it does use other clouds, including AWS. It also uses technology such as Terraform and Docker to maintain flexibility and workload portability. "We're using all the open source techniques to stay reasonably cloud-agnostic, except at our data layer," Rasmussen said.
Dig Deeper on Cloud infrastructure design and management