Fotolia
Oracle Cloud Infrastructure adds new AMD EPYC instances
Oracle Cloud Infrastructure has boosted its support for mission-critical workloads with new options based on AMD's second-generation EPYC processors.
A new instance type for the Oracle Cloud Infrastructure platform based on AMD EPYC chips may garner more workloads from existing Oracle users and new customers eager for a better price-performance ratio.
This week, Oracle pushed out initial availability of E3 instances for Oracle Cloud Infrastructure (OCI) that use AMD's second-generation EPYC 7742 chips, which have a clock speed that starts at 2.25 Ghz with a maximum speed of 3.4 Ghz. Bare-metal instances with the new EPYC chips can contain up to 128 cores, or Oracle Compute Units (OCPUs), 2 TB of RAM and 100 Gbps of bandwidth.
The new instances also boost support for VM-based workloads with up to 64 OCPUs and 1 TB of memory. That memory ratio of 16 GB per core is twice that available in the initial AMD EPYC E2 instances, which launched with OCI in 2018. Customers can also decide exactly how many OCPUs they require for a VM, rather than pick off a fixed menu.
Oracle has also included support for its recently launched per-second billing model. Bare-metal instances, however, have a one-hour minimum, compared to one minute for VM-based instances. Another move on the pricing front provides separate bills for OCPU and memory, rather than lump them together.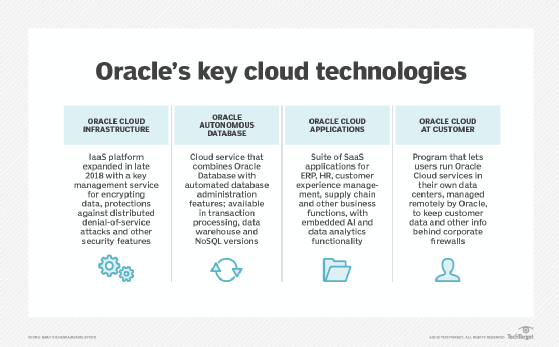 Oracle's new EPYC instances seek to strike performance, cost balance
Whatever edge OCI may have over its competitors with the new instances, it's only the latest skirmish in the ongoing battle of speeds and feeds. Still, the move could resonate with customers, said Roy Illsley, chief analyst at Omdia.
"The EPYC instances are a trend we are seeing for organizations looking for not just performance, but cost-effective performance," Illsley said. "One of the key aspects organizations are discovering about cloud is yes, it offers flexibility and agility, but that can come at a price."
The EPYC instances are a trend we are seeing for organizations looking for not just performance, but cost-effective performance.

Roy IllsleyChief analyst, Omdia
Companies are increasingly moving mission-critical workloads to public IaaS platforms such as OCI, he added. "What these mission-critical workloads require from the cloud is different from what a website and office productivity [applications] need," Illsley said. "Both share the cost and performance requirements, but mission-critical workloads need reliability and predictability."
OCI is Oracle's second attempt at a public IaaS after it initially launched the OpenStack-based OCI Classic, which failed to gain much market traction and has largely been phased out. OCI figured prominently into Oracle's OpenWorld conference in 2019, where some early customers described positive experiences with the revamped platform.
Incremental advancements like the new E3 instances are critical to meeting both customer and Oracle's own needs, said Holger Mueller, an analyst at Constellation Research.
"Innovating with new and modern CPU platforms is key for IaaS providers, as it allows them to run workloads faster for both customers and cloud providers and is often associated with cost savings," Mueller said. "Moreover, variety matters from a hardware platform perspective, as some workloads are dependent on [certain] CPU architectures."

Meanwhile, Oracle gained a high-profile reference customer for OCI recently, in the form of video conferencing provider Zoom, which has seen a massive spike in demand amid the global coronavirus pandemic.
OCI now supports millions of concurrent Zoom users and the vendor is transmitting 7 PB, or about 93 years' worth of HD video, through the systems each day, according to a statement.
Dig Deeper on Cloud infrastructure design and management