Andrea Danti - Fotolia
How the Microsoft and Oracle partnership affects IT workloads
Oracle and Microsoft's move to unite sometimes-competitive applications and cloud environments means that businesses can focus less on architecture rewrites and more on capabilities.
In a sign of the cloud market's maturity, vendors are partnering to offer multi-tiered service integrations.
Vendor alliances, such as a Microsoft and Oracle partnership, could help enterprises with multi-cloud deployment models. If the partnership is successful, customers could glean greater power and flexibility for critical groups such as data analysts, application developers and enterprise architects.
The Oracle and Microsoft partnership means businesses can run part of a workload within Azure and another aspect of that workload within Oracle Cloud Infrastructure (OCI). In addition, IT teams can migrate workloads and data as needed between the environments, exploiting the strengths of each one.
The Microsoft and Oracle partnership is significant beyond cloud services, because both companies provide a diverse range of business applications.
See how Oracle and Microsoft's dealings will affect your organization's cloud features, support, security and technical integrations, as well as the potential use cases for these multi-cloud vendor connections.
Perks of the partnership
The Microsoft and Oracle partnership, which began in June 2019, benefits each company's customer base, but in different ways. Microsoft Azure's user base gets access to business-focused resources and well-known Oracle enterprise applications. For Oracle, Azure accessibility enhances existing products.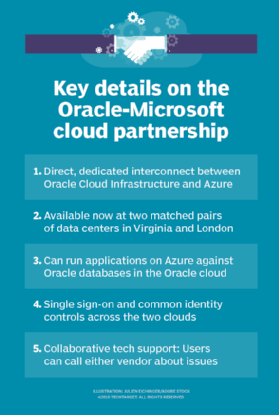 For example, IT teams can deploy the Oracle Autonomous Database, which is managed via machine learning rather than admins, with Microsoft's AI, business intelligence and data analytics technologies. Oracle also offers its users a more comprehensive cloud infrastructure for compute and data storage through Azure than via Oracle Cloud alone.
With interoperability between Oracle and Microsoft clouds, IT organizations can avoid complex application redesigns to make use of both platforms. They can also forgo complicated migrations between clouds. For example, a Microsoft application can function in the Oracle Cloud, and an Oracle database on Azure could mean fewer management tasks and tools for the team maintaining it on a separate cloud environment than other IT workloads. Almost a third (29%) of organizations surveyed by research firm ESG cited application redesigns and migrations as key obstacles to wider cloud adoption.
Organizations that develop and deploy custom applications might also benefit from cloud interoperability with the Microsoft and Oracle partnership. These applications can run on both OCI and Azure IaaS offerings. The joint offering promises low latencies between the two clouds, and organizations can mix and match application components as needed.
Tooling in interoperable clouds
In addition to workload migration and expansion across Azure and OCI, subscribers can extend their automation capabilities. Infrastructure-as-code tools, such as HashiCorp Terraform, enable users to build templates to initiate Azure infrastructure and run supported Oracle applications in a cross-cloud configuration.
For example, from one template, a manufacturing team could deploy Oracle's JD Edwards EnterpriseOne -- an ERP suite -- on Azure, with an Oracle Autonomous Database running on Oracle's Exadata cloud infrastructure. This combination yields insights into shop floor processes and supply chains and makes the most of both vendors' offerings.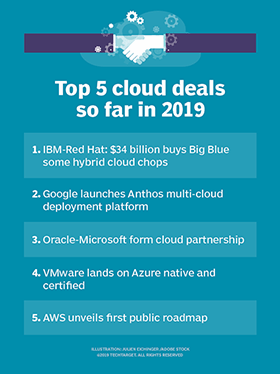 Security safeguards
Security is an important consideration for business data, including when it moves across cloud resources.
The Oracle and Microsoft partnership includes a secure, private connection between OCI and Azure. IT teams and security specialists can further strengthen cross-cloud access by using Azure Active Directory to create a federated identity model for authentication and authorization. This service's access management guarantees a unified authentication mechanism for users and applications.
The rise of cloud vendor partnerships should address some of the burdens that heterogeneous systems and multi-cloud place on IT teams. Interoperability at the vendor level removes some barriers that impede application development and create accessibility headaches. When businesses don't need to rearchitect applications or undertake highly technical migration steps, they can focus on the best setup for workloads and data to take advantage of what cloud providers offer.