ra2 studio - Fotolia
OpenShift-Azure ties deepen as IT sets sights on multi-cloud
Enterprises will consider an OpenShift managed service on Azure as part of a multi-cloud strategy, but Kubernetes won't necessarily make workloads cloud-agnostic.
BOSTON -- An OpenShift Azure service, co-managed by Microsoft and Red Hat, joins the many Kubernetes-based public cloud container services available to enterprise IT pros, but multi-cloud aspirations won't necessarily yield cloud-agnostic nirvana.
Most major IT vendors, including Microsoft, Red Hat and Red Hat's soon-to-be parent company, IBM, position their respective Kubernetes products as a centralized platform to manage multi-cloud infrastructures that span on-premises data centers and an assortment of public cloud service providers. IT pros have hoped for years that containers and Kubernetes would become a standard compute layer in the cloud that enables IT departments to offer a wide variety of deployment choices to developers and to swap out cloud infrastructure vendors at will.
Microsoft and Red Hat executives promoted this aspect of their OpenShift-Azure partnership here at the Red Hat Summit this week. Azure Red Hat OpenShift (ARO), a jointly managed service that Microsoft and Red Hat pledged to create last year, became generally available this week.
"All of us need interoperability and support for open source to reduce the friction for anyone trying to innovate -- that's job number one and the spirit behind our partnership," Microsoft CEO Satya Nadella said in a keynote discussion.
Managed OpenShift Azure service reduces Kubernetes ops burden
Microsoft and Red Hat have progressed from adversaries to extensive partners over the last five years. Microsoft, once the standard-bearer for proprietary software, has pivoted under Nadella to wholeheartedly embrace open source. The two already have joint customers for OpenShift on Azure, including Deutsche Bank, Sabre Corp. and Lufthansa.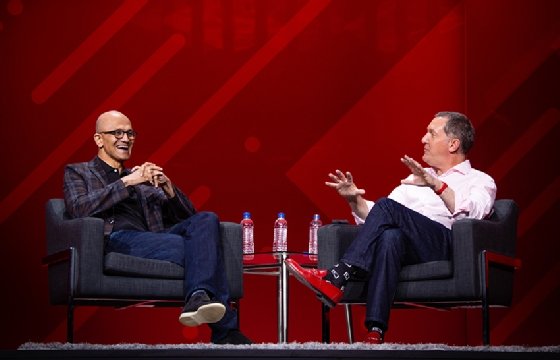 Sabre engineers were among the beta testers for the ARO managed service. The travel industry software provider based in Southlake, Texas, has a multi-cloud strategy in mind as it kicks the tires on ARO.
"We previously had been AWS-only, but we signed a big deal with Microsoft [Azure] last summer, and we plan to use Azure, AWS and our private cloud together," said James Anderson, senior principal enterprise architect at Sabre.
A managed service such as ARO appeals to Sabre as it plans to run dozens of Kubernetes clusters worldwide and will consider anything that reduces the IT ops burden to do so, Anderson said. During beta tests in 2018, ARO performed well and served as an easy-to-use platform for a hackathon Sabre hosted with Microsoft and Red Hat in its Krakow, Poland, office.
"We were able to spin up and spin down test clusters without bothering our IT ops team at all," Anderson said.
Kubernetes platforms are not a multi-cloud panacea
Ultimately, Sabre plans to establish a global set of IT services based on Kubernetes, with security and governance features from OpenShift, that can run wherever public cloud provider data centers are available.
Everyone's positioning their Kubernetes platform as the cohesive solution to multi-cloud … [but] moving from one Kubernetes platform to another is tough.

Stu MinimanAnalyst, Wikibon
"OpenShift with Kubernetes as an orchestrator gives us flexibility if something goes wrong with whoever's providing our base platform," Anderson said. "It won't be super easy to switch to a different provider, but it gives us some options in the future."
Still, Sabre's platform team hasn't yet decided whether to use ARO in production. It must consider the typical tradeoffs between easing the IT ops burden with managed services and maintaining enough flexibility to support the custom features its developers need. One area the company will examine is whether its custom Prometheus monitoring metrics and integration with the upstream open source project Thanos can translate to ARO's locked-down control plane, Anderson said.
Meanwhile, multi-cloud is still mostly an aspiration, and the Kubernetes market is fragmented into many products and services that don't necessarily offer smooth portability between them.
"Everyone's positioning their Kubernetes platform as the cohesive solution to multi-cloud," said Stu Miniman, analyst at Wikibon. "But Kubernetes isn't necessarily a standard set of things that always work well together -- moving from one Kubernetes platform to another is tough."
Red Hat OpenShift collected more than 1,000 customers as of February 2019, making it the most widely adopted Kubernetes-based container orchestration product in the enterprise, according to company officials. However, Google, Pivotal Cloud Foundry and Cisco, among others, also claim to offer strategic Kubernetes management platforms.
"Kubernetes is not a silver bullet," Miniman said. "You can use it to build things that live in multiple environments, but the devil's in the details."