The direction of business intelligence is changing to forward
Predictive analytics will be one of the key trends shaping the next generation of business intelligence platforms, as will the ability to share data.
The direction of business intelligence is changing.
Data analysis -- and the technology that fuels it -- has long been rear-facing, looking back at what already happened. But the next wave of BI platforms will not simply examine what's already happened to hopefully reveal why; based on the intelligence it's gathered, it will be able to look forward to predict what will happen next, according to analysts and industry insiders.
Not only that, but based on a user's past data queries, today's analytics tools will offer suggestions and ask and answer questions a user may never have even thought to posit.
But that's not the only way business intelligence is changing.
Multiple trends are shaping what the landscape will look like in just a few short years, among them industry consolidation and, on the technology side, the sharing of data across different BI platforms.
Some vendors are poised to thrive in the next phase of BI. Others, however, likely will struggle to keep pace.
Forward thinking
Data analysis has traditionally been a relatively straightforward process: Input data, generate a report, and analyze the report to glean insight.
But business intelligence is changing. Traditional data analysis is looking backward. It's attempting to figure out why something happened. It's not revealing what will happen. The look of the reports has changed significantly from dot-matrix spreadsheets to eye-popping computer graphics, thanks to Tableau, Microsoft Power BI and other data visualization platforms. But they're still reactive.
That won't be good enough for the next generation of BI platforms.
"In the next three to five years, instead of asking questions of data, the data will start suggesting observations," said Tim Crawford, CIO strategic adviser at AVOA, a consulting firm in Rolling Hills Estates, Calif. "You'll see things that you hadn't even thought to ask in the place. As AI comes into play, you can expect to see tools that will identify and highlight things you hadn't thought to ask in the place.
"You're already seeing it in some pockets, and it will become more mainstream," he added.
As BI tools gather more information from users, they will get smarter. They will learn a user's personal likes and dislikes. They will learn a company's needs.
The result is, rather than just providing information, they will become advisers by using predictive personalization and other technologies more.
"The nature of how one gets information is going to fundamentally change," said Joe DosSantos, global head of enterprise data management product strategy at Qlik, based in King of Prussia, Pa. "There's going to be a lot more interaction and a lot more sophistication to help figure out what you're going to do. There will be more predictive behavior."
Industry consolidation
But while the technology gets more intuitive and forward-looking, rather than just retrospective, business intelligence is changing in the sense that the companies building the analytics platforms are in flux.
In the past year, Qlik, once primarily known for data visualization, acquired Podium and Attunity, both data management vendors.
Just last month Tableau, also known for its data visualization technology, was bought by customer relationship management giant Salesforce for $15.7 billion. And that came just days after Google acquired Looker for $2.6 billion.
Companies are consolidating, and logic underlies the consolidation.
They're trying to provide a more complete technology stack for analytics, BI and data management.
"The Looker and Tableau announcements were as big as I've seen in the analytics and BI space in years," said Doug Henschen, an analyst at Constellation Research. "Those two moves signal what may be a period of consolidation. Though, as I've seen in the past, these market shifts also give rise to new players and new opportunities."
With BI migrating to the cloud, given its placement in Microsoft's stack, a BI platform such as Microsoft's Power BI would have a significant advantage over BI platforms from vendors that specialize only in that application.
But by merging with other vendors that have a complementary set of capabilities, Tableau, for example, can continue to compete with Power BI, IBM Cognos Analytics, Oracle BI products and other analytics platforms that have the backing of a giant corporation and are connected with their entire suite of offerings.
"To survive, you're going to have to reach some kind of scale," said Rick Sherman, founder and managing partner of Athena IT Solutions in Maynard, Mass. "Small vendors are going to be bought or merge with more focused niche companies to build a more complete product. Any vendor that is able to collaborate with other vendors is going to be more valuable to people."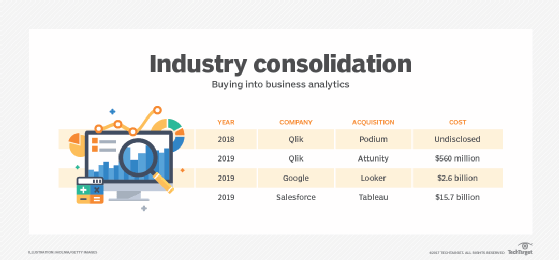 Opening up data
As vendors combine their strengths to become more complete, as they try to provide the single go-to space for BI, they are also moving toward sharing data more than ever.
In the next three to five years, instead of asking questions of data, the data will start suggesting observations. You'll see things that you hadn't even thought to ask in the place.

Tim CrawfordCIO strategic adviser at AVOA
Data, as it migrates to the various clouds and becomes easier for everyday users to consume without as much IT expertise needed to generate and run reports, is becoming less exclusive.
MicroStrategy, for example, now offers a means of connecting to data cultivated by users of other BI platforms, with its MicroStrategy for Tableau, MicroStrategy for Power BI and MicroStrategy for Qlik tools.
Qlik similarly said it has embraced data sharing with Data Strategy, one of the tools it took command of with its acquisition of Podium.
"I wish there were data cataloging tools where you could use different BI tools so the user could look for reports in whichever service gets brought up," Sherman said. "We've never as an industry gotten that nirvana, but we're getting some. We're that data is not just a tool, and we have to collaborate. I'm encouraged by it."
Eventually, according to Crawford, data will have to become easy to access. Some information will be brought to the user as machine learning becomes more sophisticated, but so too users will be able to query data developed on various BI platforms without having to bring it all together in one platform first.
And data will be available not only on an analytics platform, but in other applications, as well.
"You'll need to have the ability to analyze data where it rests, rather than bring it together," Crawford said. "In the future, you'll be able to connect data in the different places where they rest."
Winners and losers
Ultimately, while business intelligence is changing at a fast pace, some BI platforms will lead and others will get left behind.
The ones in most peril may be the legacy vendors, the onetime leaders who lack flexibility and innovation due to their existence within the hierarchy of a big corporation.
Also, they're often expensive.
The sense is the traditional player can keep the customers they have, but they'll have a hard time attracting ones.
"There is still a phenomenal amount of old-school thinking about how data is managed. And, for some companies, that's what holds them back; for other companies, it's the architecture that holds them back," Crawford said. "Anyone who's focused on traditional customers, which is most of the traditional legacy vendors, those are the [companies] that are going to have the hardest time."
Similarly, Sherman said, "among legacy vendors, they're keeping up, but they may not be leaders."
"For installed users, they're still a great option, but they have such expensive software that it's difficult to see them being nimble enough to keep up with Microsoft and Google," he said.
Dig Deeper on Business intelligence management