Fotolia
Innovation inspires user loyalty to MicroStrategy analytics suite
As some longtime vendors struggle to keep up with the pace of innovation, customers stay loyal to longtime vendor MicroStrategy and its continually evolving platform.
ORLANDO, Fla. -- Innovation over the years has enabled the MicroStrategy analytics platform to stay relevant, and it's that continual modernization of its suite that customers at the vendor's user conference here said has kept them loyal even as newer vendors claiming to be the future of business intelligence have come along.
When MicroStrategy first began operations in 1989, self-service, data visualizations, augmented intelligence, machine learning and embedded analytics didn't exist. It was the age of reports, and all analytics operations went through information technology departments.
But as BI advanced, so did the MicroStrategy analytics platform, as some of the more established BI vendors of 1990s and early 2000s struggled to keep up with the pace of innovation.
"Query dial tone" to HyperIntelligence
Meanwhile, two decades ago MicroStrategy CEO Michael Saylor was already talking about making data queries available throughout an enterprise and to all its business users through what he termed a query dial tone, according to Ventana Research analyst David Menninger. And in 2019, MicroStrategy introduced HyperIntelligence, a zero-click embedded analytics tool that makes data queries freely available to end users in an organization.
"HyperIntelligence, in my opinion, is an innovative way to deliver information to people where they need it and when they need it," Menninger said. "I actually think HyperIntelligence is the realization of the query dial tone."
Along the way from MicroStrategy's idea of queries "everywhere to everyone" and the debut of HyperIntelligence, the MicroStrategy analytics platform has added the kind of innovations that have attracted new customers and retained old ones. If not always the first to introduce a new feature, MicroStrategy has at least been quick to respond.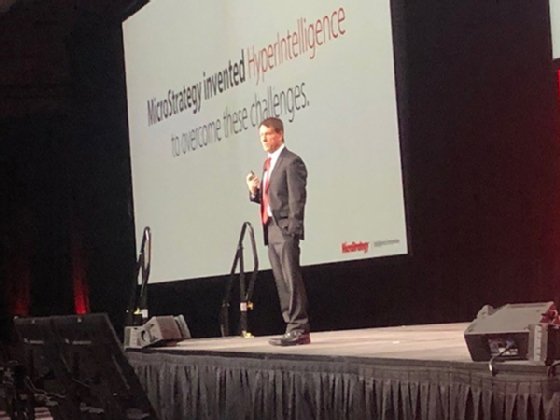 Why an auto dealership chain chose MicroStrategy
Sonic Automotive, for example, first began using the MicroStrategy analytics platform a decade ago.
What drew Sonic -- an automotive dealership chain based in Charlotte, N.C., with 95 franchises in the South and West -- was the mobile BI capability of the MicroStrategy analytics platform.
We did not look for a software provider, we looked for a partner to grow together. We build our future together; we build our roadmap together.

Carl LambertChief data analytics officer, The Co-Operators
At a time when many other vendors were ignoring BI for mobile, or struggling to develop a vibrant tool for smartphones and tablets, MicroStrategy was pushing to build an application that would enable users to interpret data on their mobile devices to help them make informed decisions.
"We initially started using the platform because of mobile, and we deployed that in 2010, and it was mobile because a lot of our employees at the dealerships were on iPads and phones and that's how they were looking up repair orders and any sort of data," said Caitlin Strong, senior BI analyst at Sonic, in an interview after speaking at a panel session at the MicroStrategy 2020 conference. "We wanted to be able to deploy it on a mobile device, and then it just skyrocketed from there."
Ten years later, Sonic is one of some 200 MicroStrategy customers that have adopted HyperIntelligence, and as HyperIntelligence progresses the tool plays a key role in Sonic's day-to-day operations. But the need to get analytics out of the office and in the hands of employees on the floor is where it began.
"Once we were on mobile, we started creating so many applications and [using analytics in other areas] of the business, and now here we are 10 years later," Strong said. "Mobile was the key differentiator."
An insurance co-op opts for MicroStrategy
The capabilities of the MicroStrategy analytics platform have also been a key differentiator for The Co-operators, an insurance co-operative based in Guelph, Ont.
Six years ago, the Canadian insurance co-op was using another vendor for its BI needs. But when the vendor upgraded its platform in 2014 it caused all of The Co-operators' dashboards to disappear. The company was told that the response to the problem was to build its own HTML screen. Before doing that, however, Carl Lambert, vice president of business intelligence and chief data and analytics officer at The Co-Operators, decided to see if there might be another option.
Lambert, another panelist at the conference, called MicroStrategy, and in two weeks the co-op was running on the MicroStrategy analytics platform.
Six years later, powered by the self-service capabilities of MicroStrategy, the number of The Co-operators' user sessions has increased from 2,000 in 2015 to an estimated 250,000 this year, while the number of users within the organization has grown from fewer than 50 to 3,500.
Yet when asked why The Co-operators remains a MicroStrategy customer, Lambert's first response wasn't about the software.
"One of the reasons is really the partnership we have with MicroStrategy," he said in an interview. "We did not look for a software provider, we looked for a partner to grow together. We build our future together; we build our roadmap together."
Still, the technology is important.
Like Sonic, The Co-operators was an early adopter of HyperIntelligence. Also like Sonic, the mobile capabilities of the MicroStrategy analytics platform has been a differentiator for the co-op.
"The data is updated every morning, and first thing we do in the morning is look at the app and see the results of the previous day," Lambert said. "You can be traveling, or on vacations ... you can look at results. That's a game changer."
Despite the innovations that have kept the MicroStrategy analytics platform current for three decades, MicroStrategy's capabilities aren't so vastly different from those of other BI vendors that it makes MicroStrategy the right vendor for every organization.
HyperIntelligence, for example, is just one form of embedded analytics.
"Other vendors have focused more on deeply embedded analytics," Menninger said. "You also need to have analytics that are embedded in-line into business processes. MicroStrategy does that, as well through their APIs and SDKs [software development toolkits] and so forth, but I don't think anyone has made that process dead easy."
Meanwhile, other vendors, such as Yellowfin, for example, now offer effective mobile apps as well.
But the MicroStrategy analytics platform is still a popular product even with competition from newer vendors focused on the cutting edge of analytics.
Staying independent
For Saylor's part, he said remaining vital also means staying independent into the future and not seeking to be bought as other formerly independent analytics and BI vendors were amid last year's spree of high-priced acquisitions.
The company, based in Tysons Corner, Va., proudly bills itself as the largest publicly traded independent business analytics vendor.
"Most [software vendors] are excited about the technology as a means to make some money," Saylor said. "If that's the case they will sell the company and squander the opportunity long before they realize the potential. To actually realize the potential takes a decade, two decades. It takes building and rebuilding and rebuilding. We figure that over time we'll just keep at it until we get it right."
Dig Deeper on Business intelligence technology