Sergey Nivens - Fotolia
HyperIntelligence upgrades highlight MicroStrategy 2020
MicroStrategy 2020, the latest version of MicroStrategy's analytics platform, was released Wednesday and includes updates to the vendor's embedded analytics tool.
ORLANDO, Fla. -- MicroStrategy's new platform update features performance upgrades and a new design for the BI vendor's HyperIntelligence embedded analytics tool.
MicroStrategy unveiled the HyperIntelligence improvements, plus MicroStrategy 2020, the vendor's main business intelligence platform, on Wednesday at its annual user conference here. Both are generally available now.
HyperIntelligence is a zero-click embedded analytics system fueled by augmented intelligence and machine learning technology.
Among other upgrades and new features, the latest version of HyperIntelligence improves customers' ability to access HyperIntelligence on websites, applications and devices of their choice. It's now available for Google Chrome and Microsoft Outlook and is in beta testing for the Microsoft Edge browser.
MicroStrategy, which is based in Tysons Corner, Va., also unveiled new mobile apps for iOS and Android that work on both smartphones and tablets, and enhancements to HyperIntelligence for Web expand the web version's range to enable more business applications.
New HyperIntelligence cards, meanwhile, include dynamic links that allow users to act directly from cards embedded within applications.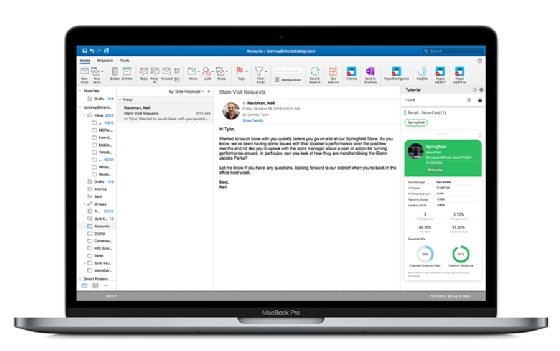 HyperIntelligence was first introduced at MicroStrategy's user conference in 2019 and later updated in July. And, according to MicroStrategy CEO Michael Saylor, it's the "fastest-growing" product in the vendor's 30-year history.
The HyperIntelligence upgrades drew initially positive reviews from analysts.
HyperIntelligence is a great example of the emerging embedded analytics capabilities I'm seeing that are geared to end-user organizations rather than just [independent software vendors].

Doug HenschenAnalyst, Constellation Research
"HyperIntelligence is a great example of the emerging embedded analytics capabilities I'm seeing that are geared to end-user organizations rather than just [independent software vendors]," said Doug Henschen, analyst at Constellation Research. "HyperIntelligence is unique in the market both in the simplicity and broad integration potential of its hyperlinking approach."
The low-code/no-code design of HyperIntelligence expands data analysis to more potential users in an organization, Henschen added.
"It's a low-code/no-code capability with plenty of control features so both administrators and end users can control where and how the embedded analytics are exposed within applications," he said.
Similarly, Mike Leone, analyst at Enterprise Strategy Group, noted that the new HyperIntelligence features and updates help expand analytics to users in a simple style that has the potential to speed up business decision-making .
"There are some features like the design and performance enhancements to HyperIntelligence that enable business analysts to leverage their preferred device, browser or application more easily, making them aware of insights, and more importantly enabling them to immediately take action," Leone said.
According to Henschen, embedded analytics is part of the evolution of self-service analytics, and a capability users have been asking for from BI vendors.
"We've had more than 10 years of the self-service BI and analytics movement, yet we still haven't seen data-driven decision-making spread far and wide across organizations," he said. "Whether it's ERP apps, [customer relationship management] apps or productivity apps… I'm seeing customers wanting, and BI and analytics vendors providing, integrations whereby analytics can be embedded within these apps."
Beyond the updates to HyperIntelligence, MicroStrategy rolled out MicroStrategy 2020.
The new version of the vendor's BI platform includes an upgrade to Dossier, MicroStrategy's data visualization tool, new connectors aimed at data scientists and a series of enhancements to the MicroStrategy Cloud Platform.
The Dossier upgrade is designed to enable more self-service analytics. It introduces a free-form canvas that lets users create interactive designs, compound grids for complex data visualization, geographies for mapping visualizations and the integration of surveys that enable users to collect insights from inside the MicroStrategy platform.
The new connectors, meanwhile, are aimed at specifically at data scientists. By connecting directly to Jupyter and RStudio -- open-source programming platforms -- users can import trusted, governed data using programming languages R and Python; then can then use that data for predictive analytics projects.
In addition to the connectors, MicroStrategy 2020 supports connectivity to 17 more cloud data source applications and, in keeping with the emphasis on embedded analytics, includes a software development kit (SDK) to give developers the ability to embed data within web and mobile applications.
Finally, enhancements to the MicroStrategy Cloud Platform make it easier to deploy MicroStrategy on AWS and Microsoft Azure and the geographic scope of where MicroStrategy can be deployed on Azure, according to MicroStrategy.
"The feature that I think has more power than they are letting on to is the self-service authoring capabilities that will enable rich visualization capabilities," Leone said.
ESG research shows that organizations cite data visualization as one of the areas of the analytics workflow that creates the greatest challenge, Leone noted. As a result, he said he expects organizations to invest heavily in improved data visualization to make it easier for more users to interpret the data and subsequently act based on the data.
"Putting the power of visualization in the hands of more folks and providing self-service tools to the generalists to not increase the burden on the experts is essential to scaling out a data-centric culture," Leone said.
Dig Deeper on Business intelligence technology