oporkka - Fotolia
Yellowfin analytics platform gets upgraded mobile app
Yellowfin upgraded its business intelligence platform with a revamp of its mobile app that will enable users to have more complete functionality while away from their desktops.
The Yellowfin analytics platform got an upgrade on Thursday with an overhaul of the vendor's mobile app.
This marks the third version of Yellowfin's mobile app, which was first introduced in 2008.
Unlike the most recent version, which attempted to replicate the same dashboards users see on their desktops, the updated version uses a timeline feed -- similar to Facebook or Twitter -- to deliver insights and information.
Yellowfin, founded in 2003 and based in Melbourne, Australia, is putting mobile analytics in what it says is a more digestible form, instead of showing essentially the desktop view of the Yellowfin analytics tools but on a smaller screen.
"We simply saw very low adoption of previous versions of the app, [and] in talking to our peers we recognized that this phenomenon was not limited to us alone," said Glen Rabie, CEO at Yellowfin. "As a result of this, we thought long and hard about what makes a mobile user experience unique from a desktop one, and as a result we built our latest app to offer a completely customized mobile experience for our customers."
Given that desktop applications have been where most previous innovation has taken place, Rabie added that an enhanced mobile app is an area in which the Yellowfin platform can continue to improve.
"Yes," he said when asked if the mobile space is ripe for innovation, "as long as the content and experience being delivered are uniquely designed for mobile versus trying to force fit a dashboard desktop experience onto a phone."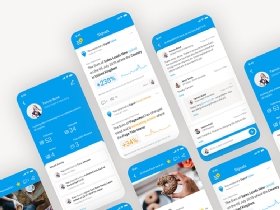 Yellowfin includes Yellowfin Signals and Yellowfin Stories as part of its analytics suite.
Signals is an automated data discovery tool that examines an organization's data for statistically significant changes, then notifies users when changes are detected and provides explanations of the root cause. Stories, meanwhile, is for creating data narratives that help an organization understand what is happening and why.
Insights from both products in the Yellowfin analytics suite can be delivered through the vendor's mobile app.
"I think it could be a breakthrough product for them, because it affords the opportunity for Yellowfin to live alongside other BI tools in the enterprise, while filling an important niche," said Donald Farmer, principal at TreeHive Strategy in Woodinville, Wash. "This matters because BI is so commoditized today -- almost every enterprise has one of the major BI platforms widely installed. Yellowfin still has openings in every potential customer, because they now so effectively meet the need for a mobile solution."
We simply saw very low adoption of previous versions of the app, [and] in talking to our peers we recognized that this phenomenon was not limited to us alone.

Glen RabieCEO, Yellowfin
Similarly, Wayne Eckerson, president of Eckerson Group, a consulting firm based in Hingham, Mass., said the mobile revamp is a good move for Yellowfin.
"They are treating the mobile app like an alerting system, which makes sense," Eckerson said. "Instead of putting all the data in a dashboard on a mobile phone, they are using AI to select the most important insights and correlations based on a user's role. It's a reimagined way of using BI on a mobile device -- just display significant items that the user cares about and needs to act upon."
Just because the latest update to the Yellowfin analytics platform is focused on the vendor's mobile app rather than its suite of desktop tools, and because Rabie noted that there remains a lot to do to improve users' mobile experiences, that doesn't mean Yellowfin's entire focus is now on mobile innovation.
Rabie, like others in the BI space, sees AI and machine learning driving the next wave of innovation. In addition, he said that forward-thinking BI -- data used in applications to do more than simply explain what has already happened -- will become commonplace.
"Organizations will build apps driven by data insights to drive action and behavior from their employees," Rabie said. "This is going to be quite a change and is largely made possible by the mass migration of enterprise software into hosted SaaS environments."