Sergey Nivens - Fotolia
MicroStrategy analytics suite fosters insurance co-op's growth
Using MicroStrategy's BI platform, a Canada-based insurance co-operative has been able to spread analytics to end users throughout the organization.
It's been nearly six years since The Co-operators first adopted the MicroStrategy analytics platform as its main business intelligence tool, and in that time the organization's BI capabilities have exploded.
The Co-operators is an insurance co-operative founded in 1945 and based in Guelph, Ont. In addition to providing an array of insurance products, it also manages investment portfolios.
In 2014, The Co-operators was using a BI platform common in the insurance industry that catered to the risk management needs of actuaries. That fall, The Co-operators needed to upgrade to the latest version of the platform, but instead of improving the organization's analytics operations the upgrade caused all The Co-operators' dashboards to disappear, according to the co-op.
That software breakdown led the Co-operators to seek a new platform.
"We lost all the drill-down menus and it didn't work, " said Carl Lambert, chief data and analytics officer at The Co-operators. "Basically, we bought a tool, we built our dashboards ... and now they were telling us we needed to go with something else."
Although The Co-operators had looked at tools from various vendors when it first searched for a BI platform, Lambert was drawn to MicroStrategy. In previous conversations, MicroStrategy representatives had told Lambert they could get the MicroStrategy analytics platform working quickly.
"I called MicroStrategy at 4:30 on a Friday," he said. "I called the rep and I told him we had been working ... for 11 months to build an environment here, and if you can do it in two weeks, because you have always told us you were fast, I promise I will try to sell MicroStrategy at the next steering committee meeting."
MicroStrategy delivered, Lambert said. So, he persuaded The Co-operators' steering committee to make the change.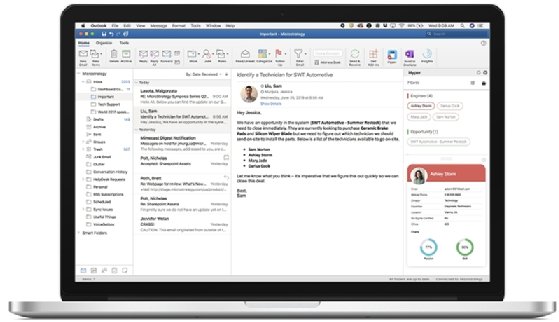 The draw
Beyond the claim that the MicroStrategy analytics platform could be installed quickly, what Lambert said drew him to MicroStrategy was the vendor's ability to innovate.
He was well aware of other vendors, but said he felt MicroStrategy offered something no other vendor could at the time.
The MicroStrategy analytics platform offered self-service capabilities, which are standard in most BI platforms now but weren't nearly as prevalent as recently as five years ago.
That was the first time I saw software really built for analytics. The main difference was the self-service. That was why we went to MicroStrategy.

Carl LambertChief data and analytics officer, The Co-operators
"I felt they were, at the time, the only one doing real BI," Lambert said. "The other ones adapted their database frontline to the web. Today, they're not the only one, but that was the first time I saw software really built for analytics. The main difference was the self-service. That was why we went to MicroStrategy."
The result has been exponential growth in The Co-operators' BI operations.
In late 2014, Lambert estimates that The Co-operators had 30 to 40 employees using BI software. Now that number is 3,500.
Meanwhile, in 2015 The Co-operators had 2,000 user sessions. With the MicroStrategy analytics platform, that grew to 10,000 in 2016, 50,000 in 2017, 100,000 in 2018 and 150,000 in 2019. Lambert said he expects 250,000 user sessions this year.
"What we discovered with MicroStrategy was the self-service, and the capability to build dashboards very easily," Lambert said. "With [our previous vendor] we took nine months to build a dashboard -- today is different, but at the time it took us a lot of time. Everything had to be hard-coded. With MicroStrategy we were able to drag and build dashboards very quickly."
Beyond self-service, something else that differentiated the MicroStrategy analytics platform from others at the time was its mobile experience.
While it wasn't the main reason The Co-operators chose to switch to MicroStrategy, mobile was something The Co-operators quickly discovered and began to use.
Plenty of BI vendors now offer mobile capabilities, but some others still struggle with mobile, and others continue to ignore it altogether. MicroStrategy, however, was an early adopter, and invested in developing a strong mobile app as far back as 2009.
"Back at that time, what differentiated us was mobile -- we released our first mobile app in 2009," said Phong Le, COO at MicroStrategy." In 2015, other [vendors] might open Safari and take you to some website on a phone, but ours was a true app. That was a differentiator in the last 10 years."
Growing together
In the five-plus years since The Co-operators began using the MicroStrategy analytics platform as its primary BI tool, The Co-operators hasn't explored other BI vendors.
Just as unique self-service capabilities drew The Co-operators, MicroStrategy's evolution has kept The Co-operators loyal.
First, as Le mentioned, The Co-operators discovered MicroStrategy's mobile capabilities.
Now, HyperIntelligence is MicroStrategy's latest significant innovation.
MicroStrategy introduced HyperIntelligence in early 2019. It is a zero-click embedded analytics tool that uses preprogrammed pop-up cards to provide snapshots of information as users engage with text on either their desktop or mobile devices. The aim is to help someone make a data-driven decision in the moment rather than have to do research to compile the data that would eventually lead to an informed decision.
The Co-operators are already using HyperIntelligence throughout the organization.
One example is with short-term insurance on Airbnb properties. Rather than having to spend 20 minutes on the phone or do a site visit each time an owner wants insurance, HyperIntelligence provides the information needed to decide on whether to insure and, if so, for how much.
With Python used to create the capability, the card is able to pull in a picture of the property from Google and statistics from a database -- the number of stories and rooms, square footage, neighborhood information -- in order to give a recommendation.
"In one-third of a second we have an algorithm that derives the value, and it is shown in a HyperIntelligence card," Lambert said.
But there's more than just the technology that keeps The Co-operators and MicroStrategy together. When Lambert first sought out the MicroStrategy analytics platform it was not only because The Co-operators' then BI platform had failed the co-op.
Self-service capabilities, mobile BI and now HyperIntelligence have expanded The Co-operators' ability to engage in analytics throughout the organization -- an example of MicroStrategy's mantra of "Intelligence Everywhere."
But there's still more to why The Co-operators stays with MicroStrategy even as other BI vendors come out with their own innovative platforms.
"The main reason we stay with MicroStrategy without investigating another [vendor] is the partnership, and the partnership is building our roadmap together," Lambert said.
And according to Le, that's as much a part of the MicroStrategy analytics platform as the technological capabilities themselves.
"We've been in BI 30 years, been web-based for 20, had mobile for 10, and we have HyperIntelligence," he said. "But the key here is that we and The Co-operators are an example of the type of relationship you want. We've been around for 30 years and we want to be around a while longer. We believe you build a relationship based on an awesome product and awesome service."
Dig Deeper on Business intelligence technology