Updated Oracle Gen 2 Cloud aims to challenge cloud leaders
With enhancements to its Autonomous Database technology and cloud infrastructure security services, Oracle is trying to gain ground on Amazon and other cloud rivals.
SAN FRANCISCO -- Oracle is bolstering its Oracle Gen 2 Cloud platform with updated versions of its Autonomous Database technology and other cloud services, in moves intended to give the company a better chance of competing for users with cloud platform leaders Amazon, Microsoft and Google.

Oracle Gen 2 Cloud encompasses a suite of IT infrastructure and data management services revolving around Oracle Autonomous Database, which combines the flagship Oracle Database 18c software with automated administrative services that use machine learning. Oracle also touts enhanced cloud security services designed to automate protection of cloud environments.
Larry Ellison, executive chairman and CTO, claimed in an Oracle OpenWorld 2018 keynote that with the new and upcoming capabilities he detailed, Oracle Gen 2 Cloud is more technologically advanced and secure than any other cloud platform on the market.
Taking on cloud rivals may be a challenge
However, that assertion will be tested by stiff competition from AWS, Microsoft Azure and Google Cloud Platform. Signs of cloud progress are important for Oracle, which is under pressure to show that its quest for cloud credibility is real.
Also, this is Oracle's second stab at making Gen 2 Cloud a strong competitor to its rivals. Oracle has been using the term since late 2016, when it launched a new version of its IaaS offering. But that incarnation wasn't fully mature, according to analysts. For example, in a June 2017 report on IaaS platforms, Gartner warned that users of the initial Oracle Gen 2 Cloud needed to have "a very high tolerance for risk, along with strong technical acumen."
And while Oracle pushes automation that's infused with AI and machine learning functionality for management of IT infrastructure and databases, it isn't alone in emphasizing such features, said James Kobielus, a Wikibon analyst on hand at the OpenWorld conference.
"Many enterprises and makers of tools are relying on AI for functions that historically relied on highly trained and experienced individuals," he said. "Automation of IT management is happening everywhere."
Ellison's opening day keynote at OpenWorld ranged from cloud security and database automation based on machine learning to broadside attacks on Amazon, which Ellison has denigrated for alleged technical shortcomings and its stated intention to leave Oracle's databases behind and move its internal operations to its own database software.
Ellison pointed to what he said was a magazine's description of Amazon developing semi-autonomous database technology, a notion he belittled. "A semi-autonomous database is like a semi-autonomous car," he said. "You get in, you drive, you die."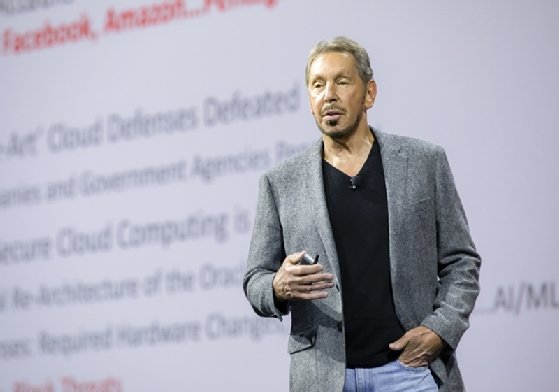 Autonomous Database advances
As part of Oracle Gen 2 Cloud, the upcoming Oracle Database 19c release will add new capabilities to Autonomous Database. While details were short at OpenWorld, Oracle reiterated that 19c will include improvements to automatic database indexing, as well as dedicated and fully isolated Exadata cloud infrastructure for Autonomous Database users.
Ellison first previewed those features in August, when Oracle launched a transaction processing version of Autonomous Database. The transactional service joined the initial data warehousing implementation that Oracle announced at last year's OpenWorld and made available earlier this year. In addition, the company this month brought its Oracle NoSQL Database under the Autonomous Database umbrella.
With Oracle 19c, automated services will begin to take over query indexing, rather than requiring users to create their own indexes for querying the transaction processor on the cloud, said Andrew Mendelsohn, executive vice president for the Oracle database server group, during a conference session.
Machine learning helps to continuously monitor workloads and identify new SQL query execution plans, and tests changes outside of production environments, he said. And just like in the real world, indexes will get rolled back if they fail to surpass existing ones on performance.
"We will evolve your system. As it operates, we will try to create indexes in the background," Mendelsohn said. "If they are slower, then the old plan is restored."
The promised database advances will be accompanied in Oracle Gen 2 Cloud by enhancements to the cloud security infrastructure that Oracle gained with the acquisition of DNS provider Dyn. New releases are aimed at assuring enterprise customers that the Oracle cloud has solid security underpinnings.
For example, Oracle is adding a key management service that gives enterprise users more control over encryption of their data, Ellison said. Other new Dyn services include a cloud access security broker and protections against distributed denial-of-service attacks, he added.
Databases still at the core for Oracle
With Oracle Gen 2 Cloud and the regular procession of Autonomous Database Cloud enhancements, the company is promising highly efficient cloud database operations. Its oft-stated primary target is AWS, which has released a string of cloud databases in recent years, ranging from the Redshift data warehouse to the Neptune graph data store.
The central product for Oracle is the database, and all the related tools that support the continued dependence of customers on the database.

Carl Olofsonanalyst, IDC
The Amazon technologies and other cloud databases threaten enterprise incumbent Oracle, which has long anchored its overall efforts around Oracle Database.
"The central product for Oracle is the database, and all the related tools that support the continued dependence of customers on the database," said Carl Olofson, an analyst at IDC, in an interview before OpenWorld.
The parade of Autonomous Database elements that began last year help give Oracle "a compelling argument" for users to stay with its software, Olofson said.
There is less risk in moving to the Oracle cloud database services because they reduce requirements on database administrators to maintain databases, he said. There also are cost savings on the vendor's side with cloud.
"The company gains economies of scale on the cloud," Olofson said. Instead of supporting eight or nine versions of the database going back many years, Oracle support teams can focus on well-defined systems that they control.
An enterprise place in the cloud
Oracle will continue to press a compelling enterprise case for Autonomous Database on the cloud, said Sash Sunkara, CEO and founder of RackWare, an Oracle partner and cloud migration platform provider.
"We find databases are the central piece in cloud migrations -- databases need to move to cloud in a consistent way," she said in an interview before the conference.
Sunkara agreed with general estimates that put AWS ahead in the cloud. But she cautioned that market numbers shouldn't be taken at face value.
"If you are a small company and you don't want to build servers, Amazon is a great place," she said. "And from a pure 'numbers' perspective, Amazon has the lead. But if you take a harder look at where those numbers are coming from, you will find a lot of small companies and startups."
As far as an enterprise footprint is concerned, Oracle is quite competitive, Sunkara indicated.
Dig Deeper on Oracle architecture and integration