Dell storage dominance followed $67B grab of EMC, VMware
Dell packages servers, storage for EMC and virtualization from VMware into an end-to-end IT stack; how will it expand and deliver those pieces over the coming decades?
Over the past 20 years, Dell has evolved from a PC company into the No. 1 server, storage and virtualization vendor, through acquisitions like the $67 billion purchase EMC in 2016. The company's long-term success depends on how well it integrates its acquired technologies and innovates for the future.
Here's a look at how the Dell storage dynasty developed and where it is headed as it combines storage with servers and virtualization and tries to parlay those tools into viable cloud offerings.
Dell's winding path from PC tech to storage titan
In 2000, Dell sold mostly PCs and laptops, but added servers and paid more than $300 million for a storage company called ConvergeNet. At the time, EMC was a 20-year-old company that specialized in mainframe storage, but also sold (and coined the term) Network Attached Storage and Fibre Channel storage networking switching. VMware was a startup that had launched its product less than a year before, a hypervisor that installed on a host operating system.
As 2020 approaches, Dell Technologies leads the server, storage and virtualization markets with more than $90 billion in annual revenue. The $340 million ConvergeNet acquisition in 1999 never resulted in any Dell products, but the EMC acquisition 17 years later made Dell the king of storage. The EMC deal also brought VMware to Dell.
Dell's journey from PC maker to enterprise storage titan was a winding path. From 2001 to 2011, Dell and EMC had an OEM deal that allowed Dell to sell EMC storage systems. Then, CEO Michael Dell decided he wanted his own storage platform, and the company acquired storage vendors EqualLogic (2007) and Compellent (2010). Still, Dell failed to crack the top five in networked storage market share before it closed the deal to buy EMC in 2016, gaining VMware in the process.
EMC had moved into server virtualization when it acquired VMware for $625 million in 2004. VMware still has a lock on the virtual sever market, and is now the key to Dell's hyper-converged infrastructure (HCI) and cloud strategy.
Dell EMC PowerEdge servers and VxRail appliances running VMware vSAN software makes it a hyper-converged giant as it combines servers, storage and virtualization.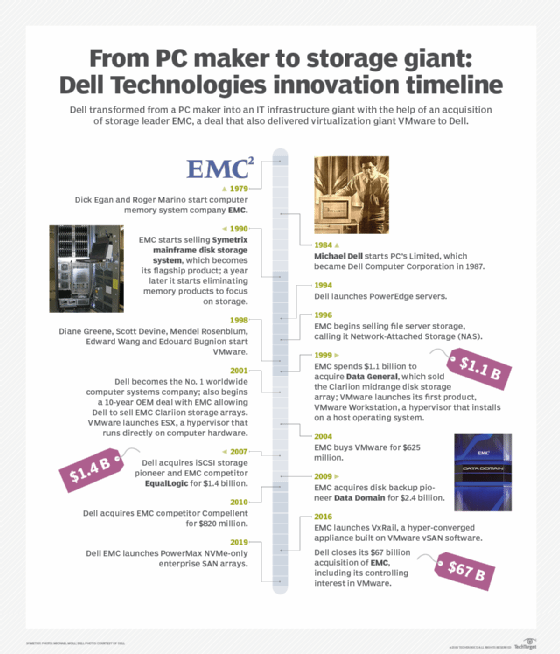 Dell 2020
Due to EMC, the Dell storage portfolio is the broadest in the industry, with products in every primary and secondary storage category. As of Q1 2019, Dell holds the top position in server market share on the strength of its legacy PowerEdge platform, with HPE close behind, according to IDC's server market report. And with VMware, Dell has a lock on virtualization.
"Any application on any device on any cloud" is VMware's mantra, but it can describe the overall Dell strategy.
"We created the essential infrastructure company," Michael Dell said at Dell Technologies World 2019.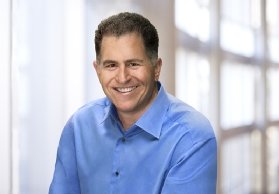 How well Dell puts these pieces together will determine its real value to customers. Dell integrates its hardware with VMware more closely than EMC did before it became part of Dell. The Dell EMC VxRail HCI appliance shows Dell's product depth: it uses Dell PowerEdge servers, VMware vSAN software and EMC storage management in HCI -- a relatively new IT architecture that combines servers, storage and virtualization in one chassis.
Dell EMC leads the HCI market, according to IDC's report for the quarter 2019, and vSAN is No. 1 in HCI software sales. VxRail is the building block for the Dell Technologies Cloud and VMware also provides the foundation for the rest of Dell's hybrid cloud infrastructure. VMware is the vehicle for Dell to partner with and compete with public cloud giants AWS, Microsoft Azure and Google Cloud.
Dell EMC is also moving to make its entire infrastructure available as a service, a strategy Hewlett Packard Enterprise is following with its GreenLake program. And VMware is embracing open source and emerging technologies such as Kubernetes, which can help fight off threats posed by IBM's expansion into open source with its Red Hat acquisition.
Challenges remain. Dell has yet to forge a strong composable infrastructure strategy, and its nascent PowerProtect unified secondary storage/date management platform is untested. Dell's cloud success is also far from certain.
Of all the pieces that make up Dell Technologies, VMware is considered the most interesting as 2020 approaches. VMware disclosed plans to make a bold move into Kubernetes at VMworld 2019 in August, with Tanzu and Project Pacific. Tanzu consists of products and services to build, manage and run applications on Kubernetes and Pacific is an overhaul of VMware's flagship vSphere product that will make it more open-source friendly while embedding Kubernetes. Tanzu and Pacific followed acquisitions of Bitnami for multi-cloud management, Heptio for Kubernetes management and Dell-owned Pivotal for platform-as-a-service capabilities.
The Dell EMC storage array focus in 2020 will be twofold. Dell EMC launched PowerMax NVMe-only enterprise SAN arrays in 2019, and disclosed plans to add a midrange storage platform that will consolidate competing products that EMC and Dell sold before the 2016 merger.
"We have to innovate and integrate across the full Dell Technologies portfolio," said Jeff Clarke, Dell vice chairman of products and operations. "Doing this creates the next generation of technology infrastructure."
In part two of this story, Sudhir Srinivasan, CTO of Dell storage, discusses what the next 20 years could bring for Dell Technologies.
Dig Deeper on Storage architecture and strategy