cycreation - Fotolia
Dell EMC all-flash PowerMax replaces VMAX, injects NVMe
Dell EMC rebrands its high-end, all-flash VMAX system as PowerMax, which is packed with NVMe flash and inline data reduction. A single system scales to 4 PB, with an onboard AI tiering engine.
LAS VEGAS -- Dell EMC all-flash storage upgrades highlighted the product rollouts at Dell Technologies World today, with the vendor making its first significant inroads toward supporting nonvolatile flash memory express in arrays.
Dell EMC rechristened its high-end VMAX enterprise arrays as PowerMax, which features an end-to-end nonvolatile memory express (NVMe) design and an AI engine. The vendor also added synchronous replication to its XtremIO X2 all-flash platform, plus a new model with entry-level pricing for the small and midrange market.
The 14th generation of Dell EMC PowerEdge servers was released at the conference, outfitted with NVMe drives. The new PowerEdge hardware provides the compute resources in the newest Dell EMC VxRail and VxRack SDDC hyper-converged appliances.
PowerMax refresh consolidates analytics and enterprise workloads
PowerMax is the Dell EMC all-flash flagship for SAN environments to consolidate block, file, open and mainframe storage. PowerMax keeps VMAX's multicontroller active-active architecture, but it's designed with dual-ported NVMe flash bricks instead of SAS-based SSDs.
Dell EMC said a PowerMax configuration designed for storage-class memory will be available in 2018. Support for NVME over Fabrics is on the vendor's roadmap.
This isn't Dell EMC's first NVMe-based storage product. Prior to merging with Dell, EMC in 2014 acquired all-flash chip startup DSSD and converted its NVMe-over-PCI Express technology into a rack-scale appliance, called DSSD D5. Built with a proprietary custom flash mesh, the product was scrapped in 2017 following poor sales largely because of the system's high price.
PowerMax NVMe flash arrays are designed on industry-standard components. The architecture unlocks about 25% more performance than current VMAX systems, said Sam Grocott, senior vice president of marketing for Dell's infrastructure solutions group.
One Dell EMC all-flash PowerMax system is rated to deliver throughput of as much as 150 GBps and 10 million IOPS.
"The hallmark of VMAX has been [the ability] to support large-scale enterprise databases, and that's going to continue. What's new with PowerMax is you can now consolidate your next-generation apps for analytics, IoT and mobile, as well -- all on a single, scale-out storage platform," Grocott said.
Two PowerMax models will be available starting May 7. Customers can start with a 10U PowerMax 2000 and get up to 13 TB of effective capacity in a single NVMe brick. A larger array, the PowerMax 8000, can accommodate eight bricks and scale to 4 PB of usable storage.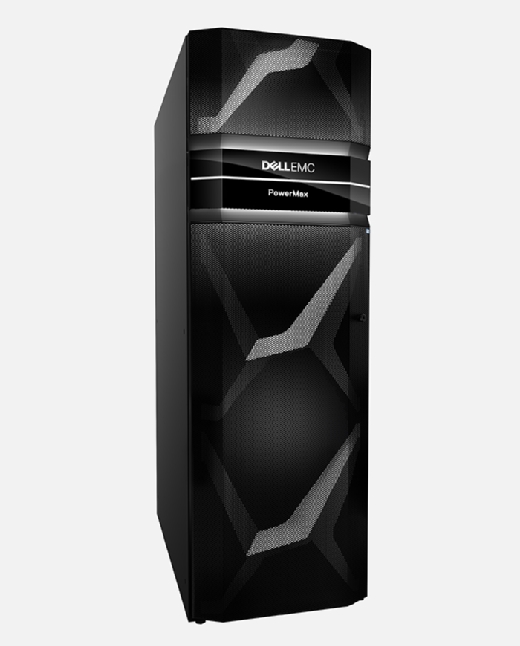 Unlike VMAX arrays, the PowerMax OS includes inline deduplication. Customers can set data dedupe and compression features per application and run it with no performance impact on existing data services, Grocott said.
Along with the NVMe makeover, the Dell EMC all-flash PowerMax integrates machine learning to analyze billions of data sets and recognize patterns.
"The machine learning ensures that we place the right data on the right storage media, based on a large amount of intelligent information that we've gathered," Grocott said.
"What I find interesting is that it's still kind of early for a leading storage vendor to fully NVMe-ize their flagship storage platform, along with all the enterprise-class data services bells and whistles," said Eric Burgener, a research vice president with IT analyst firm IDC. "Pure Storage did this in May 2017 [with FlashArray//X], but Dell EMC is a leading vendor -- by revenue and market share -- in a way that Pure isn't."
Greg Schulz, chief advisory analyst at IT consultancy Server Storage IO in Stillwater, Minn., said there is more to PowerMax than just NVMe.
"PowerMax is a next-generation system," he said. "This is more than simply bolting on new [flash] devices. The value proposition is AI and machine learning are enabling an outcome. The brains are Dell EMC software that lets you gain deep insight [based on] analyzing data over a long period of time."
Grocott said Dell EMC will continue to sell the current VMAX 950F and 250F models that are all-flash, but use SCSI SSDs. He also said the vendor will have migration tools to help move data from VMAX to PowerMax.
"It was very smart for Dell EMC to not discontinue the SCSI-based VMAX arrays," Burgener said. "They will be a bit cheaper to buy and less performant, but they still bring a lot of performance to bear. This will give Dell EMC's customers the freedom to choose the platform that best fits their requirements -- all NVMe or SCSI-based NAND flash."
Dell EMC all-flash XtremIO replicates deltas
One of the chief customer requests from XtremIO customers has been native replication between hosts and targets. The asynchronous feature is part of a software upgrade available on Thursday, May 3.
Dell EMC refers to XtremIO X2 replication as "metadata-aware," meaning only snapshot changes within the data set are transmitted to a backup target.
Dell EMC provided few details on its new entry-level XtremIO X2 array, claiming only that entry pricing was about 55% lower than its existing XtremIO platforms.
For organizations seeking to deploy server-side flash, Dell introduced two new four-socket PowerEdge servers: the R840 and the R940xa.
The 2U PowerEdge R840 is aimed at data center analytics. Users can install as many as 24 NVMe direct-attached SSDs to accelerate data and scale performance by adding two GPUs or field-programmable gate arrays (FGPAs).
PowerEdge R940xa -- xa stands for extreme acceleration -- features a 1-to-1 ratio of GPUs to CPUs, focused mostly on traditional and in-memory databases. The R940xa supports as many as four GPUs or eight FPGAs. Customers can scale storage by mixing up to 32 drives in the box.
Dell also previewed PowerEdge MX, a modular architecture designed for software-defined storage and composable infrastructure. That product is expected to hit the market later this year.