Greg Blomberg - Fotolia
Dell EMC PowerVault ME4 launched for entry-level SAN
While the industry watches its midrange lines, Dell EMC pushes out a new array of entry-level, flashy PowerVault systems for smaller organizations and branch offices.
Dell EMC this week added a new line of entry-level storage systems, extending its PowerVault line to handle SAN and direct-attached storage.
The Dell EMC PowerVault ME4 line consists of three flash-based models: the 2U ME4012 and ME4024 systems and the dense 5U ME4084 expansion enclosure.
The PowerVault block arrays can serve as direct-attached storage with Dell EMC PowerEdge storage servers, or they can extend SAN storage to enterprise remote branch offices. The latest PowerVault scales to 336 SAS drives and 4 PB of raw storage with ME expansion shelves.
The new PowerVault block systems provide unified file storage with Dell EMC PowerVault NX Series Windows-based NAS devices.
PowerVault ME4 models start at $13,000, and Dell EMC's auto-tiering, disaster recovery, RAID support, replication, snapshots, thin provisioning and volume copy software are standard features. Dell EMC claims an HTML5 graphical user interface enables setup within 15 minutes.
PowerVault for large and small customers
Dell's $60 billion-plus acquisition of EMC in 2016 created wide industry speculation that the combined Dell EMC would need to winnow its overlapping midrange storage portfolio.
Last week, Dell's vice chairman of products and operations, Jeff Clarke, said the midrange Unity and SC Series platforms would converge in 2019. But the vendor will still have a variety of storage array platforms. Dell EMC PowerMax -- formerly VMAX -- is the vendor's flagship all-flash SAN. Dell EMC also sells XtremIO all-flash and Isilon clusterd NAS systems.
EMC was the external storage market share leader before the Dell acquisition. Post-merger Dell generated more than double the revenue of any other external storage vendor in the second quarter of 2018, according to IDC's Worldwide Quarterly Enterprise Storage Systems Tracker numbers released last week.
IDC credited Dell with $1.9 billion in storage revenue in the quarter -- more than double the $830 million for No. 2 NetApp. Dell had 29.2% of the market and grew 18.4% year over year for the quarter, compared with the overall industry growth of 14.4%, according to IDC.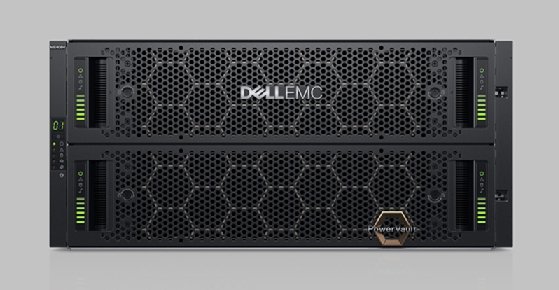 Dell initially launched PowerVault for archiving and backup, but repositioned it as "cheap and deep" block storage in back of the EqualLogic-based SC SANs.
Sean Kinney, a senior director of product marketing for Dell EMC midrange storage, said PowerVault ME doubles back-end performance with 12 Gbps SAS and is capable of handling 320,000 IOPS.
"We've talked over the past few months about how we're going to simplify our [midrange] portfolio and align it under a couple of key platforms. We have the PowerMax at the high end. This is the next phase in that journey," Kinney said.
The new PowerEdge arrays take self-encrypting nearline SAS disks or 3.5-inch SAS-connected SSDs, and they can be combined behind a single ME4 RAID controller. The configuration gives customers the option to configure PowerVault as all-flash or hybrid storage. The base ME4012 and ME4024 2U units come with dual controllers, with 8 GB per controller, and four ports for 10 GB iSCSI, 12 Gbps SAS and 16 Gbps Fibre Channel connectivity.
Customers could add a 5U ME484 expansion enclosure behind any ME4 base unit to scale Dell EMC PowerVault to 336 nearline disks or SSDs. Dell EMC claimed it has sold more than 400,000 units of PowerVault generations.
Enterprises use PowerVault arrays "by the hundreds" at remote branch sites, while smaller organizations make up a big share of the installed base, said Bob Fine, a director of marketing for Dell EMC midrange storage.
"If you only have one or two IT generalists, PowerVault could be your entire data center," Fine said.