georgejmclittle - Fotolia
IBM-Red Hat juggernaut seeks to boost multi-cloud deployments
IBM and Red Hat executives believe they are well positioned to capture a generous share of shops yet to implement hybrid clouds. Some analysts say that is easier said than done.
In the wake of IBM and Red Hat delivering their first product integrations, executives outlined why the new offerings and other opportunities in hybrid cloud market will not only propel the combined companies' revenues, but also make it easier for corporate users to transition workloads to the cloud.
Speaking at IBM's annual financial analyst meeting on Friday, Ginni Rometty, IBM chair and CEO, and Jim Whitehurst, Red Hat CEO, said they believe that together the two companies are better positioned to help IT pros build multi-cloud environments. The IBM-Red Hat deal could push IBM's cloud and cognitive software growth into double digits, she said.
"Every client we meet talks about the cloud journey they are on," Rometty said. "Because that journey involves their mission-critical applications as well as infrastructure, they tell us their preferred destination is hybrid clouds. We think we have the winning combination to do that with Linux, containers and Kubernetes," she said.
Rometty referenced the joint product launch with Red Hat last week to convert the majority of its software portfolio to be cloud-native and to run on top of Red Hat's OpenShift platform. OpenShift allows those applications to run on any public or private clouds.
Rometty talked about the rich opportunity IBM and Red Hat have in front of them, saying that only 20% of enterprises have moved to the cloud and that IBM and Red Hat are well-positioned to capture a generous chunk of the remaining 80%.
One analyst believes, however, that this accomplishment may be easier said than done.
"Most of the migrations to the cloud have been relatively easy workloads to migrate," said Chris Antlitz, Telecom Principal Analyst with Technology Business Research, Inc. "The next 80% will be way harder because it involves mission-critical workloads with sensitive information that many CIOs prefer to keep on-premises or in a private cloud. That will probably not change materially."
Still, the IBM-Red Hat deal creates an ideal pairing to court cautious CIOs, he added.
"Given IBM's heritage, I think they are going to be a trusted partner in migrating the harder stuff," he said. "Red Hat rounds out the story by providing [IBM] with the architecture to help with for enterprise transformation."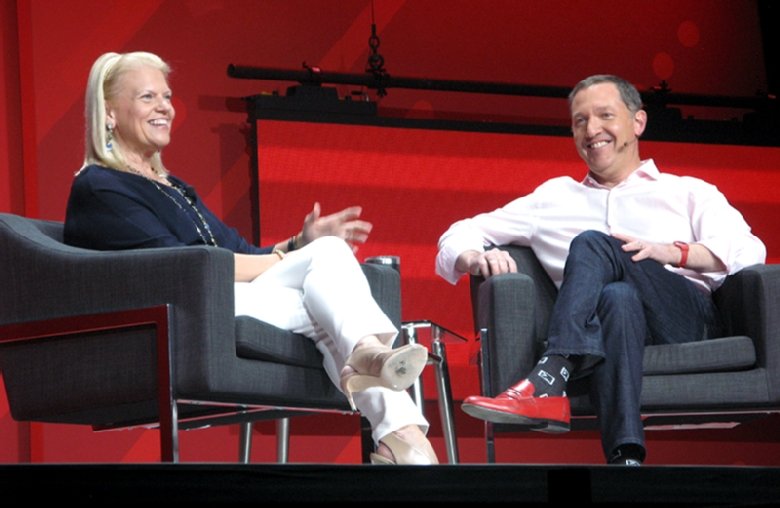 IBM, Red Hat must balance alignment with independence
Whitehurst underlined Rometty's remarks about the untapped opportunity in the hybrid cloud market both companies can pursue, adding that Red Hat's continued independence will be critical to cashing in on that opportunity by maintaining its wide variety of cloud partnerships outside of IBM.
The container market is an order of magnitude larger than the Linux operating system market and is as strategically important as Red Hat Enterprise Linux.

Jim WhitehurstCEO, Red Hat
"This [alliance] broadens the opportunity not just for OpenShift, but also our entire ecosystem," Whitehurst said. "This represents new net workloads and functionality for the industry as a whole," he said.
Red Hat now owns more than 70% of the Linux operating system market, with growth rates in double digits, Whitehurst said. Linux figures to remain a key driver in the company's overall growth, he added. However, the container market is "an order of magnitude'' larger than the Linux operating system market and is at least as strategically important as Red Hat Enterprise Linux (RHEL).
"ISVs see (containers) as a platform on which to create more innovation, which in turn can only broaden OpenShift's market opportunities," Whitehurst said.
Executives from both companies emphasized during the investor call the competitive advantage they have individually and jointly. Combined, IBM and Red Hat have a little over 80,000 cloud applications services practitioners to help corporate users in building, managing and migrating applications and workloads across environments.
IBM officials believe Red Hat's added technical services support will help it close the gap against archrivals AWS and Microsoft, who hold a sizeable lead over Big Blue in the cloud market.
Outlining the company's go-to-market strategy, Martin Schroeter, senior vice president of IBM Global Markets, said the priority is to maintain Red Hat's independence and neutrality and leverage IBM's customer base to grow the size of his new unit.
"Red Hat keeps its own sales force focused on its software, and we will maintain neutral in their ecosystem," Schroeter said.
One analyst said the two companies will have to provide more details about how the two services groups will work together if there is a combined services group working either in the same facility or working jointly on the same project.
"Having separation between the (services) organizations is fine, but when they have co-existence in these go-to-market scenarios, you need a clearer division of responsibilities," said Frank Dzubeck, president of Communications Network Architects.