Fotolia
IBM-Red Hat integration begins with OpenShift, Cloud Paks
With the acquisition deal done, IBM shared its plans to have Red Hat OpenShift software serve as foundational building blocks that can be used to create applications spanning hybrid and multi-cloud environments via IBM Cloud Paks.
Just three weeks after its $34 billion IBM-Red Hat acquisition deal, IBM delivered its first product integrations with Red Hat which, not surprisingly, center on hybrid and multi-cloud deployments.
Big Blue will deliver its software portfolio in containerized form through IBM Cloud Paks, which will run on top of Red Hat OpenShift and, thus, on any major public or private clouds.
Cloud Paks aren't a new concept for IBM, but the company will greatly expand their availability and variety via the OpenShift integration.
"OpenShift has always been the prize," said Holger Mueller, an analyst at Constellation Research. "It's great for customers, as code assets can be used across a continuous compute plane."
IBM Cloud Paks go beyond merely containerized code, as they include common logging and metering capabilities. The company also claims this approach simplifies the use of multiple clouds. In addition, IBM Cloud Pak for Multicloud Management gives customers tools to manage, monitor and secure complex hybrid cloud deployments, according to comments attributed to IBM Cloud CTO Hillery Hunter in a corporate blog post.
IBM's vision is to have Red Hat OpenShift-enabled software serve as foundational building blocks that can be used to create applications that span hybrid and multi-cloud environments. Many IBM and Red Hat user organizations are looking to consume software, data and AI capabilities, but also want the flexibility of deploying it on the platform of their choosing, according to IBM.
OpenShift plays a critical role with IBM Cloud Paks because OpenShift is embedded into them. The underlying Kubernetes and container orchestration layer supports all containerized software, Hunter said in the post.
Putting IBM Cloud Paks on top of OpenShift gives the companies much broader reach almost immediately. OpenShift is also a platform that allows Cloud Paks to leverage common services such as logging, metering and security so users can more effectively manage their workloads.
Underlining IBM's long-term commitment to open source, the company used open source components in each of the five Cloud Paks, enabling organizations to use popular open source databases and tools they are familiar with. Open source will remain a critical part of IBM's strategy and innovation plans going forward, Hunter said in the blog post.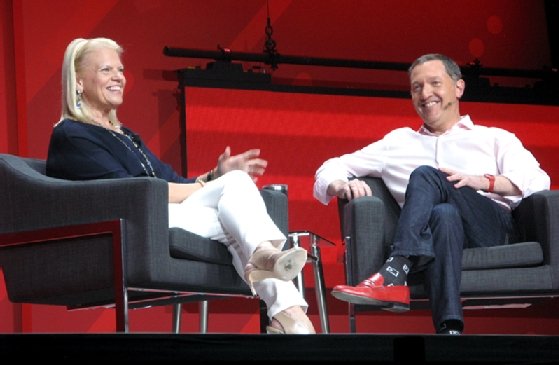 There are four other Cloud Paks available now: Cloud Pak for Data, Cloud Pak for Applications, Cloud Pak for Integration and Cloud Pak for Automation. IBM has adopted a consumption-based pricing model for Cloud Paks, but specifics weren't available by press time.
The new software and services, which number more than 100 including Db2, WebSphere, the Watson Studio development environment and Cognos Analytics, will serve as the main components of an underlying suite that makes it easier for users to quickly deploy cloud applications.
Red Hat OpenShift on IBM mainframes
IBM will also offer OpenShift on its IBM z mainframe and LinuxOne platforms, which typically handle 30 billion transactions per day. The company already offers OpenShift on its line of Power Systems servers and storage.
With this announcement, they are throwing mainframes into the planning bucket and eventually putting them on an equal footing with the other platforms.

Frank DzubeckPresident, Communications Network Architects
While it is important that IBM brings OpenShift to its mainframes, its value to the venerable platform has little immediate benefit, said Frank Dzubeck, president of Communications Network Architects. It could, however, provide more over the long haul, he added.
"Hoping [OpenShift] can help their mainframes over the short term is like trying to turn an aircraft carrier around on a dime," Dzubeck said. "With this announcement they are throwing mainframes into the planning bucket and eventually putting them on an equal footing with the other platforms. This means mainframes are now part of the whole Cloud Pak initiative," he said.
Other news includes a managed version of OpenShift on IBM's public cloud. It is unclear how important this option is to IBM's overall plans, since it has largely ceded the public cloud market to the likes of AWS, Microsoft and Google.
''Whether the OpenShift integration with IBM system z amounts to a truly substantive investment in mainframes, or is more of a marketing and public relations effort to calm loyal users concerned about the platform's future, remains to be seen," Mueller said.
Mueller noted that IBM's OpenShift cloud wins could mean that system z mainframes will lose out against cloud soon.
IBM deploys consulting services for Red Hat
IBM also hopes to grow its revenue through consulting and technology services for Red Hat software. IBM has more than 80,000 application consultants and one of the largest groups of Red Hat-certified individuals in the industry, according to a statement.
Indeed, IBM believes its army of consultants, coupled with Red Hat's technology, will generate a lucrative collaboration that can reverse years of declining revenue.
What was noted in the announcement regarding each company's services group may not be as important as what was not mentioned, according to Dzubeck. For instance, there was no indication of how IBM and Red Hat services organizations would work together jointly on projects
"In cases where the two teams are working in the same facility, you have to have a methodology for how each team will divide up their expertise," Dzubeck said. "When you co-exist in a go-to-market situation you need a clear division of responsibilities. Users might need more details about that."
IBM builds it, but will customers come?
The IBM-Red Hat integration announcements come as no surprise following the acquisition, said Gary Chen, an analyst at IDC. But the question remains as to whether IBM will draw interest from greenfield customers, he added.
"I think if you're a customer of [IBM system] z, this adds some modernization to the platform," Chen said. "I'm not sure that if you aren't already a z customer, this by itself would draw you to deploy z. It's more about keeping existing customers and keeping up with modernization."
The same goes for IBM's public cloud play with Red Hat, Chen said. "I'm waiting to see if OpenShift on IBM Cloud will offer some differentiation versus running on some other cloud, due to the closer engineering collaboration."
Constellation's Mueller, who has been skeptical of the price IBM paid for Red Hat, expressed similar sentiments following the product integration announcement.
"If this is successful, it shows that enterprises want a lot of handholding, and IBM does that with its services," Mueller said.
Dig Deeper on Cloud deployment and architecture