georgejmclittle - Fotolia
Hybrid cloud deals dominate 2019's cloud computing market news
It has been a busy first half of 2019 for the cloud computing market. Here is a rundown of the biggest cloud news stories so far this year with implications for the industry and customers.
The year is only half over but has already seen a string of significant developments in the cloud computing market, led by IBM's purchase of Red Hat. Here's a look back and ahead at that deal, plus several more of the biggest cloud news stories so far this year.
IBM-Red Hat: $34 billion buys Big Blue hybrid cloud chops
Big Blue's move to acquire open-source software giant Red Hat jolted the industry when announced in October. The deal, which closed in July, is the most expensive pure enterprise software acquisition in history, and IBM bets it will provide a major boost in the hybrid cloud computing market.
What's next: Company executives have consistently said Red Hat will remain independent. That may well be the case for some time at least, given that bolder moves to integrate it with IBM could rattle Red Hat's customer base.
But every acquisition brings about changes, and given the scope of Red Hat-IBM, this will be no different. Expect more details about the companies' roadmap to emerge on Aug. 2 at a scheduled presentation.
All of IBM's middleware products will be built to run their best on OpenShift, Red Hat's container application platform, according to the companies. How and when this will play out is something executives ought to discuss on the Aug. 2 call.
[IBM-Red Hat] is probably the most overpriced deal we've ever seen.

Holger MuellerAnalyst, Constellation Research
That may not be enough to impress one longtime industry observer. "It's probably the most overpriced deal we've ever seen," said Holger Mueller, an analyst at Constellation Research in Cupertino, Calif. "It's a Hail Mary pass from Ginni [Rometty]."
Google launches Anthos multi-cloud deployment platform
Google wants to sell enterprises all the native cloud services it can. But the company's April release of Anthos, a Kubernetes-based container platform, signaled its hope to become a middleman player fit for a multicloud world.
Anthos can run container workloads unchanged across multiple clouds and on-premises environments. Google enjoys some built-in credibility for Anthos given that it invented Kubernetes, which has become the standard for containers, but it still must gain ground in large enterprises against cloud computing market rivals Microsoft and AWS. Anthos is its bid to do just that.
What's next: At Cloud Next, Google showcased an impressive array of enterprises and partners that have signed on to Anthos in some form. Further updates on customer adoption could come at Google Cloud's Summit event in September and Google Cloud Next '19 UK in November.
Anthos is a smart move on the part of Google as it acknowledges its third-place standing in the cloud computing market, and offers customers more flexibility in terms of workload portability, Mueller said.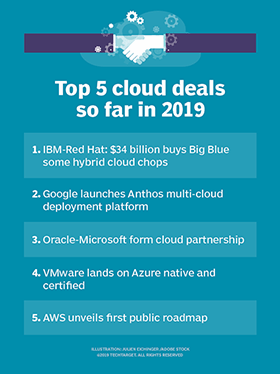 Oracle, Microsoft cloud pact rooted in pragmatism
Oracle, which trails well behind AWS, Microsoft and Google in the public cloud, made its own strategic move in June. It partnered with Microsoft on a plan that will boost interoperability between the companies' cloud platforms, and give joint customers more ways to deploy and integrate their software services.
For example, enabled by a direct, low-latency interconnect, a customer could run Oracle ERP on Azure and tie back to an Oracle Autonomous database instance on Oracle's cloud.
This arrangement helps Oracle pivot away from the sale of more general-purpose cloud compute and storage, and toward more advanced workloads its next-generation IaaS was designed to support. It's also a telling indication of how heated competition in the cloud computing market forces major vendors to change course.
What's next: Many details of the pact, such as a planned shared support model, remain vague at this point. However, more details will likely surface at Oracle's massive OpenWorld conference in September, a show that attracts a broad cross-section of its customer base.
VMware lands on Azure, native and certified
In May, VMware and Microsoft announced the availability of VMware workloads on Azure. The offering, which comes through services from CloudSimple and Dell Technologies subsidiary Virtustream, is sold and supported by Microsoft and certified by VMware.
It arrives about two years after the launch of VMware Cloud on AWS, which has gained significant traction in the market.
Moreover, the VMware on Azure option differs from Microsoft's intentions in 2017, when it revealed plans to launch a VMware deployment service without the participation of VMware itself. That move sparked a stern rebuke from VMware, and Microsoft ultimately shelved its plans.
What's next: The CloudSimple version of VMware on Azure is available now and at least one early customer says they expect major benefits. Virtustream's take, set for release sometime this year, could appeal to SAP ERP shops that want to move application assets to the cloud, given Virtustream's pedigree in SAP hosting.
Microsoft now must try to catch up with AWS for VMware workloads, but in the meantime, customers have more options for virtualization in the cloud.
There is plenty of demand left to tap, with vast amounts of on-premises VMware workloads in existence, Mueller said: "I don't see it so much as a surprise as, what the heck took them so long?"
AWS unveils public roadmap for containers
Sometimes, a bigger story is hidden inside seemingly low-key announcements. Such was the case in February, when AWS quietly released a public roadmap for its container strategy on GitHub.
AWS was careful to mark the roadmap as "experimental," but the transparency was nonetheless well out of character for the secretive company. AWS executives constantly stress how much they value customer input and feedback, but these discussions tend to happen in private.
What's next: Amazon CTO Werner Vogels discussed the roadmap and its broader implications in a recent interview with TechTarget. "[G]iven the tremendous interest of developers in containers, this seems like a really great space to start with giving the community access to a roadmap, knowing what's coming," Vogels said. That statement doesn't commit to any future roadmap releases, whether in terms of timing or content. But customers should watch carefully for more indications of increased transparency on the part of AWS.
Dig Deeper on Google and other public cloud providers