Kirill Kedrinski - Fotolia
Explore VMC on AWS pricing, features and use cases with a trial run
Evaluate VMware AWS cloud use cases against other cloud services and on-premises investments. Admins can use the on-demand pricing model to try it out.
IT administrators can evaluate VMware Cloud on AWS, including its features and use cases, with a carefully planned...
Continue Reading This Article
Enjoy this article as well as all of our content, including E-Guides, news, tips and more.
trial period that takes advantage of the accessible VMC on AWS pricing structure.
With VMware Cloud on AWS (VMC on AWS), VMware hosts physical ESXi servers in Amazon's data centers and charges customers to use those servers to run VMs. The differentiation between the VMC on AWS cloud and other cloud offerings is that customers can use VMware's reliable and well-known hypervisor and management tools, such as vCenter. Because the cloud environment uses vSphere, it's also possible to easily migrate VMs from an on-premises vSphere environment to the cloud. Curious VMware admins can try out this service with flexible VMC on AWS pricing plans.
All the reasons customers would want to work with a cloud provider apply to VMC on AWS. This includes an unwillingness to invest in hardware or the desire to access an environment that can scale on demand. For VMware customers especially, there are a few use cases that make this service even more interesting.
Admins can manage the entire service through vCenter with the use of other services that they likely already know, such as vSAN and NSX. Admins have to learn how to use a web interface to maintain the actual software-defined data center (SDDC), but for daily operations, they can use vSphere Client.
With vCenter Hybrid Linked Mode, admins can connect an on-premises vSphere environment and -- depending on network configurations -- perform migrations to and from the cloud. Depending on the available hardware, those might even be vMotion migrations.
The VMC on AWS cloud won't give admins the same level of administrative access they would have with their hosts and vCenter server. Admins also don't have root-level access to the ESXi hosts because VMware maintains them. VMware automatically detects failed hosts in a VMware SDDC and replaces them with healthy hosts.
VMware also handles upgrades to the cloud environment in the VMC on AWS pricing, which includes new versions, patches and updates.
Examine feature and service integration offered with standard VMC on AWS pricing
Once the SDDC is up and running, admins can run VMs and explore other features, such as building a stretched cluster that spans Amazon's availability zones.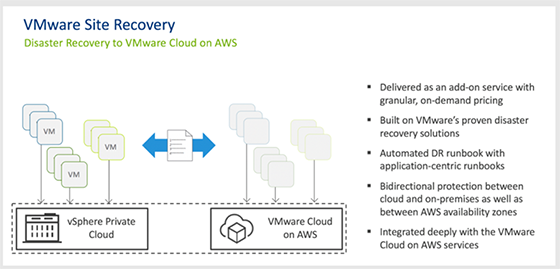 VMware Site Recovery is another useful service admins can integrate with VMC on AWS. This is an add-on that admins can purchase on top of their subscription; it connects an on-premises data center to VMC on AWS, which enables failover in both directions if the entire service becomes unavailable.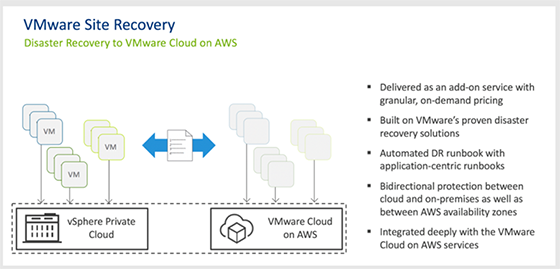 Admins might not want to commit to multi-year contracts before knowing that VMC on AWS works as expected and integrates with their current environment. There are two ways to evaluate the service and how it matches the costs of VMC on AWS pricing. The first one is free of charge and admins can access it online from VMware's hands-on labs.
Figure C below is a screenshot of an example SDDC deployed in the hands-on lab. This deployment shows compute and network configurations, and what the possibilities are for products that integrate with a cloud-based SDDC. A new SDDC deploys without any actual hardware, so admins won't be able to start any workloads.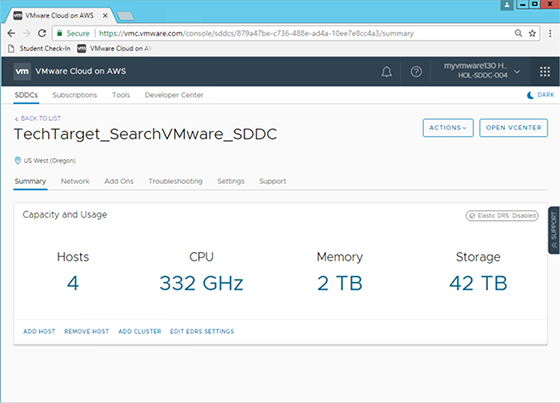 If admins want the ability to run actual workloads and integrate the SDDC with an on-premises vSphere deployment, they can use the flexible VMC on AWS pricing plans to purchase a one-month subscription for a single-host SDDC. This offers an actual, physical vSphere host in the AWS data center that does almost everything a three-node cluster does. There are some limitations, however, such as not being able to evaluate a stretched cluster with one host.
This single host deployment only runs for a maximum of 30 days, so admins have to plan their evaluations carefully. It's possible to upgrade the single host SDDC to a full, three-host SDDC and retain the data, but that would require the purchase of a full subscription.
Test out VMC on AWS pricing models
Predictability is one of the most compelling selling points of cloud-based services.
The VMC on AWS setup requires a minimum of three hosts and the ballpark figure for that is around $9,000 per month for three years. VMware provides a cost calculator for more accurate estimates of VMC on AWS pricing, and promotions might make it even cheaper. Keep in mind that a shorter contract period significantly increases the monthly fee.
There are two pricing models for this service: on-demand and subscription.
The on-demand consumption model structures payment for physical hosts by the hour. There are no upfront costs and there's flexibility to scale the number of hosts up or down without long-term commitments. In this VMC on AWS pricing plan, admins only pay for each hour that the host is active in their accounts. The minimum number of hosts required is three.

Long-term host subscriptions offer up to 50% cost savings in comparison to on-demand hosts consumed over equivalent periods. Host subscriptions are available in one- or three-year terms. Upfront payment is necessary for this VMC on AWS pricing model, but this maximizes savings and offers a huge discount in comparison to the on-demand pricing model.
VMware provides another useful calculator to help potential customers figure out how many hosts they need. If admins already have some experience with how their workloads perform on their own hosts, keep in mind that such a calculator might be conservative when providing advice.