Gajus - Fotolia
VMware vSphere monitoring ensures system health, performance
Admins can monitor their vSphere environments with tools such as vSphere Web Client and vSphere health service, which provide access to real-time usage information and system health data.
The VMware vSphere platform provides a number of tools for monitoring vSphere systems, and IT administrators can use those tools to view performance metrics, access real-time usage information, view system health, track events and set alarms. Admins can access these capabilities via the vSphere Client and vSphere Web Client, but VMware provides alternative methods for accessing performance data -- such as vSphere Health service, vSphere log files and several command-line utilities.
The VMware vSphere monitoring platform is a suite of products that enables admins to run, manage, connect and secure their applications in their environments and across clouds. VSphere provides tools for integrating with third-party programs such as Microsoft's Performance Monitor or management systems that support the Simple Network Management Protocol.
Use vSphere performance charts to monitor performance metrics
The vSphere Web Client provides a wide range of performance charts that offer quick access to performance metrics collected from the vSphere platform. The charts can display historical data for all supported inventory objects as well as real-time data for powered-on hosts and VMs.
The vSphere Web Client offers two categories of charts: overview and advanced. The overview charts display the most common metrics, which the platform groups together by resource types such as clusters, data centers, datastores, hosts, resource pools, VMs and virtual applications. Advanced charts provide more detailed information about these components. Admins can also customize the advanced charts, export them to spreadsheets or save them as image files.
The vSphere Web Client also supports different chart types, which vary depending on the available metrics. For example, a line chart displays metrics for a single inventory object, a pie chart displays storage metrics for a single object and a bar chart displays storage metrics for the datastores. Admins can specify time ranges or data collection intervals, which determine how long the platform aggregates statistics.
Perform system health checks
The vSphere monitoring platform includes several tools for verifying the health status of vSphere systems and components. For example, admins can use the vSphere Client or vSphere Web Client to monitor the health of host hardware components such as processors, memory, storage, power, battery and fans.
To deliver this data, vSphere uses profiles based on the Systems Management Architecture for Server Hardware specification, which defines protocols for managing data center systems. The type of health status information displayed in the vSphere clients depends on the sensors available to the host hardware.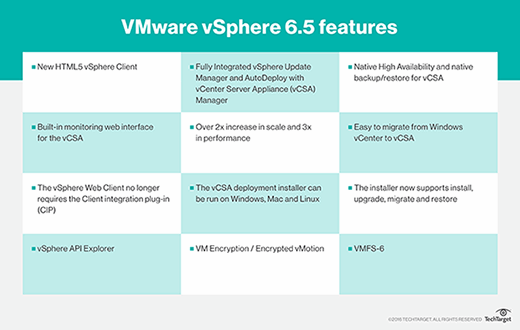 Admins can also use the vSphere Web Client to view the health status of vCenter Server services and nodes. Admins can monitor and access information about installed vCenter Server extension software that adds functionality from other VMware products or third-party technologies. For example, they can track whether a software agent works properly or view information about outstanding issues related to those agents.
The vSphere Health service collects vSphere telemetry data from across global data centers. Admins who participate in the Customer Experience Improvement Program can use the vSphere Health service to monitor the health of their vSphere environments and perform online health checks. This service can use that data to analyze vSphere environments' stability and configurations, then provide recommendations for addressing potential issues.
System monitoring tools for vSphere environments
The vSphere platform includes an events and alarms subsystem that tracks events throughout the platform and stores details about them in the vSphere log files and the vCenter Server database. When admins power on or log into a VM, vSphere generates an event that includes details about who generated the event, when the event occurred and the type of event.
Admins can use the vSphere Web Client to view the events associated with an object and configure alarms that trigger when specific types of events occur. In addition, the vSphere Web Client enables admins to create alarms based on a set of conditions or the state of an object. When admins configure an alarm, they can specify an action the system carries out in response to an event -- for example, they can have the system send an email to the security team when a security breach occurs.
Admins now have a wide range of tools for monitoring vSphere environments, and each vSphere release brings new and improved capabilities.
The vSphere monitoring platform also generates an extensive set of log files, which admins can use to track other types of information about vSphere activities. Log files can provide details about agents who communicate with vCenter Server, as well as status and activity information about supported VMs. Admins can also use log files to investigate cyberattacks or address compliance-related issues.
To access the logs, admins can use the vSphere Web Client or, if they connect to vCenter Server, the standard vSphere Client. Admins can also access logs directly through the console interface on the ESXi hosts.
In addition, VMware provides several utilities for monitoring system components. For example, the esxtop and resxtop command-line utilities provide real-time data about ESXi resource usage. Admins can use resxtop remotely, but they must use esxtop on a local ESXi host.
Another useful utility is vimtop, a plug-in for monitoring vSphere services running in the vCenter Server Appliance.
Additional updates
Admins now have a wide range of tools for monitoring vSphere environments, and each vSphere release brings new and improved capabilities. VSphere 6.5 provides improved visibility in the vCenter Server database, adds a default alert that notifies admins if a database could run out of space and includes a shutdown mechanism if the database reaches 95% capacity. VSphere 6.5 also improved log monitoring and provides audit-quality logging.
The release of vSphere 6.7 offers additional enhancements. It provides easier access to information about CPU, memory, network and database utilization. Update two of vSphere 6.7 builds on this trend by adding single sign-on auditing and enabling admins to create alarm definitions to monitor a system's backup status.