kentoh - Fotolia
VMware vCenter, vSphere pricing and licensing guide
VMware licenses and prices both vSphere and vCenter in various ways depending on the desired support, the size of the environment and the required functionality.
VMware offers dozens of products, but at its core are vCenter and vSphere. Understanding VMware's vCenter and vSphere...
Continue Reading This Article
Enjoy this article as well as all of our content, including E-Guides, news, tips and more.
pricing is critical to determine whether VMware virtualization is right for an organization.
VSphere, which uses the ESXi hypervisor, acts as VMware's virtualization platform. ESXi is a Type 1 hypervisor -- also known as a bare-metal hypervisor -- that abstracts CPU, storage and network resources from the underlying hardware, and then makes those abstracted resources available to VMs. By comparison, vCenter is a centralized management tool that virtualization administrators use to manage VMs and ESXi hosts.
Support configurations
VMware product costs, especially vSphere pricing, varies depending on the different support options. In general, options are separated by Basic or Production Support, with one- or three-year lengths of service.
VMware tiers the Basic Support for noncritical applications or platforms that require support during normal business hours, with 12-hour daily technical support from Monday through Friday. The company tiers the Production Support for mission-critical environments and includes 24-hour technical support seven days a week.
There are two additional support options to consider. Premier Support is available as a supplement to Production Support and offers the services of senior support staff to help with critical situations, perform root cause analysis for support requests, coordinate VMware troubleshooting and assist with on-site service. Skyline Support provides proactive support by avoiding problems and reducing time required to resolve support issues. VMware includes Skyline in both the Production and Premier support options.
Free VMware vSphere ESXi
VMware's free vSphere Hypervisor, also known as ESXi 7.0, is a compelling option to try out virtualization. Admins can install ESXi directly from VMware's website and upgrade to a vSphere version as their needs dictate.
With the release of VMware vSphere 7, ESXi and vCenter admins will inevitably consider the possibility of product upgrades.
The hypervisor included in the VMware free ESXi 7.0 download is the same as the one in the paid versions of vSphere, but there are several important restrictions. ESXi 7.0 is available with no hardware limitations with the exception of maxing out at two physical CPUs. However, hardware minimums are required, such as two CPU cores, a suitable 64-bit x86 processor released after 2006 and at least 4 GB --preferably 8 GB -- of RAM.
The free version of VMware ESXi comes with additional restrictions. It's designated for single-server use, so admins can't use the vSphere client to manage more than one ESXi host at a time. The reason for this restriction is that ESXi doesn't include vCenter Server Agent and its APIs are read-only, meaning admins can't execute against them. The restriction precludes third-party scripts from changing ESXi hypervisor settings. This option also limits use to eight vCPUs per VM, and there is no official VMware support included with the free ESXi version.
Upgrading a free ESXi host to vSphere licensing provides admins with access to vCenter Server Agent and unlocks the ESXi APIs, enabling admins to manage the tool via interfaces such as the vSphere Command-Line Interface, the vSphere Management Assistant, the Perl Template Toolkit and the PowerShell Toolkit.
Support for free ESXi is available via self-service web offerings using product documentation, knowledge base articles and guides to help admins install, configure and use ESXi. Small organizations with no or limited data center facilities can opt for per-incident email and phone support. Per-incident support is available in per-incident packs of one, three and five. The one pack is $299 per single incident, the three pack is $749 for three incidents and the five pack is $1,149 for five incidents. Per-incident support is valid for one year during the general support phases.
VSphere editions and versions
There are currently four principal vSphere packages: Standard, Enterprise Plus, Essentials and Essentials Plus. Each option varies in licensing and capabilities, so it's vital to consider both current and future data center needs when selecting a VMware hypervisor edition.
VSphere Standard
VSphere Standard Edition is an entry-level version of vSphere that enables a basic level of management of any number of physical host servers. This vSphere licensing option includes a choice of ESX or ESXi, along with a wealth of features including Virtual Machine File System, vCenter Server Agent, vStorage APIs or VMware Consolidated Backup, vSphere Update Manager, vSphere Replication, vMotion, vSphere Virtual Volumes, High Availability (HA), support for Microsoft virtualization-based security, vStorage Thin Provisioning and dozens of other features.
VSphere 7 is licensed per processor, not per processor core. This means every physical processor in a server must be associated with a license key in order to run vSphere. Each processor can include up to 32 processor cores and still be covered by the license key. If a processor has more than 32 cores, admins will require additional licenses.
The vSphere Standard Edition is priced anywhere from $1,268 with one year of basic support, to $1,847.72 with three years of production support. Admins should keep in mind that VMware requires a support option for every purchase.
One benefit of vSphere Standard is that smaller businesses just starting to explore virtualization can use this option to scale up with no limitation on the number of physical hosts.
However, a common criticism of the Standard Edition is the expense. In addition, some admins have issues with the web interface speeds of vSphere editions compared to the older desktop interface. Admins might also encounter a steep learning curve if they are new to virtualization software and will benefit from evaluation and proof-of-principle projects using the free ESXi version before adopting a paid and supported hypervisor platform.
VSphere Enterprise Plus
VSphere Enterprise Plus is the production-grade version of vSphere that offers the same broad range of features and functionality found in vSphere Standard. However, vSphere Enterprise Plus adds vital enterprise-class production-grade features not found in the Standard edition. Enterprise Plus features include vSphere Fault Tolerance for up to eight vCPUs, VM encryption, vSphere Trust Authority, vSphere Distributed Switch, vSphere Distributed Resource Scheduler, vSphere Storage DRS, Single Root I/O Virtualization support, Nvidia Grid vGPU support, Proactive HA and more.
As with the Standard edition, VMware licenses vSphere 7 per processor and each processor can include up to 32 processor cores under the same license key. However, VMware places no restrictions on the number and kind of VMs hosted on a server.
When purchased new, VMware vSphere Enterprise Plus pricing ranges from $4,350 with one year of basic support to $5,968.36 with three years of production support. When upgrading to Enterprise Plus from the Standard edition, pricing ranges from $3,615 with one year of basic support, to $5,233.36 with three years of production support.
VSphere Essentials and Essentials Plus
VMware Essentials kits are intended for small data center environments, such as small offices, which might benefit from server consolidation in order to lower hardware procurement and operating costs. The vSphere Essentials kit provides a total of six licenses that supports up to three servers with two CPUs per server, along with a license for vCenter Server for Essentials. VSphere Essentials and Essentials Plus kit licenses are perpetual and do not expire.
The vSphere Essentials kit includes the vSphere hypervisor and vCenter license that supports vCenter HA, vCenter Backup and Restore, and vCenter Server Appliance Migration. The vSphere Essentials Plus kit adds enterprise-grade features including vShield Endpoint, vSphere Replication, vSphere vMotion and vSphere HA.
The vSphere Essentials kit costs $576.96 with one year of software maintenance that includes patches and upgrades, and $686.77 with three years of software maintenance. Technical support for the Essentials kit is optional and can include per-incident plans. The vSphere Essentials Plus kit costs $5,596 with required one year of basic support to $7,676.84 with three years of production support.
It's important to note that admins cannot scale up the Essentials and Essentials Plus kits beyond the licenses included with the kit. The only way to extend these kits is to upgrade the Essentials kits to an Acceleration Kit with an upgrade option. Admins also cannot separate or combine the kits with other vSphere offerings.
VCenter Server editions
VCenter Server provides a centralized vSphere management console where admins can configure, provision, monitor, troubleshoot and update their virtual environments, including VMs and hosts. VCenter Server is also a prerequisite for many other VMware and third-party management products.
There are two major vCenter Server editions: vCenter Server Foundation and vCenter Server Standard. VMware includes a limited version of vCenter Server, known as vCenter Server for Essentials, with the vSphere Essentials kits.
Every version of vCenter Server provides management functionality, supports a database server and vCenter APIs, offers an inventory service, handles Single Sign-On and includes a vCenter Server Appliance Migration Tool. The Standard version builds on these basics to provide enterprise-grade features such as vRealize Orchestrator, vCenter HA, vCenter Server Backup and Restore, and Enhanced Linked Mode.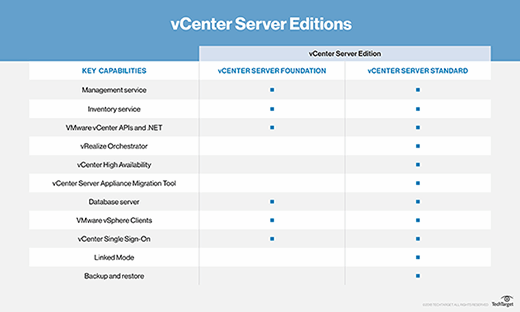 But the real difference between each vCenter Server version lies in the number of supported hosts and VMs. VCenter Server for Essentials supports up to three hosts with two CPUs per host maximum, while vCenter Server Foundation can support up to four vSphere hosts. However, vCenter Server Standard can handle up to 2,000 vSphere ESXi hosts.
In terms of cost, vCenter Server Foundation lists for $2,095 with one year of basic support and $3,282.68 with three years of production support. VCenter Server Standard lists for $7,472 with one year of basic support and $10,251.16 with three years of production support.
VSphere Acceleration Kits
VSphere Acceleration kits are similar to vSphere Essentials kits because the goal is to offer an all-in-one vSphere and vCenter bundle suited to new deployment opportunities, which can arise in small businesses. There are two basic vSphere Acceleration Kit editions: vSphere Standard Acceleration Kit and vSphere Enterprise Plus Acceleration Kit. The Acceleration kits include six or eight CPU licenses for vSphere, along with a license for one instance of vCenter Server Standard or vCenter Server Foundation, though not all combinations are available. The feature sets of the Acceleration kits are identical to the vSphere Standard and vSphere Enterprise Plus feature sets.
The vSphere Standard Acceleration Kit lists for $14,285 with one year of basic support and $14,832 with one year of production support. The vSphere Enterprise Plus Acceleration Kit lists for $30,077 with one year of basic support and $31,188 with one year of production support.
The primary difference between Essentials and Acceleration kits is upgradeability. For example, Essentials kits are locked and must be treated as a complete product, while Acceleration kits decompose into their individual products once installed, enabling admins to upgrade, support and expand the individual components of the Acceleration kit as desired. When admins must upgrade an Essentials kit beyond its package limits, they typically move to an Acceleration kit and then add additional vSphere licenses.
Upgrading to vSphere 7
With the release of VMware vSphere 7, ESXi and vCenter admins will inevitably consider the possibility of product upgrades. Though most software upgrades are simple and straightforward, it's important to approach vSphere upgrades with caution because virtualization technology, as well as availability, protection and other vital features, are critical to everyday IT operations.
An upgrade process should start with an assessment using a tool such as the vSphere Assessment Tool, which can discover all current software components, licenses and associated hardware. Tools can then identify any new requirements or possible roadblocks, such as an older or unsuitable server, which admins might need to upgrade or replace. Admins can take time to plan, budget and implement any required updates to the infrastructure in order to prepare for vSphere upgrades.
Once ready for upgrades, admins can plan an appropriate upgrade sequence, enabling for a smooth and systematic upgrade process for vSphere and vCenter products across the data center. Admins should validate and vet each upgrade to ensure that all features and functionalities are present and operating as expected. This is particularly important for workload performance and protection.
How to choose the best license for your needs
Admins should take careful consideration of their present and future needs when making the choice between VMware products. It's important to look beyond the pricing and evaluate the direction that virtualization technology might take within the organization. For example, a small business with little -- if any -- foreseeable expansion requirements can use a version of vSphere Essentials, but vSphere Essentials Plus can offer additional production-grade features such as data protection and availability.
Similarly, small businesses with some potential for modest long-term IT growth can instead opt for an Acceleration kit, which offers a bit more flexibility in terms of adding and supporting VMware products. Still, most businesses will utilize vSphere Standard or vSphere Enterprise Plus, which can both benefit from extensive expansion over time as admins' workloads grow.