pixstock - Fotolia
VMware licensing changes set to have long-term cost effects
VMware assured admins they would see little to no effect on costs in the short term with its switch to per-core licensing, but these changes could have long-term cost effects.
VMware announced changes its flagship product licensing on March 16, 2020, moving from a per-socket license to a per-core license. The company stated that this was a minor change for many VMware administrators. However, due to current global challenges and the increase in remote workers, VMware's licensing changes might have a greater effect sooner rather than later.
Unlike Microsoft's licensing updates in 2019, VMware's licensing changes went almost unnoticed, whereas Microsoft gained a lot of unwanted attention. The difference wasn't just the switch from socket to core licensing; it was where the additional costs came into play. Microsoft admins saw an increase in costs at eight cores and had to purchase additional licenses.
The change to VMware's licensing starts at anything above 32 cores per CPU socket, which means many admins won't see immediate cost effects. With the new requirement of additional licenses at 32 cores rather than at 16 CPUs, admins have few complaints about this licensing change.
Only the top-tier CPUs have more than 32 cores per CPU socket, so admins aren't immediately affected, because many virtual systems often balance core count with speed for larger workloads.
Understand the extent of the VMware licensing changes
With VDI systems growing exponentially, they often favor higher-density CPU core counts over individual core speed. Each vendor has a different way of executing a core license: Some offer additional core pack licenses, such as Microsoft, to enable admins to grow to the exact number of cores they require.
VMware has stated if admins require more than 32 cores, they simply must purchase the additional cores they need or switch from 32 cores to 64 cores. Though this might seem slightly excessive, it's important to remember that when it comes to purchasing CPU cores, incremental increases are nonexistent.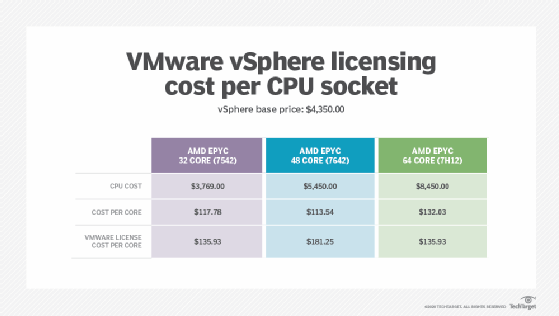 CPUs often grow by multiples of eight cores, so if admins require more than 32 cores, it makes sense from a VMware licensing standpoint to go from 32 cores to 64 cores -- or as close as admins can get. This is because once admins reach that next tier, they must pay for another CPU socket license anyway.
In terms of the VMware licensing changes, trying to break down costs becomes a very tricky subject. This is because admins must base cost on required number of cores and the speed these cores can provide. As admins increase the core count, the CPU speed decreases to ensure the CPU can control the heat in the chip.
If admins' workloads are more single-threaded and server-based, sticking closer to the 32-core model with increased speeds can be ideal. However, if admins look for VDI systems with more cores, they might consider a jump to the larger density cores. Though, admins must realize that when they double the cores, they also double the cost.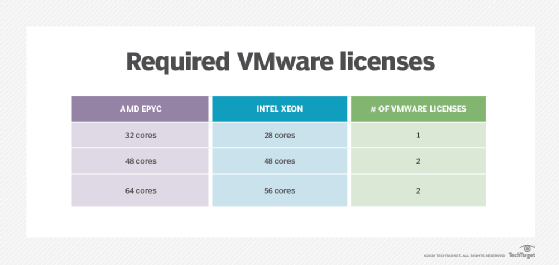 Dealing with the VMware licensing changes
A 48-core model is the worst deal from a VMware-licensing perspective. This setup is almost $50 dollars more per CPU core compared to the 32-core and 64-core models. Although admins pay slightly more for the additional cores -- $15 per core -- they can double their CPUs while keeping the same per CPU core cost with VMware licensing.
However, cost per core isn't the only consideration when it comes to CPU selection. Admins should also account for workload type, VM density, and power and heat conditions.
It's important to remember that other products in the VMware family have not changed licensing models. Products such as vSAN and NSX are still under per-CPU-socket pricing, which can create some serious challenges for admins. Between balancing guest licenses with new VMware licenses, it will take some creative work to keep these licensing changes straight as admins try to optimize what infrastructure they already have.
Licensing always evolves and changes; it just depends on how much lead time admins get to adjust to those changes.
Admins can also come across licensing and pricing challenges when upgrading their infrastructure. This is often where people start to look at software alternatives due to some of the additional costs and complexities that come with license changes.
Though application alternatives do exist for the hypervisor, admins must look at history to see how other options may play out. With Microsoft, it did not cause a rush to move to Linux over Windows. The sheer difficultly and cost in both coding and deploying workloads for another OS doesn't always make application alternatives feasible.
Even if admins consider alternative software, the real reason most admins won't move from VMware is the product family that integrates with the core VMware hypervisor. With NSX, vSAN, vRealize Operations and Site Recovery Manager, VMware has built a critical set of data center products that no one has been able to match.
Licensing always evolves and changes; it just depends on how much lead time admins get to adjust to those changes. VMware is giving its customers time to make adjustments before they receive a higher bill. Admins must start planning to ready themselves for these new licensing rules as they upgrade infrastructure and keep an eye on other possible VMware licensing model updates, from on-site services to VMware Cloud on AWS.