Fotolia
Licensing changes reveal Microsoft's cloud strategy
IT analysts share insights on the Microsoft licensing updates, and what it says about the on-premises giant's push for Azure adoption and the impact on current and future workloads.
Long-established software vendors, such as Microsoft and Oracle, have been reworking their cloud licensing, forcing IT people to quickly adapt.
Microsoft modified its licensing terms related to outsourcing rights and dedicated hosted cloud services effective Oct. 1 -- the change only applies to licenses purchased after that date. It's up to IT teams to determine how Microsoft's cloud strategy affects their workload plans and learn to adjust accordingly.
Licensing to lure users
Vendors have always utilized licensing policies to encourage specific behavior or impart some direction to customers, according to Ed Featherston, distinguished technologist at Cloud Technology Partners, a Hewlett Packard Enterprise company.
"Oracle and Microsoft have been doing it for decades, and have gotten quite good at it," Featherston said.
Microsoft and Oracle can use licensing as an incentive to encourage IT organizations to migrate workloads to their cloud environments rather than to competitors, such as AWS. In early 2017, Oracle updated its licensing policies specifically affecting what it calls Authorized Cloud Environments, which pertained to the use of its software on Amazon EC2 and Amazon Relational Database Service on AWS, as well as Microsoft Azure. Oracle's changes required users to have each virtual core as a physical core, which raised the cost to run Oracle on AWS and Azure. The strategy was seen as a way to make Oracle's cloud services more appealing than their rivals.
In the competitive cloud market of 2019, Microsoft's licensing changes are designed to get as many users or workloads onto Azure as possible -- once a client is on board, it requires effort for them to move workloads elsewhere.
Cloud economics continues to be the front line on the public cloud provider battleground, said Mark Bowker, senior analyst at ESG. It is a top driver that determines the short- and long-term cloud consumption model decisions for businesses.
Microsoft's cloud strategy must balance the company's need to compete in the public cloud market with its deep commitment to supporting IT organizations' on-premises investments. "The transition to a cloud operating model goes hand in hand with modifying the economic model of how businesses consume IT resources and cloud services," Bowker said.
Microsoft and Oracle took different licensing approaches in the face of growing cloud adoption, said Duncan Jones, VP and principal analyst at Forrester Research. Microsoft sought to protect its on-premises revenue at the same time it better oriented customers to the cloud. When Oracle, from its position as a dominant database software vendor, made it more expensive to use other clouds, the company effectively bullied customers into adopting its services, Duncan said. But that attitude sparked a backlash, and Oracle has since made its policies less onerous, he added.
Brace for impact
As businesses advance cloud adoption strategies and migrate production applications, they should anticipate and understand the potential application, operating system and infrastructure licensing effects.
Software licensing will likely be different and not necessarily match what the company is accustomed to on premises. One example is Microsoft's software maintenance. Thanks to Microsoft's licensing changes this October, customers have adapt their cloud strategies and buy Microsoft Software Assurance with licenses to be able to move them to any environment, including Azure
"Software Assurance is a new way to brand software maintenance; it provides customers with new product versions, support and mobility," said Bob Potter, CEO of SentryOne, which sells performance monitoring software for Microsoft workloads.
In some cases, cloud and application providers will partner to provide their shared customers with a favorable migration strategy accompanied by an attractive economic model. For example, Microsoft, AWS and Google partner with SAP to entice enterprises to host large databases on their clouds.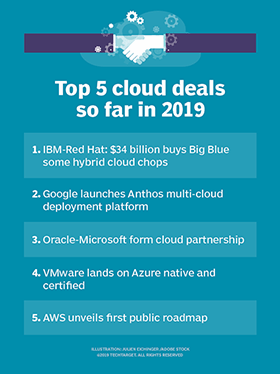 "As the cloud providers and enterprise software providers align cloud strategies, it becomes important to lean in and partner closely," Bowker said. That way, businesses can understand how current licensing affects budgets and capabilities, as well as the long-term economic model that aligns with their cloud and business approach as it pertains to Microsoft's cloud strategy.
Expect to see Microsoft and other cloud providers continue to tweak licensing programs to align with a profitable cloud strategy. Companies should also anticipate more partnerships between the cloud providers and enterprise software providers.
But licensing alone does not make cloud decisions, and not every workload belongs on the cloud. "Focus on moving or migrating workloads to the cloud for demonstrable business values, not just because of licensing costs," Featherston said. Look at what business benefits, goals and values the business wants to achieve, and whether migrating an existing workload to the cloud accomplishes that.
For IT organizations that make the cloud move based primarily on pressure from a vendor's licensing changes, "I predict many of those migrations will not generate the results and outcomes the customer expects," Featherston said.