buchachon - Fotolia
What's new in vCloud Director 10
Version 10 of vCloud Director, aims to make cloud configuration easier for tenants and providers. Read about its HTML5 UI, sizing policies and NSX-T integration.
In April 2020, VMware released version 10 of vCloud Director for Service Providers. Its new features and upgrades include a new HTML5 interface, NSX-T integration and Object Storage Extension.
VMware vCloud Director deploys, automates and manages virtual infrastructure resources in multi-tenant cloud environments. It enables cloud service providers to convert physical data centers into virtual data centers and features policy controls to apply predetermined limits and regulate the consumption of resources in a cloud-based virtual architecture.
New HTML5 user interface
The HTML5 interface in vCloud Director 9.7 had limited functionality and was not the default interface; the Flash interface functioned as the default.
In vCloud Director 10, an HTML5 interface replaces the former Flash-based interface. This is part of a large-scale shift for VMware, which is replacing Flash interfaces with HTML5 in most of its products at the moment.
VMware encourages its customers to use the HTML5 interface, but you might require the legacy client to perform a handful of actions such as edit the Open Virtualization Format properties of a VM or power on and off a vApp after deployment.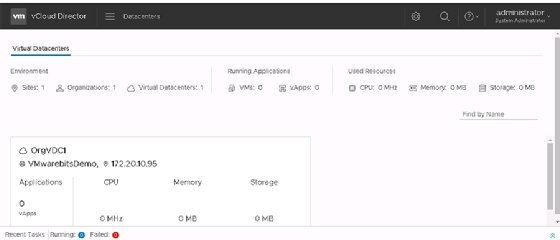 Most of the missing features are from the tenant part of the portal, but you can also perform those tasks from the provider portal. You can enable the Flash-based client, if you need it, with the cell management tool.
Sizing and placement policies
VM sizing policies and VM placement policies are two new features available in vCloud Director 10. In the past, you could only create placement policies via API access. Version 10 makes placement policies available for configuration via the HTML5 user interface.
With placement policies, providers can expose VM and host groups from vSphere for tenant use. Tenants can then use these groups to create Distributed Resource Scheduler rules that enable them to dictate VM placement based on VM grouping.
Sizing policies enable tenants to choose from a selection of available machine types, and they help providers prevent the sprawl of odd-sized and oversized machines.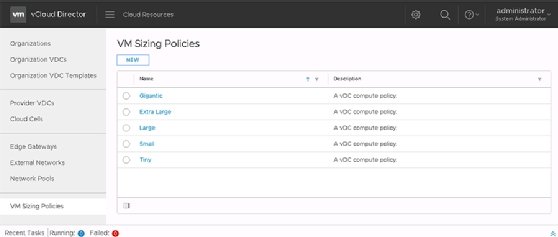 You can configure fields related to CPU and memory to create a complete sizing policy. Sizing policies let you dictate CPU settings such as vCPU speed, cores per socket and CPU limit, and memory settings such as amount and limits, reservations and shares.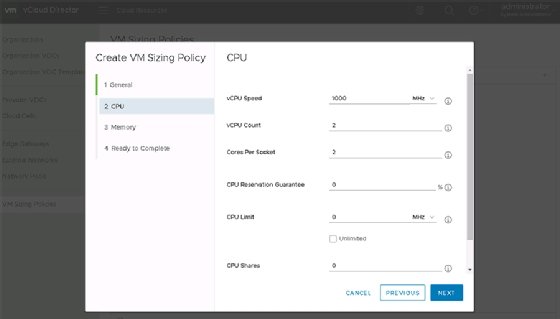 NSX-T integration
VMware integrated NSX-T more deeply into vCloud Director 10 with increased support. Previously, vCloud Director had a limited set of manageable network elements, such as logical networks and the initial connection to NSX-T Manager.
In vCloud Director 10, you can create tier 1 gateways directly from vCloud Director for tenant use. You must first create the tier 0 gateways first from NSX-T manager itself, but these require less modification compared to tier 1 gateways. Tier 0 gateways are also considered provider-tier gateways, while tier 1 gateways are considered tenant-tier.
Tier 1 tenant gateways now support features such as Dynamic Host Configuration Protocol, DNS forwarding, firewalls and network address translation. IPsec VPNs are also available, but only through the API, and tier 1 gateways still lack certain features such as load balancers.
Central Point of Management
In vCloud Director 9.7, you could only configure the Central Point of Management (CPoM) through the API. You can now configure CPoM through the UI. This means that you can make an entire vCenter server -- with all its compute resources -- available to a tenant. Providers no longer must create provider and organizational virtual data centers. Instead, they can just assign an entire vCenter exclusively to specific tenants.
Object Storage Extension
Object Storage Extension is an extension of vCloud Director that runs in a separate machine and connects your vCloud Director setup to a storage provider compatible with Simple Storage Service (S3).
Currently, vCloud Director only supports Cloudian Hyperstore, a hardware offering that supports object-based storage via an S3-compatible API. Cloudian Hyperstore's API comes from Amazon's Elastic Compute Cloud, which enables you to access storage via buckets.
Object Storage Extension enables you to extend storage the same way in the cloud as on premises. Now, tenants can use S3-compatible storage instead of a traditional VM File System, Network File System or vSAN setup.