oporkka - Fotolia
Get to know VMware Pulse IoT
Use VMware's edge management platform, Pulse IoT, to manage IoT devices at scale. With it, you can stay on top of upgrades and patches, analyze collected data efficiently and more.
VMware Pulse IoT enables customers with many IoT devices and remote sites to reduce the costs of managing those devices and locations, and it helps secure them. IoT devices tend to be small form factor devices running everywhere, on many different kinds of remote sites.
For the most part, IoT devices work in siloes, which means you must have specific software for lifecycle management tasks, such as updates and firmware patches. Usually, each device is managed and updated on its own. However, this can be time-consuming and ineffective when you manage devices at scale, and the management costs can become prohibitively high for many organizations.
VMware Pulse IoT Center, now in its second release, is a management platform for IoT devices. You can use it to easily onboard, manage, monitor and secure those devices via the Pulse Server user interface. It provides consistent configuration across devices that otherwise couldn't scale without unified management.
VMware Pulse IoT can also help with the increasing amount of data IoT devices generate. It lets organizations collect data directly at the remote site, analyze it and then send it to the main data center for further processing.
Pulse IoT Center architecture and deployment options
Pulse IoT architecture is composed of two parts:
Gateway or Edge System. This part runs an agent at the remote site and connects to all the IoT devices running at that remote site. Usually, you only need one edge system per site.
Pulse Server. This aspect runs at the main data center as an on-premises VM, but you can also use an online SaaS version through VMware Cloud Services.
You can deploy and install a VMware Pulse IoT Server VM within your own data center. To do this, download this virtual appliance as an OVF file, which you import via the vSphere Client into your vSphere environment. The VM comes preconfigured with two vCPUs and 8 GB of RAM, making it an average-size VM. However, you can adjust the configuration for larger environments. VMware has tested VMware Pulse IoT Center with 15,000 devices -- 2,500 Gateways and 12,500 devices.
You can also deploy Pulse IoT Center within a cloud infrastructure using VMware Cloud Services.

VMware Pulse can onboard new devices by enrolling and securing them using multiple authentication possibilities such as secure tokens, Secure Socket Shell and certificates. It uses a REST API to collect different metrics, alerts and notifications from devices.
To set up your Pulse IoT environment, IT admins should follow these steps:
Deploy connected devices and edge devices.
Deploy Pulse agents to edge devices and enroll those edge devices into Pulse IoT Center.
Deploy security patches or other upgrades to edge devices when necessary.
Integrate Pulse with your third-party tools.
Data will flow from devices to Pulse IoT Center, and Pulse will then monitor and manage your devices.

Once you enroll all your devices into Pulse IoT Center you can manage them. You can configure the notification settings, such as alerts in cases of malfunctions. You are no longer required to manage devices one at a time; notifications are the only thing that must be configured on an individual device. You can also use Pulse to manage IoT devices with update campaigns that your organization approves before deployment and are scheduled outside of business hours.
Use cases for VMware Pulse IoT
Pulse IoT is often used for patching and firmware upgrading on security cameras. Maintaining up-to-date firmware across an organization's entire environment is critical, because it protects devices from security breaches and hackers. Newer firmware also provides more stability and performance improvements.
VMware Pulse IoT automates patch deployments. During the patch process, you must query the gateway or edge system to which IoT devices connect. The query should return only the devices which match the query's keywords.
For example, if you have security cameras attached to your edge system but you use more than one unique camera model from several manufacturers, you can use the camera model as the keyword and Pulse returns a list of devices that match that keyword.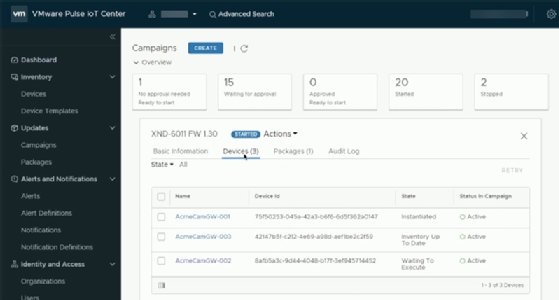 Recent updates and the latest release
The latest release of Pulse IoT brings new features that simplify the onboarding of devices. Zero Touch Onboarding onboards devices automatically with a minimal manual intervention.
Version 2 of Pulse IoT also introduced a new implementation of the Trusted Platform module, which enables you to set up more secure access and detect malicious activity that could compromise device integrity.
Pulse IoT now supports the Windows 10 IoT OS, so admins can install Pulse IoT on edge systems and gateways running Windows 10.