Gorodenkoff - stock.adobe.com
Edge virtualization tools make strides in the edge market
Vendors are cashing in on edge computing popularity, and organizations are faced with an influx of new virtualization tools that help manage the computing paradigm.
Edge computing is quickly gaining popularity, but it lacks virtualized infrastructure. The industry's leading vendors, such as Microsoft, VMware and Amazon, are bringing various products to the edge market, providing organizations with a growing list of potential options that fill the need for edge virtualization services.
Edge virtualization is the latest data center equipment trend, and several vendors have developed virtualization tools to help organizations maximize infrastructure use. Edge computing extends compute processing to new venues by moving system processing and intelligence out from the data center and closer to endpoints. This means organizations require new types of edge virtualization services.
The arrival of IoT is one factor spurring interest in this area.
"Using the generated data for intelligence is what is driving this interest in enterprise IT," said Matthew Kimball, senior data center analyst at Moor Insights & Strategy. "That intelligence can be used for operational efficiency, to better understand customer behaviors and patterns, to detect manufacturing quality in real time, or to allocate manufacturing workflows [assembly lines] in real time to adjust for spikes or lulls in demand."
With traditional IT applications, a human is at the end of the connection. But with edge computing, various machines and special-purpose devices, such as sensors and medical instruments, are also present. As a result, organizations require virtualized computing infrastructure tools that support this new computing paradigm, and the hardware that comes with it.
The competitive edge computing market
Like most emerging markets, technology is evolving at a faster pace than its management structure.
The edge market has the potential to provide efficient management tools for edge computing, but vendors face intense competition.
The edge market has the potential to provide efficient management tools for edge computing, but vendors face intense competition.
"Edge computing now lacks common interfaces," said Ashish Nadkarni, group vice president of infrastructure systems, platforms and technologies at IDC. "Because standard interfaces are not defined, the challenge for businesses is building a software stack that works with a wide range of devices."
Several vendors are trying to fill the management tool void with various virtualized products. Amazon developed AWS IoT Greengrass, which enables virtualized edge devices to act on locally generated data. This software works with AWS Lambda and relies on machine learning to manage edge connections and keep data secure and in sync.
VMware has a long history in managing virtualized environments. Its Pulse IoT Center infrastructure focuses on edge device management, managing, monitoring and securing edge systems at a very large scale. VMware is also working on complementary pieces in its management stack by integrating its infrastructure management services, such as vRealize Operations and Wavefront, and enterprise mobility management, such as AirWatch, with Pulse IoT Center.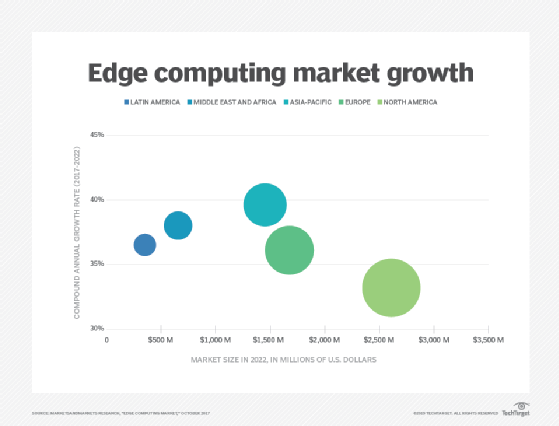 Hyper-converged hardware takes on edge processing demands
Organizations also require computing power at the edge. Applications such as oil rigs and cargo ships generate large volumes of information. Rather than send the data over a WAN to a data center for processing, organizations prefer to parse it near the source, and send summary information to their central systems.
To address such requirements, Microsoft developed Azure Data Box Edge, a group of appliances that rely on custom machine learning applications to sort data at the edge and then relay it to Azure. The platform comes in three variations: an 8 TB system, a 100 TB device and a 1 petabyte (PB) system.
According to Gartner, VMware has been working with partners such as Amazon, Dell EMC and Lenovo to build hyper-converged hardware that organizations can deploy at the edge. VMware's Project Dimension is also building a software computer infrastructure platform, which VMware manages as a service. It relies on VMware Cloud Foundation, a software-defined data center that consolidates management functions from vSphere, vSAN and NSX into one stack.
New requirements emerge
Vendors embed edge devices in other machines, such as medical instruments and surveillance cameras systems. The executives in charge of managing those devices often aren't IT personnel, so vendors must extend their marketing, sales and support reach.
Increasingly, management platforms require strong data management, AI and machine learning, all of which pull out key metrics from the data. The work in this area is currently at an early stage.