VMware Edge brings consistency with cloud, data center
VMware's latest edge product portfolio is consistent with the infrastructure the company provides for the cloud and the enterprise data center.
VMware has released a technology stack for running, managing, and securing edge workloads in corporate IT's multi-cloud operations.
VMware introduced the product portfolio, called VMware Edge, at the VMworld user conference, held virtually this week. The offering provides a compute stack and VMware's secure access service edge (SASE). The company also has a version of VMware Edge for communications service providers (CSP).
In general, edge computing is a distributed IT architecture that processes and analyzes cloud data and then delivers the results to end users in a wide variety of organizations. VMware has taken its stack of virtualized compute, storage and networking in the data center and has modified it for the edge while keeping the technology familiar enough for customers to understand how to use it.
"[VMware Edge] will at least keep the infrastructure consistent across all the different varieties of edge," IDC analyst Gary Chen said. At the same time, the edge infrastructure would be in line with what exists in the data center and with VMware's virtual infrastructure in public clouds.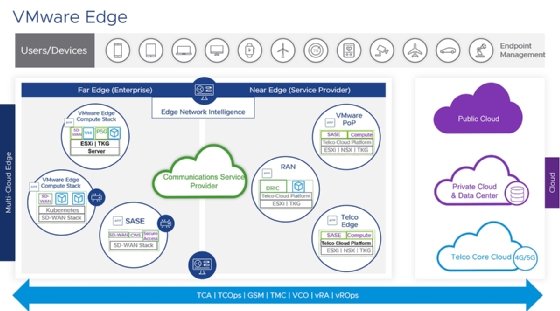 VMware Edge components
For compute, VMware Edge provides an integrated virtual machine and container stack available in standard, advanced and enterprise editions. The container component is based on VMware's Tanzu platform, which is focused on Kubernetes-based application deployment and infrastructure management tools.
Eventually, VMware plans to release a version of the stack for running lightweight apps.
VMWare has combined the SASE component in VMware Edge with software-defined WAN capabilities to deliver several security features. They include firewalling, cloud web security and zero-trust network access. VMware delivers security as a service from its global network of points of presence.
VMware's edge compute stack can run on a variety of partner hardware, including the Dell EMC VxRail D Series hyper-converged infrastructure product. VMware co-engineered the system with Dell, which acquired VMware in 2015 and spun off the company this year.
Another option for the VMware Edge Compute Stack is Lenovo's ThinkSystem SE350 Edge Servers. Targeted locations for the ThinkSystem SE350 include retail stores, manufacturing sites and schools.
The VMware Edge for CSPs brings infrastructure consistency with the VMware Telco Cloud Platform, which is the infrastructure for running carriers' virtualized network functions.
Antone Gonsalves is the news director for TechTarget's Networking Media Group. He has deep and wide experience in tech journalism. Since the mid-1990s, he has worked for UBM's InformationWeek, TechWeb and Computer Reseller News. He has also written for Ziff Davis' PC Week, IDG's CSOonline and IBTMedia's CruxialCIO, and rounded all of that out by covering startups for Bloomberg News. He started his journalism career at United Press International, working as a reporter and editor in California, Texas, Kansas and Florida.