Sergey Nivens - Fotolia
How can AWS, Azure and GCP increase cloud market share?
The Big Three dominate the cloud market, but they all have room for improvement. See what each vendor needs to do to increase its market share and attract more enterprises.
Cloud computing has revolutionized the IT market over the past decade, and the momentum has only accelerated with the shift toward remote work amid the COVID-19 pandemic. In the process, three vendors have emerged as the market leaders.
The so-called Big Three -- Amazon, Google and Microsoft Azure -- control more than half of the IaaS market. These vendors continually innovate and adapt in order to maintain their positions. And if they can capitalize on a set of emerging trends, each one has the potential to strengthen its position as well.
Enterprise adoption of cloud and newer approaches to hybrid cloud present opportunity to each vendor, as does the advent of 5G technologies. Here's what AWS, Google Cloud and Microsoft Azure need to do to win customers and strengthen their positions in the cloud market.
Cloud revenue drivers and current standings
The IaaS market represents a major source of revenue for the Big Three. Companies spent more than $30 billion on cloud infrastructure in the second quarter of 2020 alone, according to Synergy Research. Of that total, AWS controlled 33% of the market, while Microsoft and Google held 18% and 9%, respectively.
Based on my observations and client interactions, I estimate that roughly two-thirds of today's cloud revenues are derived from web companies. These cloud users include content providers like Netflix, social media platforms and internet startups. Enterprises are another major customer group, but have different cloud requirements due to legacy IT systems and strict compliance rules. These companies only recently accepted cloud computing as an infrastructure option.
Enterprises I work with largely adopt public cloud resources to host front ends that connect to existing, on-premises back ends. I suspect enterprise usage will eventually become the largest source of cloud revenues, which presents opportunities for vendors to increase their cloud market share.
Cloud vendors don't break down their revenues by customer type or size, but they all have room to improve in supporting this enterprise adoption model. I estimate that Microsoft Azure has the largest cloud revenues from enterprises, then AWS, followed by Google. While web companies likely make up well over two-thirds of Amazon's cloud revenues, AWS's overall cloud market share is so large, it puts them in second place in terms of revenue from enterprise customers.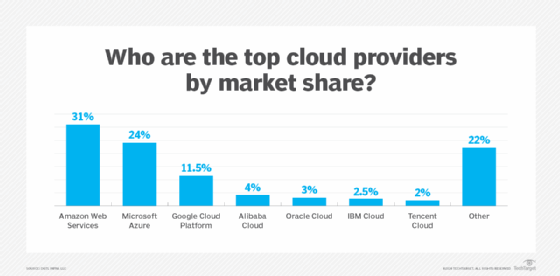 Cloud market share and strategy breakdown
According to 2020 second quarter earnings reports, Amazon's cloud revenue growth rate declined to 29%, Microsoft's declined slightly but was still up at 47%, and Google's cloud revenue increased at a faster-than-usual 43%. To me, this suggests that Amazon and Microsoft have lost some cloud market share to Google.
This shift in cloud market share was likely caused by growth of enterprises' cloud usage and changing views on hybrid cloud. Enterprise IT has eschewed hybrid cloud choices based on data center familiarity in favor of cloud-friendly technologies. This change bolsters Google, and its embrace of Kubernetes for container-based cloud workloads. Of course, all the cloud vendors have Kubernetes offerings, so Google can't rest on its laurels. Here are some ways I believe each vendor can improve its cloud market share and address the current hybrid cloud demand.
AWS. Amazon has a two-pronged strategy for hybrid cloud and containers. It has partnerships with vendors -- notably VMware -- to extend data center hosting technology to the cloud. It also sells hardware and software systems called AWS Outposts, which host Amazon's cloud infrastructure, APIs and tools on premises.
Amazon needs to address the flexible front end with existing back end model more directly on AWS. Most business users aren't trying to move pieces of the data center into the cloud -- or vice versa. They want to build agile cloud front ends to empower workers and customers, and then manage the combination as a unified application and resource set. In my assessment of their technologies, Microsoft has the capabilities to support this model now, while Google is aiming to implement it.
Google Cloud. Google also needs to work on its support for the enterprise hybrid cloud model. The company appears to be taking a longer view, focusing its services and technologies explicitly on the cloud-native application model. And while everyone says they want cloud native, it's a hard concept to define.
Google needs to drive cloud-native thinking. It must educate developers and CIOs on the use of cloud-native designs in a hybrid cloud architecture. Google began to go this direction with Anthos, its hybrid cloud services that rely on Kubernetes federation. Google also has Istio for service mesh and the Knative open source functional programming tool as the foundation of cloud-native deployment.
Microsoft Azure. Microsoft has more data center relationships to fall back on for enterprise cloud customers, but it isn't sitting idle in regard to this trend of front-end/back-end hybrid cloud. Its Open Service Mesh is the latest salvo in the cloud competition. Open Service Mesh gives Microsoft an open source cloud-native service mesh designed to manage microservices across environments. It shows Microsoft is serious about hybrid cloud, and that it won't follow the approach that rival Google has taken with Istio. Microsoft also has an Anthos competitor with Azure Arc, which can manage hybrid and multi-cloud environments for servers or containers.
In addition to enterprise adopters, Microsoft also stands to gain market share through a new source of cloud computing revenue: network operators' plans for 5G virtualization and carrier cloud.
5G cloud networks offer space for growth
The world's network operators, especially mobile operators, have been working to replace proprietary devices with virtual functions hosted in the cloud. Their original intention was to deploy their own clouds, but more are now exploring the use of public cloud platforms. In fact, 5G might well be the largest of the cloud-native opportunities.
All three public cloud providers are responding with offerings. AWS has begun to roll out its Wavelength Zones to service end users in densely populated areas. These zones are hosted in data centers owned by network carriers such as Verizon. Google has partnered with AT&T for 5G and added Anthos for Telecoms, which tailors the platform to network-centric apps. Microsoft has also partnered with AT&T and plans to add to its own 5G capabilities with Azure Edge Zones.
But Microsoft has made several acquisitions, including Metaswitch Networks, that provide it with cloud-native implementations of 5G Core functions. If it can exploit its investment in 5G features quickly, it could gain cloud market share in this new and potentially enormous cloud revenue opportunity. In addition, the experience Microsoft gains with massive-scale, cloud-native hosting could then prepare Azure for the onrush of enterprise hybrid cloud adoption.
Dig Deeper on Cloud provider platforms and tools