peshkova - Fotolia
IBM CEO shakeup puts technologist Krishna at Big Blue's helm
Longtime executive Arvind Krishna will replace IBM CEO Ginni Rometty and Red Hat CEO Jim Whitehurst has been named IBM president. Analysts expect them to make AI acquisitions.
Sudden and significant change has struck the top echelon of IBM, with CEO Ginni Rometty stepping down from her role and replaced by longtime insider Arvind Krishna, who heads the company's cloud and cognitive software group. In addition, senior vice president and Red Hat CEO Jim Whitehurst has been named IBM president.
In a prepared statement, Rometty called Krishna the right choice for IBM CEO for the next era, citing his work to shape IBM's technical strategies in cloud, AI, quantum computing and blockchain. She also cited his role in leading the IBM team that closed the $34 billion Red Hat acquisition in 2019, one of the largest deals in computer history.
Rometty will remain in her role until April 6 and will continue on as executive chairman of the board through the end of the year when she will retire after 40 years with the company, IBM said.
Whitehurst's role as president should not be underestimated, according to one analyst. The Red Hat chief will help make day-to-day decisions involving matters such as acquisitions to make and how to reshape the company's software and services strategies.
"The CEO at IBM directs things, but the president does things," said Frank Dzubeck, president of Communications Network Architects Inc., a D.C.-based IT consulting firm. "Whitehurst will run the day to day, but more importantly he will recommend how to fix things. It's the president's job to work with the customers, which means he has to understand exactly what they need and make it happen."
IBM poised for shopping spree
Dzubeck and other analysts agree that the top priority for Krishna and Whitehurst is to grow both the top and bottom lines of the company -- especially the former. IBM's revenue has plummeted since the end of 2012, dropping from $107 billion to $77.1 billion in 2019. Despite the billions the company has spent on research and development over the past eight years, few new products in key markets could be characterized as huge successes.
"What needs to be done right now is to figure out how to grow revenue, and if they can do that the bottom line will follow," Dzubeck said. "Everyone now knows that they can't grow from within and that any short-term growth is going to come through acquisitions."
The company's short-term plan should include taking a hard look at the plethora of AI-based startups not just in the U.S. but around the world, Dzubeck added, something its archrivals Microsoft and Google have done in recent years.
"There are a ton of AI companies out there being acquired and rightly so," he said. "[IBM's] competitors have proved that this is the path forward."
But another analyst believes IBM doesn't need to go on a buying spree anytime soon, and should initially focus more on working to improve its collection of AI and cloud services.
"They don't have to buy everything in sight that is AI," said Jean Bozman, vice president and principal analyst at Hurwitz & Associates. "They need to better leverage what they have to address issues associated with cloud migration and to do so in a way people can understand. They have enough products in hand to do that."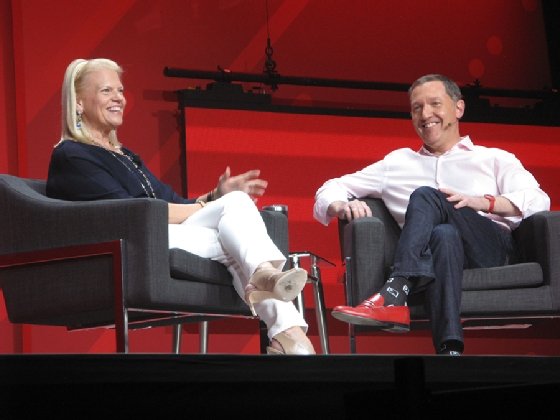 Krishna and Whitehurst
Krishna's deep technological training and background make him an intriguing choice for IBM CEO, according to Charles King, principal analyst at Pund-IT in Hayward, Calif.
"That's not to say that previous IBM CEOs weren't technically astute," King said. "Rometty, for example, has a [bachelor's] degree in computer science and electrical engineering, and began her career at IBM as a systems analyst. But Krishna holds a Ph.D. in electrical and computer engineering, was granted 15 patents and has published numerous papers in technical journals."
Ten years ago, Krishna was known as a tough, hard-charging leader focused on engineering matters, but has since evolved in a way that suits the IBM CEO job, said Ray Wang, founder and principal analyst of Constellation Research.
"Arvind today is seen very differently than the Arvind of a decade ago," Wang said. "Today, he's seen as a technical leader with savvy business skills. He's been a mentor of many and a strategist."

Whitehurst's appointment as IBM's president is also a good thing, Wang said. "Having an insider and an outsider at the top ranks helps with transition and renewal."
At one point, Whitehurst's name circulated as a potential successor to Rometty. His actions as IBM president will be closely watched by Red Hat ecosystem members, some of whom expressed concern that the IBM acquisition could harm Red Hat's open source culture. Now Whitehurst is poised for a role that carries greater influence over both IBM and Red Hat; the question is how he will choose to wield it.
One analyst believes Rometty was placed in a tough position coming into the CEO role given IBM's place in key markets, and did an admirable job trying to set the company on the right path.
"If you look at situation she had to deal with, she did stabilize things," said Judith Hurwitz, president of Hurwitz & Associates. "It was a hard position to be in, turning around a ship that size. But I like the decision they made in the person replacing her."
Krishna played an instrumental role in smoothing out IBM's private and public cloud strategies, Hurwitz said, to make them complementary to each other with more common capabilities across the two platforms.
"He [Krishna] really helped transform that business for the company," she said.
Rometty's run as IBM CEO mixed, but transformative
Rometty was appointed chair, president and CEO in 2012. For most of her tenure she focused on developing or acquiring high-margin products and services. IBM also sold off multiple business units that were low margin or that didn't fit into the company's long-term strategies. Big Blue also acquired 65 companies during her tenure, with Red Hat considered by many to be the crown jewel.
Now the two top dogs running IBM are cloud purists. The old IBM died a while ago and they had to change.

Steve DuplessieFounder and senior analyst, Enterprise Strategy Group
About five years ago, Rometty ushered in IBM's Strategic Imperatives plan which focused on a handful of key product areas, including cloud, AI, analytics and security. She also approved of the company's extensive research and development efforts around quantum computing the past several years, where IBM currently has 15 operational quantum systems that are accessible by corporate and third-party developers.
Wall Street reacted favorably to the executive moves. In early trading Friday, IBM's stock rose 4.47% to $142.88.
"It was only a matter of time for the succession," said Steve Duplessie, founder and senior analyst at Enterprise Strategy Group in Milford, Mass. "Now the two top dogs running IBM are cloud purists. The old IBM died a while ago and they had to change."
IBM did not respond to request for comment by press time.
Writer Darryl Taft contributed to this report.