Customers can interact with new VMware DaaS product at VMworld
VMware's new desktop-as-a-service product will get some play at VMworld. How Managed Desktops differs from its Horizon 7 offering is still a mystery.
VMware is gearing up to add another desktop-as-a-service offering to the growing market.
At its annual user conference later this month, the cloud infrastructure and digital workspace vendor is preparing to preview a VMware DaaS product, built on VMware Cloud and AWS. A VMware spokeswoman confirmed that the product will be previewed, but provided no further comment.
In a session description for the conference, VMware described its "Managed Desktops" as a "fully managed desktops as a service solution from VMware Cloud on AWS. This service provides an integrated experience of provisioning capacity, connecting network and assigning desktops."
VMworld conference-goers who attend sessions on Managed Desktops, of which there are eight, will be asked to sign non-disclosure agreements, according to the session description.
While VMware may talk about it at the conference, it's unlikely the DaaS product will be available any time soon, as the session description specifies VMware is seeking input "on how the experience will suit you." And the series of DaaS sessions are categorized as "design studios," which VMware describes as "interactive sessions exploring technical previews and early design ideas."
VMware declined to provide additional comment ahead of VMworld other than to note that a fully-managed DaaS product was added to the VMware Cloud roadmap page. That specific entry was updated April 19, 2019 and describes the DaaS product as enabling "customers to expand and scale their hybrid virtual desktop infrastructure based on Horizon 7." It is currently listed as a "planned" project, meaning that "it is a feature under consideration or planned for future development."
DaaS gains ground
Horizon 7 is VMware's virtual desktop infrastructure, which is already hosted on AWS and enables cloud-hosted desktops and applications, but is typically used by customers with hybrid cloud needs, according to Andrew Hewitt, an analyst at Forrester Research.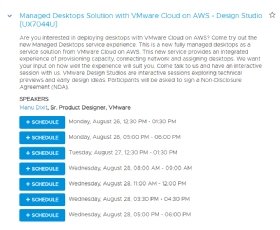 "VMware offering DaaS is more evidence that customers are looking at cloud workspaces as another tool in the toolbox for addressing specific employee-facing use cases such as remote workers, contingent works and workforce continuity," Hewitt said. "DaaS is mature enough to support these specific use cases."
Horizon 7 is available in VMware Cloud on AWS, and it's unclear how the " Managed Desktops service experience" will differ. Horizon 7 is dubbed a DaaS product, but according to a 2018 blog post by Cynthia Gallant, global segment leader for end user computing partners at AWS, it is "not a pure desktop-as-a-service solution." She said that while VMware manages the hardware and software-defined data centers, IT still has to deploy and manage Horizon 7 components internally. That differs from VMware's description of this DaaS product, which is advertised as a fully-functioning desktop-as-a-service product.
VMware is not alone in its push toward DaaS. Microsoft and Citrix have also announced DaaS offerings that should be made generally available in the coming months. The sudden uptick in DaaS products may be driven more by vendors in search for a revenue stream than by user interest, according to Eric Klein, director of enterprise mobility and connected devices at VDC Research.
I've watched the DaaS market evolve and grow and it's something vendors are pushing harder than users.

Eric KleinDirector of enterprise mobility and connected devices, VDC Research
"I've watched the DaaS market evolve and grow and it's something vendors are pushing harder than users," Klein said. "What's happened is some vendors are figuring out that the DaaS model can make more sense for specific use cases -- places like call centers -- and can help reduce IT labor and support costs."
Forrester analyst David Johnson compared the slow adoption of DaaS to other as-a-service products.
"Like other cloud benefits before this, IT departments would initially say, 'We don't want this yet,'" Johnson said. "But over time, the economics don't make it much of a choice. It's not just the management of desktops; it's the management of the underlying infrastructure, the management of images and of storage."
DaaS still not for everyone
The line between a DaaS product and a virtual desktop infrastructure (VDI) product, at least for end users, is blurring, according to Klein.
"From an end-user perspective, there's not much of a difference," he said. "It's more so around the management of the environment. From an IT perspective, that allows for more transparency around costs associated with the devices and services."
Klein said DaaS products have gained traction in mid-market and small businesses, enabling smaller organizations without significant IT support to provide a flexible working environment for its end users.
Some IT admins still prefer the control and customization that they give up with DaaS products, according to Forrester's Johnson. Relinquishing that kind of oversight may have delayed the growth of the DaaS industry, he said. But with the influx of products from VMware, Citrix and Microsoft, that may change.
"The advantage of cloud-based desktop products provides self-service capabilities for end users to access their environments while also allowing for IT admins to no longer manage all those endpoints," Johnson said. "The availability of more options is a good thing and allows for more flexibility to work in the environments that users want to work in."