Compare 7 desktop-as-a-service providers
When choosing a DaaS provider, organizations may get overwhelmed by the options. Compare the features and capabilities of seven major vendors to determine the best fit.
Desktop as a service is an increasingly popular deployment option for organizations that want to deliver secure desktop environments to their employees. DaaS frees up IT teams, increases deployment flexibility and enables employees to work remotely regardless of their circumstances.
But not all DaaS services are the same. Organizations need to carefully vet potential providers to ensure they can deliver their desktop environments efficiently, reliably and at a price they can afford.
Benefits of desktop as a service
DaaS is a cloud subscription service that delivers managed virtual desktops to client systems wherever they're located. End users can access their desktops via the internet from any supported device. In most cases, the virtual desktops can run the same productivity software that users run on their physical systems. The DaaS provider manages the back-end resources and cloud computing environment and ensures that the desktops are maintained and secure while providing varying levels of customer support.
DaaS enables organizations to move from a Capex model to Opex while making it easy to deploy their desktops relatively quickly. The provider maintains the infrastructure, delivers the virtual desktops and ensures they're always updated and secure, freeing IT personnel for other initiatives. The DaaS infrastructure also provides a highly scalable environment that enables IT to easily add or remove desktops as requirements change.
The DaaS model is conducive to work-from-home scenarios, which became one of the most important use cases during the COVID-19 pandemic. Employees can be up and running quickly without IT having to set up infrastructure on premises or requiring personnel to be on site, resulting in less downtime and reducing the impact on productivity. DaaS also prevents sensitive data from residing on BYOD devices, which can risk data security and privacy.
Despite the benefits of DaaS, IT teams should still consider whether they would do better with an on-premises virtual desktop infrastructure (VDI) system. VDI offers greater control over the infrastructure, resource allocation, desktop delivery, security and privacy. VDI might also end up being cheaper when considering long-term subscription fees. VDI can be complicated and costly to deploy and maintain, making it difficult to support the mobility and geographic distribution that some organizations require.
DaaS comparison criteria
Once an organization decides to move ahead with DaaS, decision-makers should choose a service that best meets their requirements, keeping in mind that providers take different approaches to delivering desktop virtualization.
Some providers might follow a single-session model in which each user receives a dedicated desktop environment or deploy multi-session desktops using either Windows Server, Windows 10 or Windows 11 so multiple users share a single instance of the OS. However, organizations must be aware that multi-session Windows 10 or 11 is only an option if the DaaS platform is deployed with Microsoft's Azure Virtual Desktop service.
A provider's approach to delivering virtual desktops can make a difference in certain circumstances. For instance, some applications might not run on a server-based virtual desktop because they were built specifically for a Windows desktop environment. In most cases, however, end users won't notice the difference, except that multi-session desktops might be more susceptible to performance and connectivity issues.
DaaS service providers might also offer persistent desktops, nonpersistent desktops or both. A persistent desktop is much like a user's physical PC and is typically the most common scenario. Like a PC, the user's personal OS and app settings remain from one session to the next. For example, if a user configures the desktop's theme or wallpaper settings, those settings will stay in place the next time the user logs onto the system.
This isn't the case with nonpersistent desktops, which wipe all personal settings when the user logs off. Although less convenient for the user, nonpersistent desktops are cheaper to deploy because they don't require the storage or infrastructure needed to maintain personal data. Even so, nonpersistent desktops are not geared toward the typical user, although they can be useful for shared desktops or kiosks.
When choosing a DaaS provider, decision-makers must ensure that the service can deliver the best user experience while meeting the organization's overall needs. The following table provides an overview of some of the important factors to consider when looking for a DaaS product by comparing seven DaaS products. These tools were chosen using extensive research into the DaaS market, reports from respected research firms such as Gartner, and an analysis of user reviews. This list is not ranked and instead appears in alphabetical order.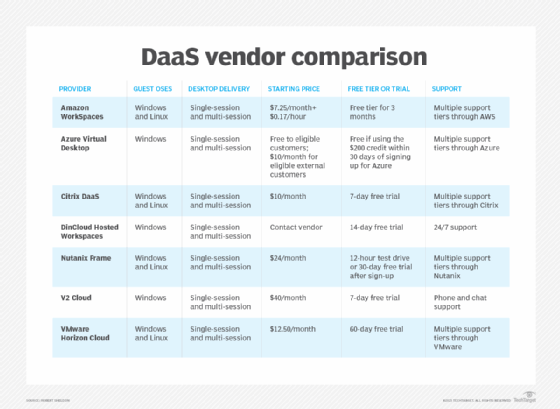 Organizations should also consider other products, such as Shells, Itopia Cloud Automation Stack or Cloudalize DaaS. The more knowledgeable decision-makers are about the current market, the better equipped they'll be to choose the right provider.
1. Amazon WorkSpaces
With Amazon WorkSpaces, customers can house their virtual desktops in 13 AWS regions and, if they meet the requirements, the two AWS GovCloud regions. Administrators can then deploy and manage the desktops through the AWS Management Console. WorkSpaces launches each virtual desktop in a virtual private cloud network and integrates with the AWS Key Management Service (AWS KMS). The desktops can run either Windows or Linux operating systems, and users can access their virtual desktops through the WorkSpaces client -- available for Windows and Mac computers, Chromebooks and tablets -- or through Firefox or Chrome.
Amazon delivers persistent desktops based on Linux or Windows Server, although customers can also bring their own Windows 10 or Windows 11 desktop licenses. Amazon provides a wide range of pricing options and offers two standard bundle virtual desktops for the first three billing cycles as part of the AWS Free Tier. Some users have encountered connectivity and performance issues with WorkSpaces and problems with the WorkSpaces client, but overall, customers view the service favorably.
2. Azure Virtual Desktop
When Microsoft introduced Azure Virtual Desktop, formerly Windows Virtual Desktop, the platform represented a game-changer in virtual desktops by introducing multi-session Windows 10. The multi-session delivery model addresses limitations with a server-based approach to desktop delivery while still providing the advantages of multi-session desktops. Azure Virtual Desktop now supports multi-session Windows 11 and includes seamless integration with Microsoft Office, Microsoft Teams and other Microsoft 365 applications.
Microsoft offers Azure Virtual Desktop for free to customers with eligible Windows or Microsoft 365 licenses, although customers must still pay for the virtual machines and storage they use. Organizations should contact Microsoft or one of its partners for other licensing options. Customers have generally responded favorably to Azure Virtual Desktop, although some have complained about the management being too complex. Perhaps the biggest challenge customers face is whether they're willing to lock themselves into the Microsoft/Azure ecosystems more than they already have.
3. Citrix DaaS
Citrix DaaS delivers single-session and multi-session Windows and Linux desktops. When hosted on Azure, Citrix DaaS can deliver multi-session desktops based on Windows 10 or 11. Citrix supports hybrid cloud deployments, enabling IT teams to manage on-premises data centers and public cloud workloads. In addition to Azure cloud, Citrix DaaS can connect to Google Cloud, AWS and on-premises hypervisors such as Citrix Hypervisor, Nutanix AHV, VMware vSphere and Microsoft Hyper-V.
Citrix DaaS provides a web-based administrative console, Citrix Studio, for provisioning and managing resources. Administrators can also use Citrix Monitor to monitor and troubleshoot their deployments and assist users. In addition, Citrix DaaS integrates with Citrix Analytics for security and performance, although this feature is included only in the Premium Plus plan. Citrix offers relatively few pricing options compared to Amazon WorkSpaces or Azure Virtual Desktops. In addition, some users have experienced slow or lagging connections.
4. DinCloud Hosted Workspaces
Hosted Workspaces from DinCloud, an ATSG company, is a family of products that includes three DaaS offerings: DinCloud Hosted Virtual Desktop (HVD), DinCloud DaaS and DinCloud Remote Desktop Services (DinRDS). DinCloud HVD offers single-session desktops deployed as dedicated or pooled systems. HVD also includes the SSL gateway and broker services. DinCloud DaaS offers similar capabilities as HVD but without support for pooled desktops or the SSL gateway and broker services. DinCloud DinRDS is a multi-session desktop service that uses shared system resources.
The Hosted Workspaces services can be accessed from Windows, Linux, macOS, iOS or Android devices. The services provide multifactor authentication and support local USBs, multiple monitors and local and remote printing. DinCloud offers a 14-day free trial and free demo, but the company doesn't provide pricing information without requesting a quote. The HVD service appears to offer multiple plans but not the other services. DinCloud provides relatively little information about any of its DaaS products, making it difficult for organizations to distinguish one offering from the other or fully understand how each works. The lack of information also makes it more difficult to compare Hosted Workspace with the services from other vendors. For specific details about the products, decision-makers must contact DinCloud directly.
5. Nutanix Frame
Nutanix Frame is a versatile DaaS platform that supports hybrid and multi-cloud deployments. Frame offers both Windows and Linux desktops, either persistent or nonpersistent, with support for both single-session and multi-session deployments. IT can implement Nutanix Frame on AWS, Azure, Google Cloud, Nutanix Cloud or on premises. Users connect to their desktops through supported HTML-5 web browsers such as Chrome, Firefox, Safari and Edge. All communications are encrypted with Transport Layer Security and 2,048-bit public key certificates. Frame supports Federal Information Processing Standards mode, offers SOC 2 Type 2 compliance and is FedRAMP-moderate authorized.
Nutanix designed Frame to work with on-premises and cloud-based IT tooling. The platform also provides native access to cloud storage systems such as Box, Dropbox, OneDrive and Google Drive. In addition, Frame offers VPN gateways and VPC/VNET peering to support network communications across application tiers. Frame also provides native integration with identity services such as Okta, Google Sign-In, Azure Active Directory and VMware Identity Manager. Nutanix offers several Frame plans with flexible subscription terms, although not as many plans as other DaaS providers. Even so, Nutanix Frame is generally viewed favorably by most customers.
6. V2 Cloud
V2 Cloud has been quickly gaining recognition in the DaaS industry by including such features as NVMe drives, unlimited data transfers, 50 GB of disk space with the ability to expand, unlimited global teleportations and Azure AD integration. V2 Cloud offers three plans -- Basic, Business and Enterprise -- with varying features. For example, only the Business and Enterprise plans include off-site daily backups, antivirus protection, IPSec VPN, API access and integration with on-premises AD and Azure AD DS, and only the Enterprise plan includes multi-region continuous replication and a custom active-active disaster recovery solution.
V2 Cloud offers Windows desktops only, but those desktops can be either single- or multi-session. The multi-session desktops are based on Windows Server and can support up to 250 users per virtual machine, with users getting their own desktops and private folders. Single-session desktops are based on Windows 10 and require a Microsoft 365 subscription. The V2 Cloud service also provides the Dashboard, a centralized console for deploying and managing the desktop infrastructure. Users connect to their desktops through the service's client apps, which are available for Windows, macOS, Linux, iOS, Android and Raspberry Pi devices.
7. VMware Horizon Cloud
VMware has the advantage of coming into DaaS with ample virtual desktop experience. The provider released a major update to its DaaS platform, which reduces the customer footprint, simplifies management and increases scalability, so a single Azure subscription can now support up to 5,000 users. Horizon Cloud deploys on a flexible hybrid architecture hosted on Azure, and the service offers single-session and multi-session Windows and Linux desktops.
With Horizon Cloud, customers get features such as a unified management console, automatic updates, usage reporting and integration with on-premises or cloud-hosted Horizon, with support for hybrid and multi-cloud scenarios. The platform is built on an API-driven architecture, enabling integration with existing tooling and the implementation of advanced automation. Horizon Cloud also supports Azure Virtual Desktop features with hybrid VDI and app deployment. VMware offers a 60-day free trial, with prices starting at $12.50 per user, per month. However, VMware provides few details beyond that. For more specific information, customers should contact VMware directly.
What to consider when choosing a DaaS provider
Although these seven DaaS services are not the only available options, they provide a good cross section of the market and should serve as a starting point for evaluating DaaS providers. The choice between products depends on an organization's needs and current circumstances.
Although these seven are not the only DaaS services out there, they provide a good cross section of the market.
For example, organizations deeply invested in the VMware ecosystem might lean toward VMware Horizon Cloud, especially if they maintain a Horizon VDI implementation. However, an organization invested in the Microsoft/Azure ecosystems is more likely to gravitate toward Azure Virtual Desktop, especially if their Windows licenses already include Azure Virtual Desktop.
Subscription fees will always be an important factor in choosing a service, as are data center locations, security and other issues. For instance, a global organization might be more inclined to use services hosted on Azure or AWS because of their extensive reach.
On the other hand, a small startup with few employees might be more concerned with costs and the ability to scale up in the future, in which case, the company might consider a platform such as Azure Virtual Desktop, which offers multi-session desktops and can support future scaling needs or even a move to single-session desktops. A different startup might want more flexibility when choosing cloud platforms and operating systems, in which case, it might opt for a service such as Nutanix Frame.
As a result of the COVID-19 pandemic, organizations have come to recognize the importance of moving quickly to ensure business continuity, which can be difficult to achieve without cloud services.
An organization might consider investing in an on-premises infrastructure that can handle an event such as a sudden shift to a remote workforce. However, such a strategy comes with significant costs and administrative overhead. Without this infrastructure, DaaS might be the best way to keep operations going with the fewest disruptions possible.
Dig Deeper on Cloud-based desktops and DaaS