Compare 7 desktop-as-a-service providers
When it comes to choosing a DaaS provider, organizations may get overwhelmed by the options. Compare the features and capabilities of 7 major vendors to determine the best fit.
DaaS is an increasingly popular deployment option for organizations that want to deliver a secure option for employees to remotely access desktops.
Not all DaaS services are the same, however. Organizations need to carefully vet potential providers to ensure they can deliver their desktop environments at a price that they can afford.
DaaS benefits
Desktop as a service (DaaS) is a cloud subscription service that delivers managed virtual desktops to client systems wherever they're located. End users can access their desktops via the internet from any supported device, often using the same productivity software they ran on their own systems. The provider manages the back-end resources and cloud computing environment and ensures that the desktops are maintained and secure, while providing varying levels of customer support.
DaaS enables organizations to move from a Capex model to Opex, while making it easy for them to deploy their desktops in relatively short time. The provider maintains the infrastructure, delivers the virtual desktops and ensures they're always updated, freeing up IT personnel for other initiatives. The DaaS infrastructure provides a highly scalable environment that enables organizations to easily add or remove desktops as requirements change.
The DaaS model is also conducive to work-from-home scenarios, which has become one of the most important use cases since the onset of COVID-19. Employees can be up and running quickly, without IT having to stand up infrastructure on premises or requiring personnel to be on site. Organizations can get their employees back to work more quickly, while preventing sensitive data from residing on BYOD devices, which can put data security and privacy at risk.
Despite the benefits that DaaS offers, IT should still consider whether they would do better with on-premises VDI. VDI can offer greater control over the infrastructure, desktop delivery, and security and privacy. It could also end up being cheaper when taking into account long-term subscription fees. That said, VDI can be complicated and costly to deploy and maintain. It also might not be able to effectively support the level of mobility and geographic distribution that some organizations require.
DaaS comparison criteria
Once an organization decides to move ahead with DaaS, decision-makers should choose a service that best meets their requirements, keeping in mind that providers take different approaches to delivering desktop virtualization. For example, they might deploy a system similar to a virtual desktop infrastructure (VDI) or follow a multi-session model, using either Windows Server or Windows 10 to deliver the desktop environments. Organizations need to be aware, however, that multi-session Windows 10 is only an option if the DaaS platform uses Microsoft's Windows Virtual Desktop service.
The approach that a provider takes to delivering virtual desktops can make a difference in certain circumstances. For instance, some applications might not run on server-based virtual desktops and require an authentic Windows desktop. In most cases, however, end users will not notice the difference when a multi-session connection affects performance. When choosing a DaaS provider, decision-makers must ensure that the service can deliver the best user experience, while meeting the organization's overall needs.
The following table provides an overview of some of the important factors to take into account when looking for a DaaS product. The table compares seven of the most popular DaaS products on the market today.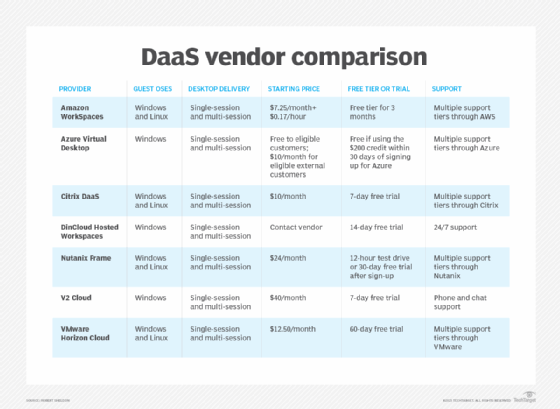 Organizations should consider other products as well, such as V2 Cloud, Nutanix XI Frame or MTM Technologies AnyWhereApp. The more knowledgeable decision-makers are about the current market, the better they can choose the right provider for their organization.
1. Amazon WorkSpaces
With Amazon WorkSpaces, customers can deploy their virtual desktops in 13 AWS regions and manage them through the AWS console. Amazon delivers its virtual desktops through Amazon Virtual Private Cloud networks and integrates with the AWS Key Management Service. The desktops can run either Windows or Linux operating systems. Users can access their desktops through PCs, Macs, Chromebooks or tablets by using the Workspaces client. They can also access their desktops through the Firefox and Chrome browsers.
Amazon currently offers a free trial for up to 50 users for new Workspaces customers, with a wide range of pricing options beyond that. Some users have run into issues with the WorkSpaces client on their devices, but overall, customers view the service favorably.
2. Citrix Managed Desktops
The Citrix service is housed on Microsoft Azure and relies on the Windows Virtual Desktop service for Windows desktop delivery. Citrix manages the platform itself, making it possible to incorporate technologies such as Citrix Virtual Delivery Agent. Citrix has also integrated Citrix SD-WAN into the Managed Desktops service to provide secure and reliable network connectivity. The service includes the Customer Success Services Select program, which provides 24/7 support, flexible training and proactive monitoring.
When compared to Amazon Workspaces, however, Citrix offers relatively few pricing options and only supports Windows virtual desktops.
3. Cloudalize DaaS
Cloudalize provides a GPU-powered service that promises quick boot times and exceptional processing power, while meeting ISO 27001 and SOC security standards. Although the service supports only Windows desktops, the Nvidia Quadro GPU cards makes it well-suited to software such as computer-aided design (CAD) or computer-aided engineering (CAE). Internal and external authorized users can access their documents and data from any device with a stable 3G, 4G or Wi-Fi connection.
To subscribe to the service, customers must pay both a per-hour and per-month charge. However, Cloudalize publishes only starting prices and provides no specifics about different plans or volume licenses. The service appears to primarily target power users.
4. DinCloud DinWorkspace
The DinCloud company offers several workspace-related services, including DinRDS, DinApp, DinDaaS and DinWorkspace, which is also referred to as DinHVD (hosted virtual desktop). The naming has caused some confusion, especially around DinWorkspace, DinHVD and DinDaaS. However, DinDaaS is more limited in scope. End users can access it only through the Chrome browser; it also lacks support for several advanced features. The DinRDS service provides session-based, shared desktops only, and the dinApp service delivers virtual applications only.
The DinWorkspace service, on the other hand, offers a more complete dedicated desktop, with support for features such as multi-factor authentication, local USB, local and remote printing, and infrastructure SSL gateway and broker. To access their DinWorkspace desktops, end users must install the Microsoft RDP client on their devices, which can run Windows, Mac, Chromebook, iOS or Android.
The company offers a wide variety of service plans and pricing options but supports only Windows desktops.
5. Evolve IP Workspaces
With Evolve IP, IT teams can customize the service to meet specific requirements. Organizations can deliver software-as-a-service (SaaS), legacy business software or full cloud Windows desktops, each targeting specific users. For example, IT can create SaaS profiles for workers that require only web applications such as Office 365.
Workspaces is also third-party audited to meet compliance standards such as the Health Insurance Portability and Accountability Act of 1996 (HIPAA) or the General Data Protection Regulation (GDPR). In addition, the platform provides integrated identity and access management and supports single sign-on and multifactor authentication, while enabling employees to use their devices of choice.
Evolve IP promises a more affordable DaaS product but does not publish any details about its plans or pricing. For that, organizations need to contact the vendor directly.
6. Microsoft Windows Virtual Desktop
Microsoft's DaaS platform represents a game-changer in virtual desktops by introducing multi-session Windows 10. The new delivery model addresses some of the limitations that come with a server-based approach to desktop delivery, while still providing the advantages of multi-session desktops. The service will also support Linux as a guest OS, but only if the user is running nested virtualization or the Windows Subsystem for Linux. Windows Virtual Desktop runs on Azure, provides optimizations for Microsoft 365 applications and supports RDS environments.
The service also includes free extended security updates for Windows 7 virtual desktop on Azure. Microsoft offers Windows Virtual Desktop for free to eligible Microsoft 365 and Windows 10 Enterprise customers, but they must pay for the virtual machines and storage they use. For other licensing options, customers should contact Microsoft or one of its partners.
Perhaps the biggest challenge that comes with Windows Virtual Desktop is whether customers are willing to lock themselves into the Microsoft/Azure ecosystem more than they already have.
7. VMware Horizon Cloud
VMware has the advantage of coming into DaaS with ample virtual desktop experience. The company offers two DaaS options: Horizon Cloud on IBM Cloud and Horizon Cloud on Azure. The two services are fairly similar, except that the Azure option requires customers to bring their own Azure licenses. In addition, Horizon Cloud on Azure recently added support for Windows Virtual Desktop, providing multi-session Windows 10 desktops just like Citrix.
Although these seven are not the only DaaS services out there, they provide a good cross section of the market.
VMware offers a 90-day free trial for its Azure service. On either platform, customers get such features as a unified management console, automatic updates, usage reporting and integration with on-premises or cloud-hosted Horizon.
Horizon Cloud pricing depends on the selected platform, level of service and user type.
What to consider when choosing a DaaS provider
Although these seven are not the only DaaS services out there, they provide a good cross section of the market and should serve as a solid starting point for evaluating DaaS providers. The choice between products will depend on an organization's specific needs and current circumstances. For example, organizations deeply invested in the VMware ecosystem might lean toward VMware Horizon Cloud, especially if they're currently maintaining a Horizon VDI implementation. On the other hand, an organization with strong concerns about compliance might gravitate toward Evolve IP Workspace.
Subscription fees will always be an important factor, but so are data center locations, security and other issues. For instance, an organization that's highly globalized might be more inclined to services hosted on Azure or AWS because of their extensive reach. A small startup with few employees, on the other hand, might be most concerned with costs and the ability to scale up in the future, in which case, they might consider a multi-session plan on a platform such as Windows Virtual Desktop. At the same time, a different startup might be more focused on security and performance than costs, so might opt for a service such as Cloudalize DaaS.
In the time of COVID-19, organizations must move quickly to ensure business continuity, which can be difficult to achieve without cloud services, unless the organization already has the on-premises infrastructure in place to support the sudden shift to a remote workforce. Without this infrastructure, DaaS might be the way to keep operations going with as few disruptions as possible.