ra2 studio - Fotolia
What's included in Microsoft 365 subscription plans
Microsoft 365 has different licensing plans for all kinds of businesses. Learn about the different subscription plans that Microsoft offers for this cloud-based platform.
Microsoft 365 brings together Windows 10, Office 365 and Enterprise Mobility + Security into a subscription-based...
Continue Reading This Article
Enjoy this article as well as all of our content, including E-Guides, news, tips and more.
cloud platform for business collaboration and security. But it can be challenging to understand due to the wide range of license options and the diverse feature sets that come with each choice.
Organizations can access a variety of resources in a shared environment if they deploy Microsoft 365. With one login, users can access all available services, applications and Windows 10 devices from any location. Users can also work offline and then sync their applications once they reconnect. Additionally, Microsoft 365 customers can take advantage of an AI-based search and discovery feature to find relevant information that users can import directly into Office applications, resulting in improved worker UX and efficiency.
A Microsoft 365 subscription plan provides the latest Windows 10 and Office 365 security updates and security features that can control access, prevent data leaks and protect against threats.
What is included in Microsoft 365?
The different editions of a Microsoft 365 subscription consist of up to three primary components. The availability of each of these services varies significantly among Microsoft 365 subscription plans.
Windows 10
Although Windows 10 is considered to be a component of the Microsoft 365 suite, Microsoft 365 subscriptions do not necessarily include a full Windows 10 license. Microsoft 365 Business subscriptions, for example, include an upgrade license that allows those organizations running Windows 7, 8 or 8.1 Professional to upgrade to Windows 10 Pro, which is required for using Microsoft 365.
Office 365
The Office 365 suite is the core component of a Microsoft 365 subscription. One of the main reasons there is confusion over what's included in a Microsoft 365 subscription is that there are multiple subscription plans that feature different Office 365 components.
Software components of Microsoft Office
Word: Text processing and editing
Excel: Spreadsheet management
PowerPoint: Slideshow creation and editing
Outlook: email client
OneNote: note-taking app
OneDrive: cloud storage
Teams: unified communications (UC) platform
SharePoint: website creation
Exchange: email server
Yammer: enterprise-focused social networking and communications
Planner: project management
Sway: report creation
Power BI: enterprise business intelligence and data visualization
Office 365 commonly includes Office web apps, fully installed Microsoft Office applications -- Word, Excel, PowerPoint, etc. -- Exchange Online, SharePoint Online, Teams, Yammer, OneDrive storage and management and security capabilities.
Enterprise Mobility + Security (EMS)
EMS is a collection of services that can help IT admins protect, manage and control access to resources. It includes multifactor authentication, security reporting, mobile device management and advanced data protection. EMS consists of the following components:
Microsoft Endpoint Configuration Manager
Microsoft Intune
Azure Information Protection
Microsoft Cloud App Security
Microsoft Advanced Threat Analytics
Microsoft Defender for Identity
Microsoft Secure Score
Microsoft 365 subscription plans
The first thing that potential Microsoft 365 customers need to know is that Microsoft offers three general categories of plans, each with its own capabilities. The three basic types of subscription services are Business, Enterprise and Education.
Business
Microsoft 365 Business subscriptions target SMBs with 300 or fewer employees. However, organizations that fall into this category will need to select from three different Microsoft 365 Business plans: Basic, Standard and Premium
Each of the Microsoft 365 Business plans comes bundled with specific components. This includes web and mobile versions of the Office apps, 1 TB of OneDrive cloud storage and the ability to sync files between devices and share files among users.
Business Basic. As its name suggests, this is the most basic business license with the fewest available features. Business Standard and Business Premium build on this base-level feature set. These features allow users and IT to create online meetings and video calls with up to 300 participants. Subscribers can also chat through the Teams UC platform and create Teams sites within SharePoint. All of the Microsoft 365 Business plans also include access to Microsoft Lists, Microsoft Forms and the ability to use Teams to create schedules or calendars and manage tasks.
Business Standard. With this licensing plan, customers will have access to all of the previously discussed Business Basic features with some notable additions. It adds access to Microsoft Bookings and MileIQ. Users will also have access to desktop versions of the Office apps, which IT can install on up to five devices.
Business Premium. Building off of all the features of Business Standard, this plan includes all of the previously mentioned features but adds numerous security and device management features. Some of the more noteworthy security features include Microsoft Defender for Office 365, the ability to wipe data from lost or stolen devices remotely, and Information Rights Management, which allows users to restrict content so it cannot be copied or forwarded.
The Microsoft 365 Business Premium license features allow organizations to automatically deploy the Office apps to Windows 10 PCs and keep Windows and Office up to date. Admins can also apply security policies to mobile devices and Windows 10 PCs.
Enterprise
This plan includes Windows 10 Enterprise, Office 365 Enterprise and more advanced EMS features that target larger organizations. The Enterprise plan is available at numerous subscription levels, but several common editions are worth exploring.
Microsoft 365 F3 targets frontline workers and includes features that those workers need to do their jobs. Microsoft also offers two slightly less expensive plans geared to frontline workers, including Microsoft 365 F1 and Office 365 F3. These plans include the Office apps, Teams, SharePoint, Yammer, Planner, OneDrive, Stream and some security management controls.
Office 365 F3 adds access to Sway, Forms, To Do, Power Apps and Power Automate. The Microsoft 365 F3 plan includes all of this while adding access to Power Virtual Agents for Teams and additional security and identity management features.
The two main enterprise-class plans are Microsoft 365 E3 and Microsoft 365 E5. These plans include access to the Office apps with email and calendar apps, including Exchange, Outlook and Bookings. Both plans provide a long list of additional apps, including SharePoint, Yammer, OneDrive, Stream, Sway, Lists, Forms, Planner, Power Apps, Power Automate, Power Virtual Agents, To Do and MileIQ. Additionally, both plans include device and app management tools such as Microsoft Intune, Windows Autopilot and the Microsoft Endpoint Configuration Manager. Both plans also include security management features such as Microsoft Secure Score and the Microsoft Security and Compliance Center.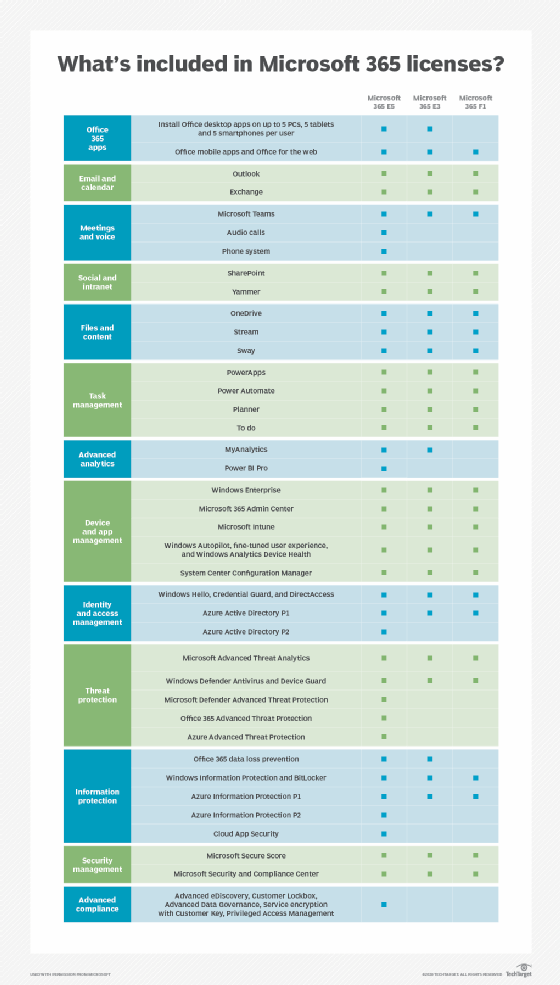 The Microsoft 365 Enterprise E5 plan includes numerous features not included in the E3 plan, but there is a significant price difference between the two plans. One of the key differences between the two plans is that the E5 plan supports audio calls and phone system integration for Teams, whereas the E3 plan does not. Likewise, the E3 plan includes access to Power BI Pro.
The E3 plan and the E5 plan include access to Azure AD Premium P1, but the E5 plan also includes Azure Active Directory P2.
Similarly, both E3 and E5 include Microsoft Advanced Threat Analytics and Microsoft Defender Antivirus and Device Guard. However, the E5 plan takes things a step further. The E5 plan includes Microsoft 365 Defender, Microsoft Defender for Endpoint, Microsoft Defender for Office 365 and Microsoft Defender for Identity.
Both E3 and E5 feature information protection capabilities such as data loss prevention, Windows Information Protection and Azure Information Protection P1. The E5 plan adds Azure Information Protection P2 and Cloud App Security.
Finally, Microsoft 365 Enterprise E5 includes significant compliance features, such as advanced eDiscovery and advanced data governance, which are not included with E3.
Education
The Microsoft 365 subscription for Education is, as the name suggests, geared toward educators and student users. It includes Windows 10 Education, Office 365 Education and various EMS features. These licenses also have three plans that offer classroom-friendly tools such as Microsoft Teams, Office Lens and OneNote Class Notebook.
Organizations that don't want to implement all three products -- Windows 10, Office 365 and EMS -- can purchase them separately, or they can mix and match strategies, such as subscribing to Microsoft 365 for some users and purchasing separate products for others. With a Microsoft 365 subscription, IT teams have a wide range of options, and they can pick the strategy that works best for their users.